by Matt Konkle
Quadratec Channel Editor
Quick, open the windows around you. Or doors. If you are outside, then cup your hands to your ears and take a listen.
Do you hear it?
The sounds?
The truck engines firing up, and ratchet straps buckling down? Those cargo doors closing and brakes whooshing as vehicles pull away headed west?
Yup, its getting close to Specialty Equipment Market Association week. So manufacturers from all walks of the automotive aftermarket are piling up their things and heading out to Las Vegas for nearly a week of meetings, product displays, booth management, endless daily walks, or any number of other things that really make up a full SEMA week.
And Quadratec will be right there to bring you along for the ride.
So why not come aboard.
After all, as an industry-only event, there really isn't any other way to get inside.
So let us be your conduit. From the opening bell Tuesday morning inside the Las Vegas Convention Center, through the rest of the week, check out our social platforms—as well as Quadratec Channel—for all the latest product information, builds, vehicles, booths, interviews and top takeaways from each SEMA day.
For those not in the know, SEMA is the automotive aftermarket's largest trade show of the year. Not just for off-road companies, either. If it has to do with cars, trucks and yes, Jeeps, then it will be at SEMA.
This year is the event's 52nd, and once again the spectacle is expected to draw somewhere just south of 200,000 people spanning more than 140 countries. It also attracts 71,000 industry buyers and 2,400 companies as exhibitors.
We always expect to see a lot of interesting new products, but this year should be even better—particularly for Gladiator and Jeep Wrangler JL vehicles. Of course, there will also be plenty of accessory items and dress up things as well.
So here are our five top reasons you'll want to keep a browser tab open to our social and Quadratec Channel pages: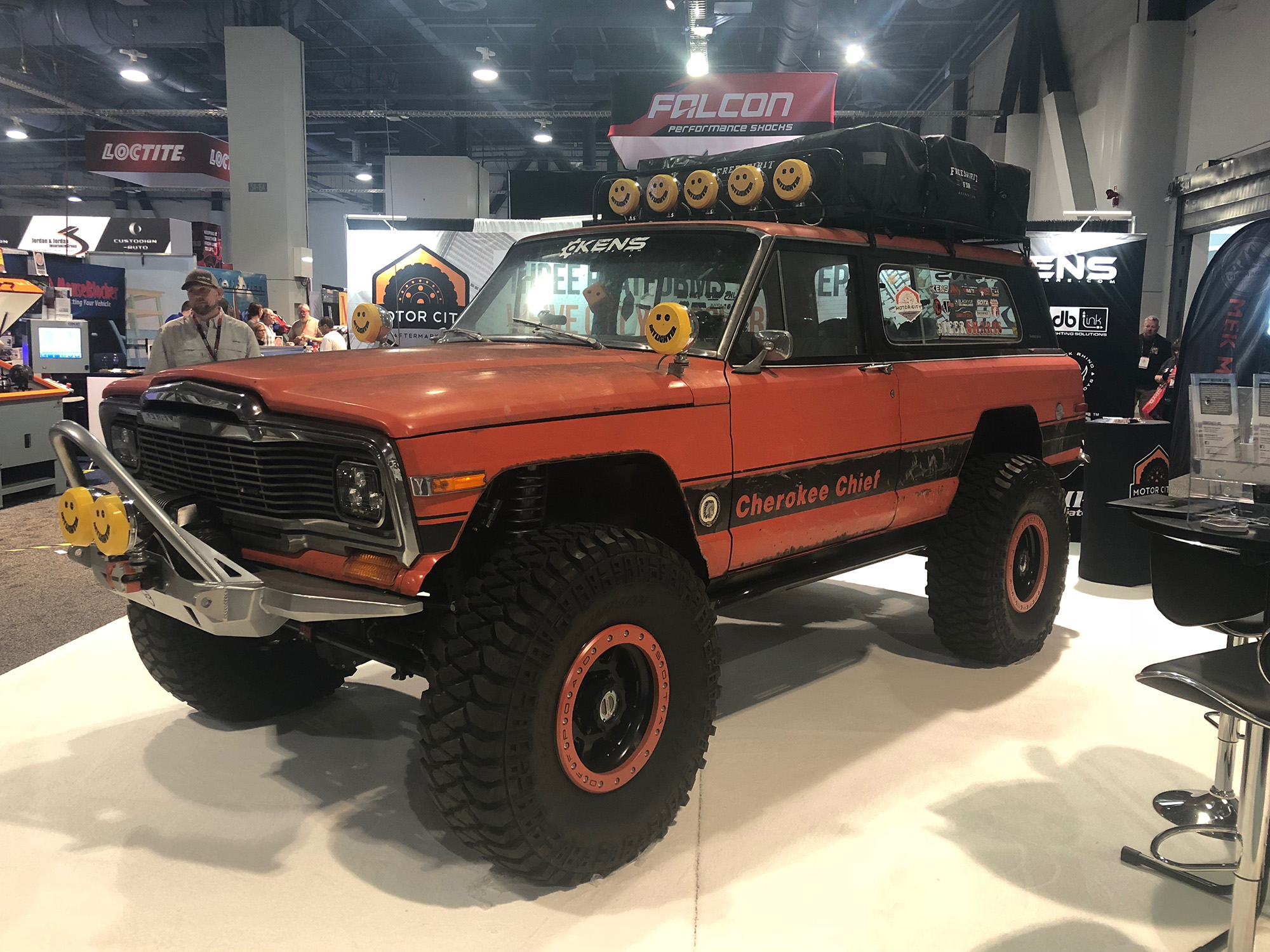 Vehicles, Vehicles, Vehicles
When you step off of the monorail outside the Las Vegas Convention Center, the first thing that hits you is just the massive amount of vehicles around.
Well, maybe that's not entirely true.
The first thing that hits you, really, is all the noise assaulting your senses. The tires screeching and engines roaring. Even at eight in the morning.
Then, as your ears adjust, you see vehicle all over the lots. Trucks and Jeeps lifted to the skyline. Tires larger than most houses. Sunshine glinting off all the polish jobs.
And that is just on the outside. When you get into the conference center halls, there are vehicles in every booth, featuring all kinds of products.
So we will scope out all we come across and post up some photo galleries on our social channels throughout each show day. Then, we'll pick some we love the best and compile together at the end of each day as a 'best of' feature.
Feel free to pick out ones you love the best.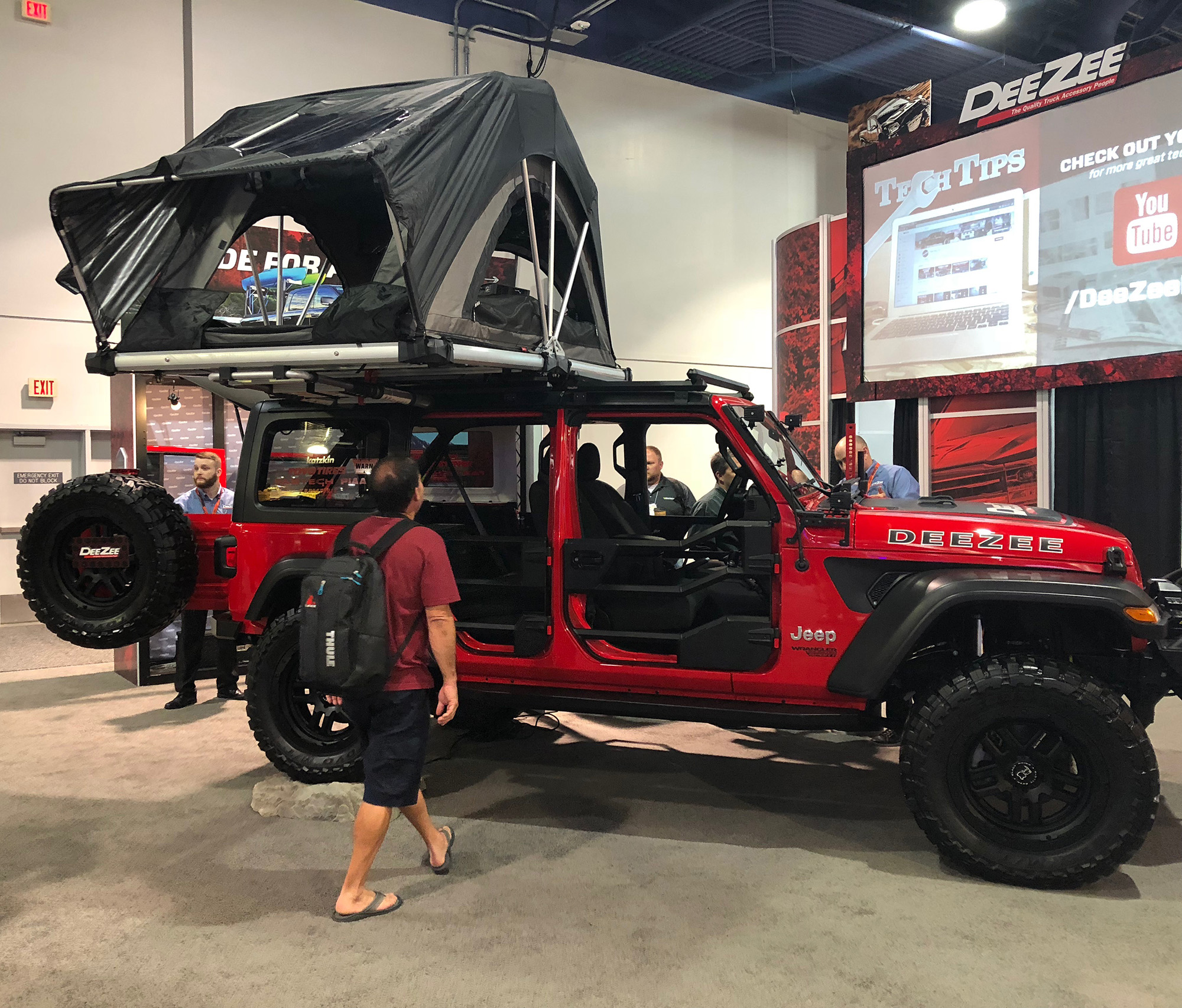 Overlanding
You know what it is. You know what it is all about. But just in case some of you don't, overlanding is kind of like camping with an edge. It is going out, off the grid, and living right out of your vehicle for days, weeks, or months (sometimes even years) at a time.
For the past few years, many manufacturers have displayed some great overlanding builds featuring all kinds of products like fridge freezers, tents, solar panels, tires, air compressors and more.
Well this year, SEMA decided to dedicate a central area where everyone could show off their overlanding rigs and promote their products.
Not only does this make it easy on the vast amounts of industry buyers, but it will also make for some good scenery.
We'll definitely spend a lot of time in the overlanding area, and bring you some of the best display vehicles along with many of the industry's best overlanding products.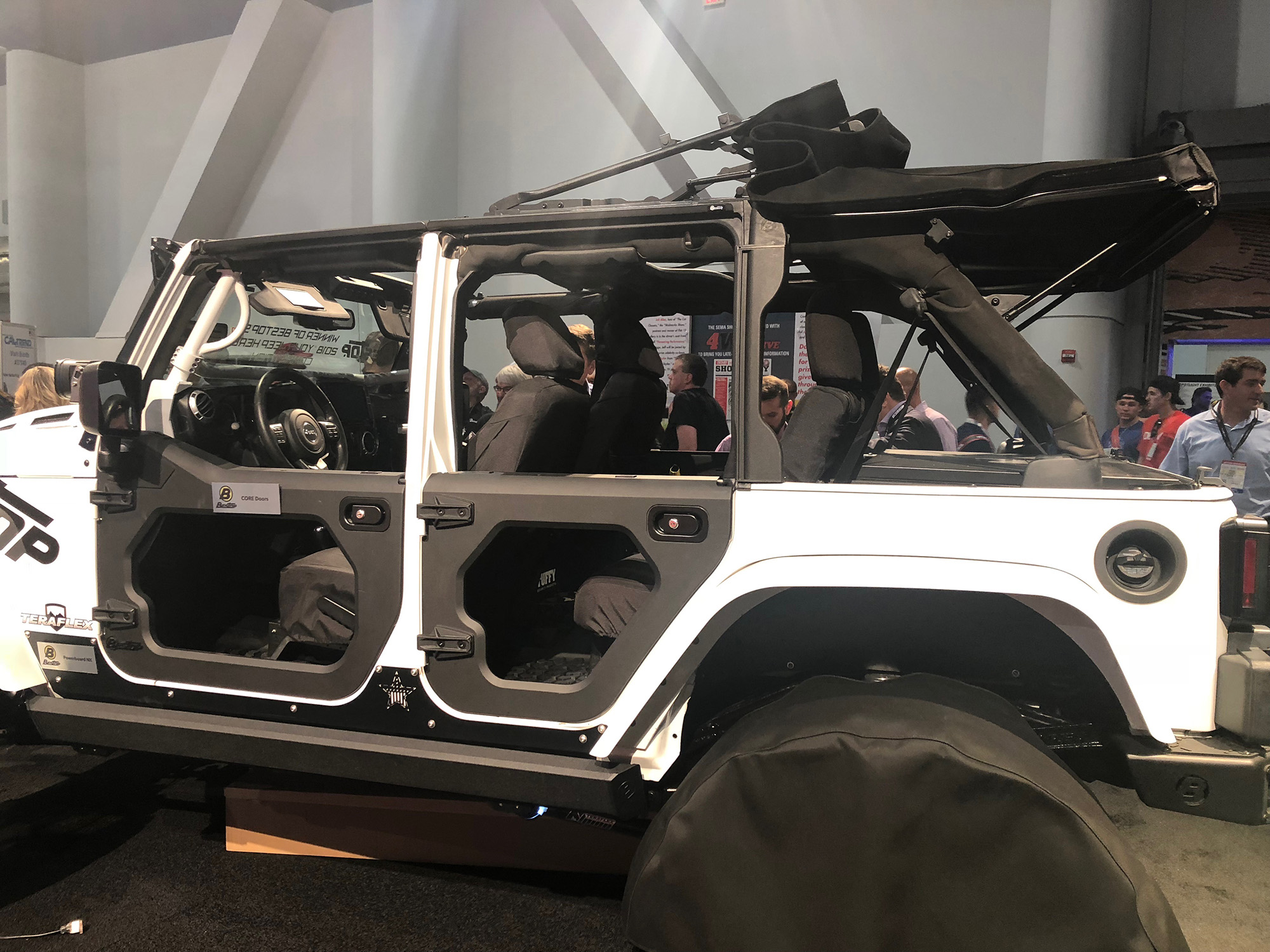 New Products
We've mentioned that SEMA is all about vehicles and vehicle displays. But behind all of that stuff are the products. After all, what is a vehicle really without products to make it stand out.
And each year SEMA does not disappoint with the vast variety of new things that vendors bring to the show.
It may be a new rack system for your Gladiator. Or a specifically-engineered lift kit for your Wrangler. Bestop had its Core Doors and Supertop Ultra in the booth last year which turned heads. Other manufacturers had their own special products.
We'll be walking around the whole show floor checking out everything in order to show off what you can anticipate seeing come 2020.
Expect plenty of Gladiator and JL Wrangler items, but we're sure we'll discover other great things that may make for your next great modification project.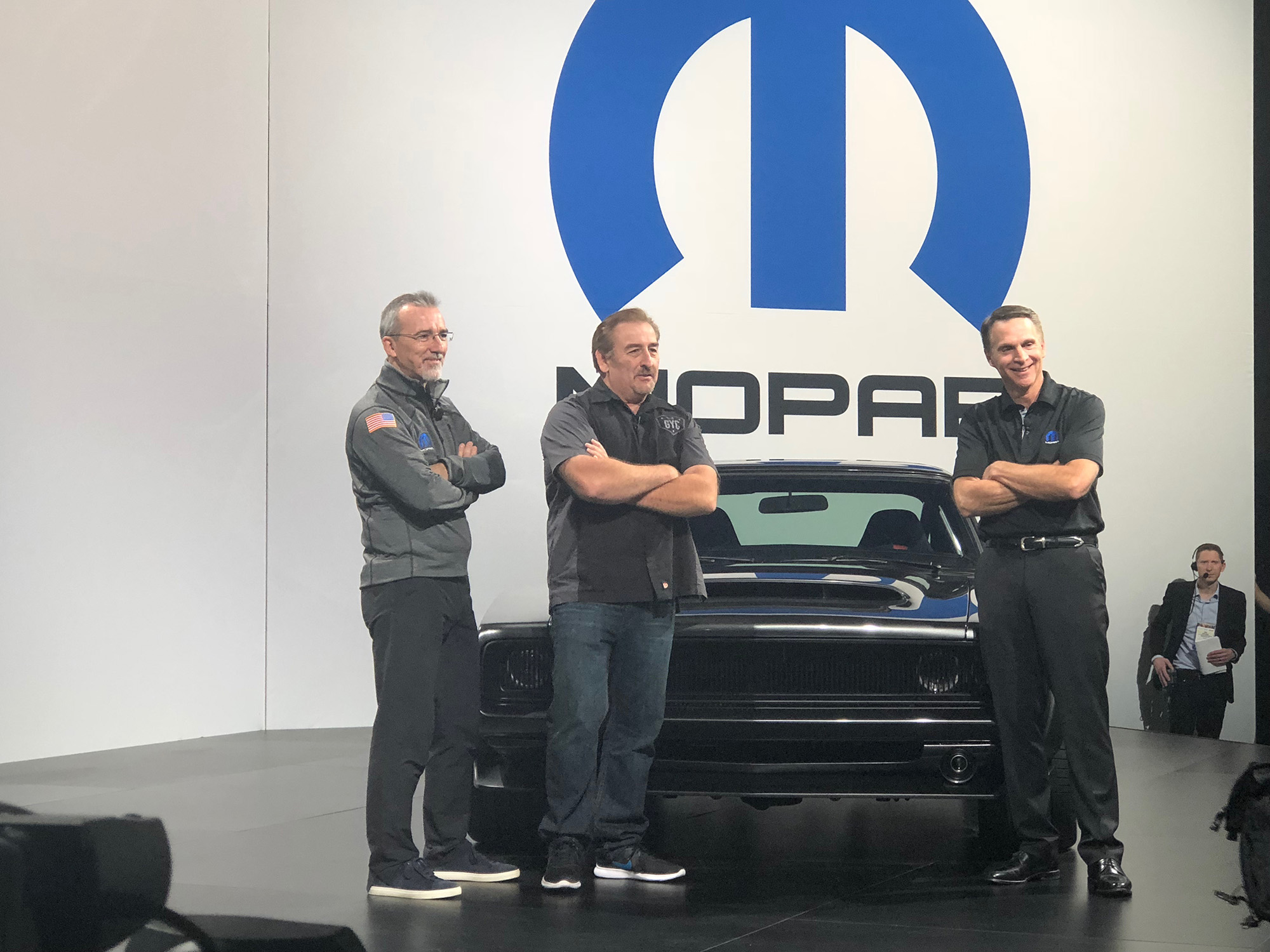 FCA Tuesday
Mopar or No Car.
It is what we hear every year when we pile into the Fiat Chrysler Automobiles booth on Tuesday afternoon for their annual press conference.
The past two years, the anticipation was first for any pictures of the Jeep Wrangler JL and then for anything about the Gladiator. Both times, among other things, we had teases before FCA unveiled those vehicles later in the year.
This time around, the automaker doesn't really have any new vehicles that are almost ready to show off, but that doesn't mean it will be a boring press conference.
Parts division Mopar is sure to have some new things to display for different Jeeps, and we've already seen a few concept vehicles FCA is bringing to SEMA. But we also expect a few surprises Tuesday afternoon. Perhaps a diesel Wrangler or Gladiator? Or even one of the all-electric Wranglers.
We'll see Tuesday. And so can you, if you follow along with us during SEMA week.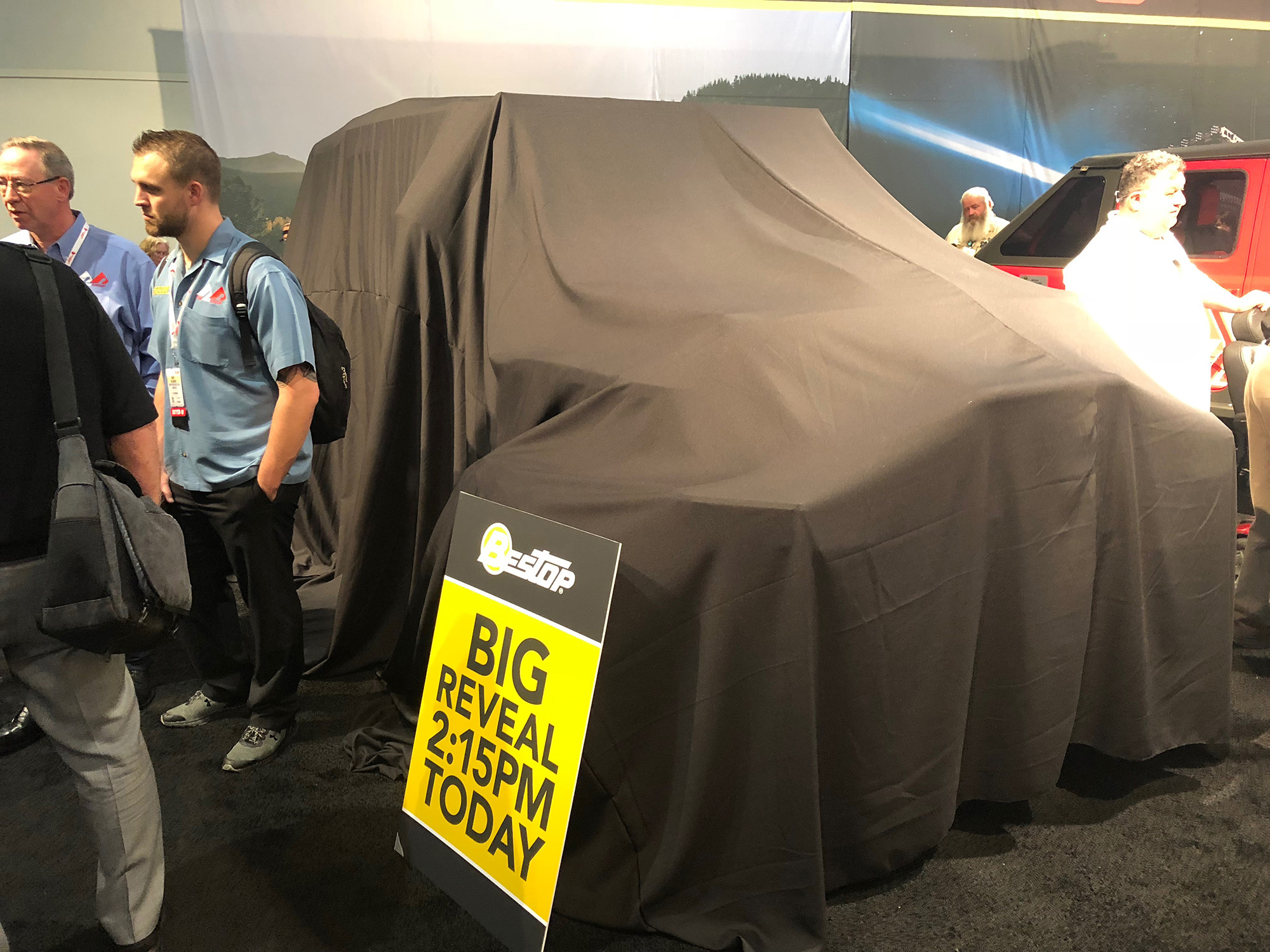 The Mystery
SEMA is like a box of chocolates. You never do know what you are gonna get. Or something like that.
Truth is, you can plan, and plan, and plan, and all that gets thrown out when you get to the convention center floor and see something amazing.
It's called the mystery part of the show.
Perhaps it will be a Kenny Hauk custom vehicle. Or some type of fantastic display vehicle. Maybe it will be an industry-changing product that a vendor has kept under wraps for months.
That's the thing about mysteries. They, er, are a mystery. Something waiting to be discovered, and as we are seeing it for the first time, so can you through our social channels.
_____
In the meantime—if you want to catch up on what SEMA is all about, here is our overview from last year's event.
Also, here is a recap video of some top builds and more from last year.