by Matt Konkle
Quadratec Channel Editor
SHAMOKIN, PA — The CB radio squawked to life no more than 200 yards into the trail and a friendly voice as clear as the day's blue Pennsylvania sky pierced the Jeep's interior.
"Good morning everyone, my name is Grady and I'll be one of your trail guides this morning. We've got a full group here and we're going to see several different types of conditions and obstacles as we go along during the day. So, lets go down the line and introduce yourselves to the group, and let us know how many Jeep Jamborees you've attended."
Slowly, one after another, the group members responded by sounded off with their names, where they were from, what type of Jeep and color they were driving and whether they had any previous Jeep Jamboree experience. Of course, there was the traditional smattering of newer JK vehicles in the group, but also a nice mix of TJ, YJ and XJs. For some, it was their first-ever Jamboree. Others had been to several — even one with a dozen events under his belt.
The one thing binding them all together that Saturday morning at Anthracite Outdoor Adventure Area was a sense of happiness. Joy. You could hear it in their voices. A happiness to be in the vehicles they love, to be out on the trail — ready to challenge that vehicle as well as their skills. And happiness to be involved in something that has brought Jeep lovers together for 36 years.
Jeep Jamboree events tend to do that. They are designed to do it really, by focusing on the experience. The fun. The lifestyle. Then tying it all together at the end so you leave much more confident about your driving ability than you were when you arrived. With a few more friends on the contact list as well.
"Jeep Jamboree USA is an ownership event for people who own Jeep vehicles and we provide opportunities to take the vehicle off road in a safe, family friendly environment," said JJUSA Coal Mountain Event Coordinator Eric Loewenhagen. "For an individual who has never been off road, the Jeep Jamboree provides a great opportunity to learn how to use your four-wheel-drive vehicle. If you've never used the Jeep for anything more than snow in a parking lot, or if you've never used the four-wheel-drive — our guides and staff will help you learn about your Jeep. How to use 4-low properly, how to disconnect the sway bars if your vehicle is equipped with them. How to use lockers if your vehicle has those, in the right way at the right time."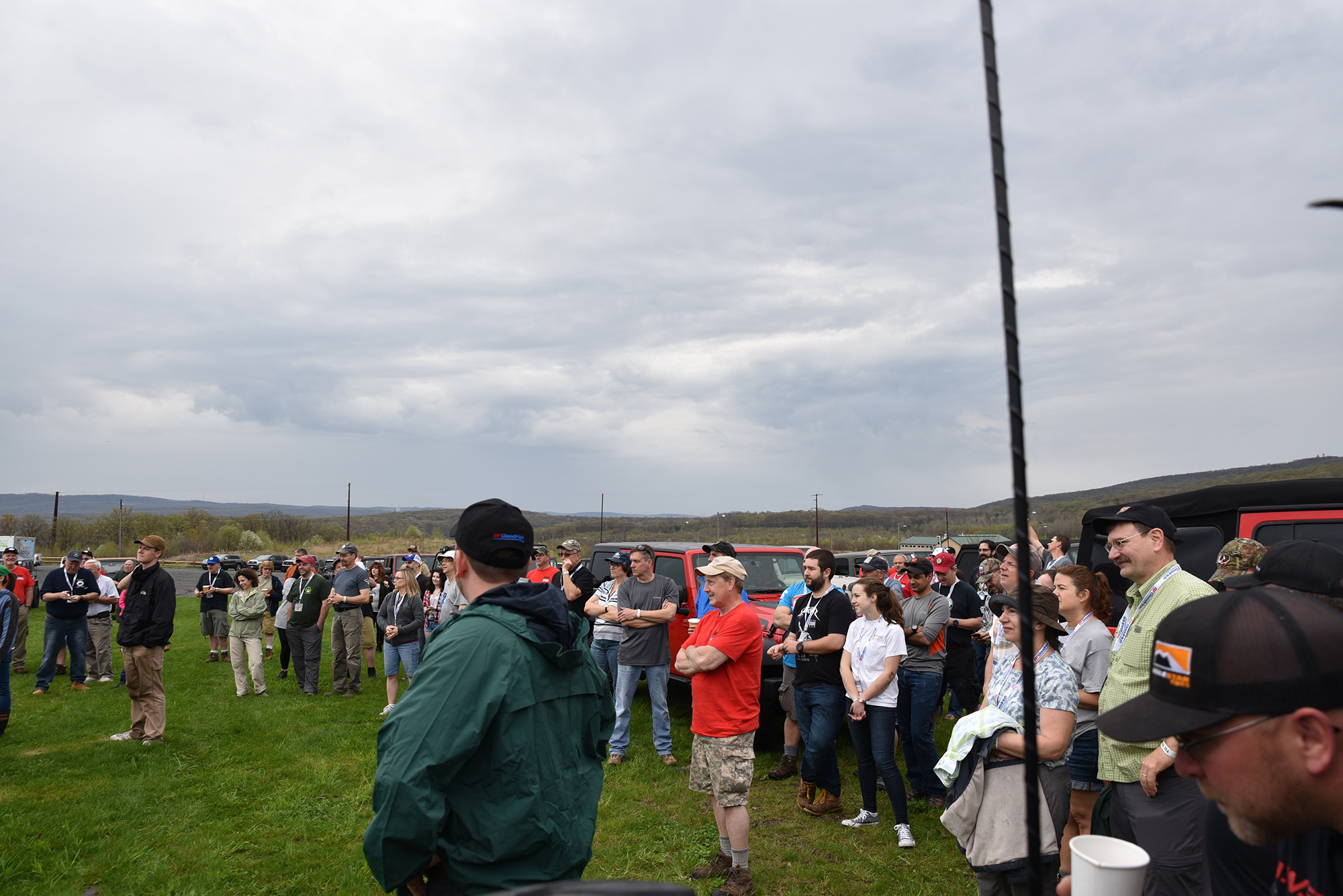 This particular excursion, the 3rd Annual Spring Coal Mountain event, was sold out well in advance, like so many other JJUSA gatherings throughout the year — including the one in Moab, Utah coming up October 25-27.
However, if you have ever wanted or imagined yourself participating in one of these adventures, you still have a chance to register for Quadratec's Ultimate Fly and Drive Jeep Jamboree Giveaway through August 15.
One lucky contest winner and guest will receive airfare to Grand Junction, CO, and then ground transportation to Moab as well as accommodations, meals and two days riding Moab's iconic trails in an all-new Trail-Rated 2018 Jeep Wrangler JL (courtesy of Jeep Jamboree USA) during the Moab Jeep Jamboree USA event. The Ultimate Fly and Drive Giveaway winner will be selected by random drawing and announced by the last week of August.
"For decades, Moab has served as the heart of off-road adventuring to a passionate and loyal Jeep fan base," said Bear Pratt, Quadratec's Vice President of Marketing. "And yet, many have never had a chance to experience that adventure. So that's why we are excited here at Quadratec to partner with Jeep Jamboree USA and offer this incredible chance for someone to experience everything Moab has to offer — all while driving a brand new 2018 Jeep Wrangler JL."
Those 18-years-of-age or older who place an order with Quadratec, up to once each week through August 15, will automatically receive one entry to the Ultimate Fly & Drive Jeep Jamboree Giveaway. Additional contest entries can be earned by visiting Quadratec's Ultimate Fly and Drive Giveaway page and registering — up to once per week. No purchase is required to enter the sweepstakes.
While Moab is certainly one of the highlights of JJUSA's event season, it is not the only one. For 2018, there are 34 events spanning the country from March-October. Places like California's Rubicon Trail, Michigan's Drummond Island, scenic Killington, VT and Bethel, ME. Those interested in any of the JJSUA events usually register months in advance for a spot, and it not uncommon for people to end up registering for several events during the year.
These Jamborees are also not just a show up and go kind of thing. JJUSA personnel go through great lengths to make sure all participants are prepared for the trail, as well as helping them choose the best trails to fit their riding experience. And it all starts with vehicle inspection.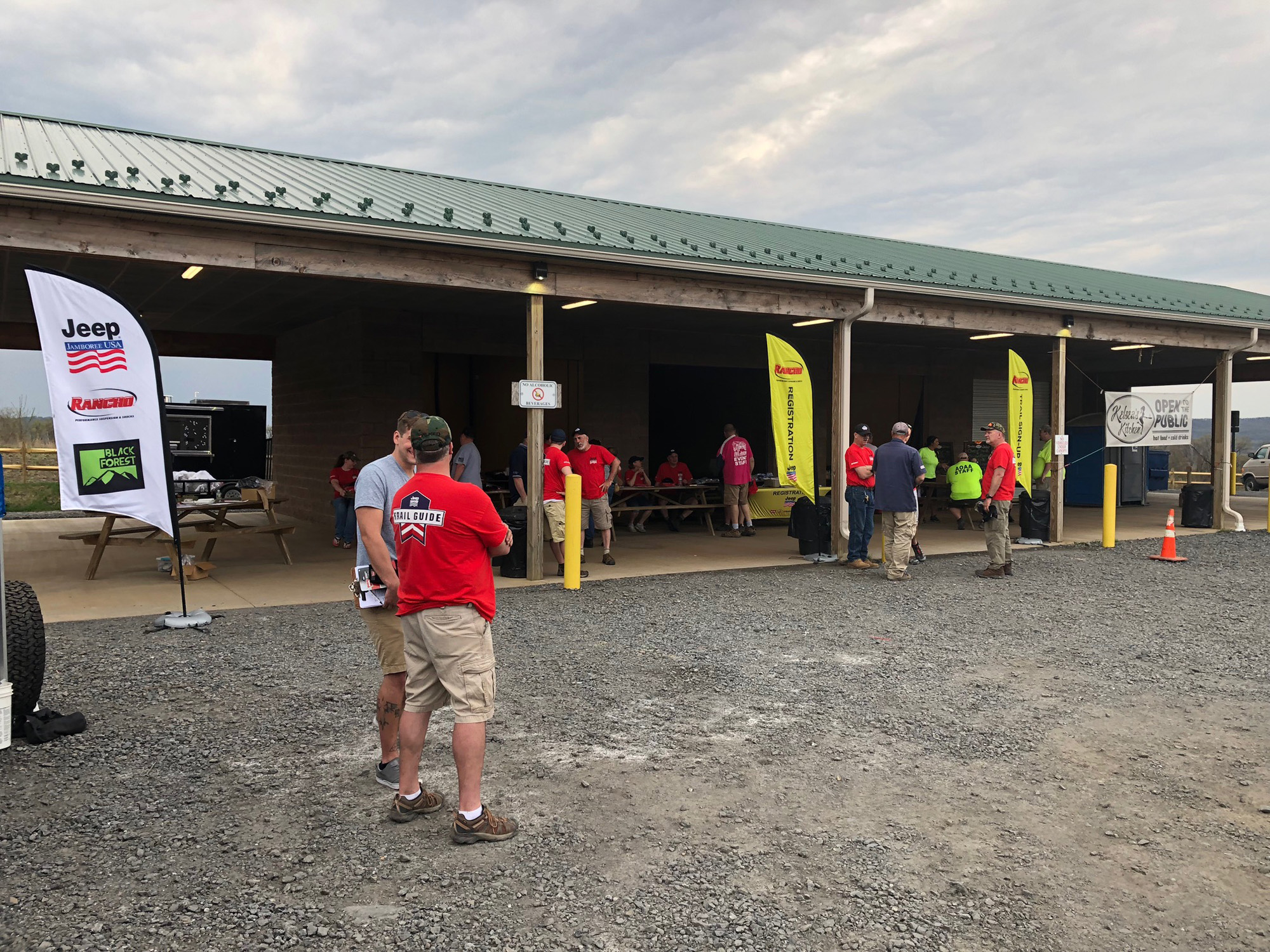 "Each vehicle, when it comes to a Jamboree event, is brought in through a registration and we assess the capabilities of the given vehicle, if it is a stock or built vehicle, and also the capabilities and experiences of the driver," Loewenhagen said. "Someone may have bought their dream Jeep, very much built up and well equipped, but are just learning how to wheel it. So we take those assessments and get them on to a set of trails that matches their comfort level and the capability of their vehicle – all to make sure they have a great time."
Besides a helpful inspection and trail matching process, JJUSA also hands out lanyards before the Jamboree starts that containing each participants' name; all to help build a sense of community for the event's entirety.
"We like to encourage people to get to know each other as best they can," Loewenhagen said. "Especially the people who have never done this before. They come in wide-eyed and not quite sure what to do, so we try to put them at ease. We say hey, wear your name tag when you are on the trail — that way instead of 'hey you', its 'hey Jim' or 'hey Gary'. It helps you get to know the people around you and builds camaraderie and actually a little team to help get past those obstacles on the trail."
Each vehicle is also strongly encourage to utilize a CB radio, but while part of that is rooted in helping safety and trail communication, it also plays to the enjoyment factor.
"We're not going to turn someone away from having a good time if they don't have a CB, but we ask them to have one to build that sense of camaraderie, as well as for safety," Loewenhagen said. "Plus, each trail is on a different CB channel so it helps keep the clutter down to a minimum, and lets the guides really help educate their group and let them know what is coming up on the trail, and what they can expect."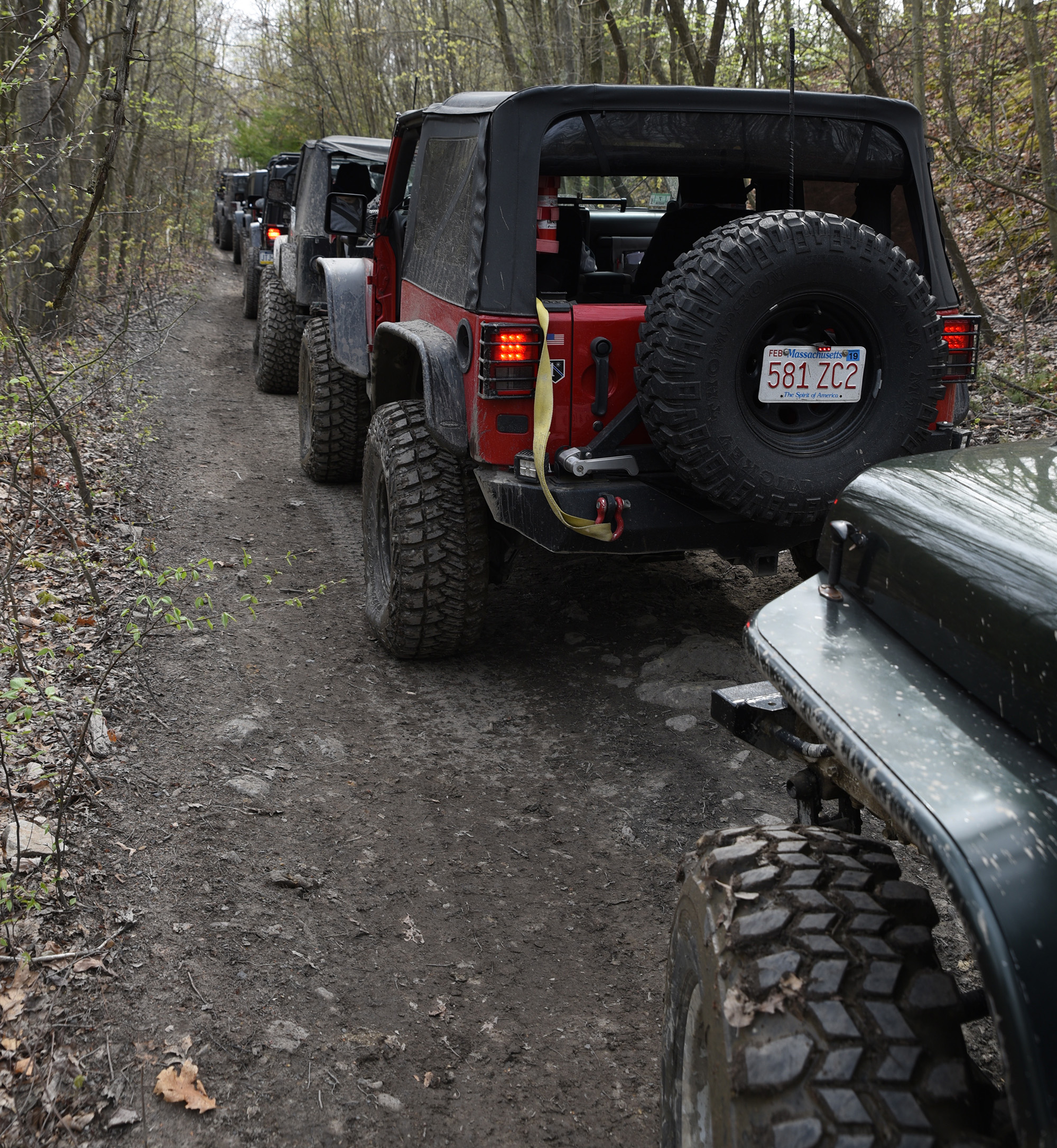 For the spring Coal Mountain Jeep Jamboree event at AOAA, respective drivers in the AAA trail group learned this aspect right after starting the ride, when they did those introductions on CB— one after another. After that, it was a day filled with some of the best terrain on AOAA's East Side; rocks, mud, water, hills. All good tests without being vehicle crushers. In fact, the AOAA landscape and its obstacles have so captured attention that JJUSA now offers two Coal Mountain events in its schedule; one in the spring and the other in early August.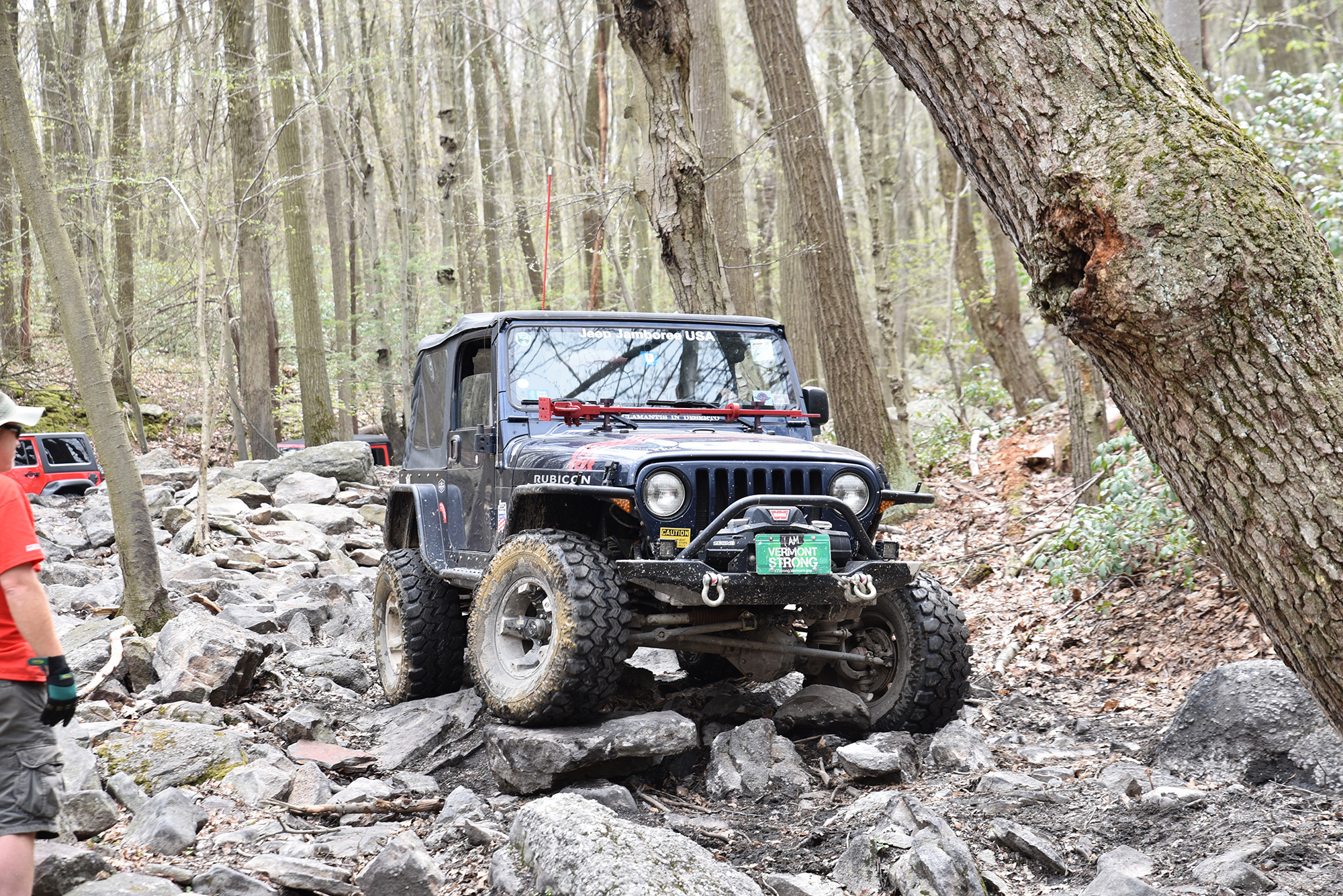 "The Coal Mountain event started originally with just one event here seven years ago and it has gotten to be such a popular destination area, not only with the development of the AOAA, but with how pretty the area is and how great it is for wheeling, that we now hold two events here," said Loewenhanen. "This (AOAA) is an excellent facility and the folks and the entire staff here are great. (AOAA Operations Director) Dave (Porzi) runs an excellent facility and it has such a variety of terrain from mild to wild."
"The people who do come and are experienced off-road drivers with built vehicles, we have something to offer them here. People who are coming for the first time, and are learning how to get their vehicle into 4-low for the first time to actually traverse obstacles, there is something for them here as well."
That dedicated interest is also reflected in how far people travel to attend. The spring Coal Mountain JJUSA event featured 176 participants from 19 states, including some from California and Washington.
Moab's October Jamboree will also be a full house and if you do not currently have a secured spot, then your only option is the waiting list.
Unless, that is, you've registered for Quadratec's Ultimate Fly and Drive Jeep Jamboree Giveaway.
Then you just may be the one happily introducing yourself to the group on trails like Hells Revenge, Metal Masher or Steel Bender.