by Eric Ammerman
Quadratec Staff Writer
So now that you have lifted your Jeep and gotten bigger tires, what happens when you need to change your tire either out on the trail, or even on your morning commute?
This is a question that never really occurs to most Jeep owners until they are standing there with a factory jack, and several inches away from lifting the Jeep high enough to remove that flat tire. Well fear not. We have thought about this problem and have several options for you to get the job done.
The first, and the most economical, is a factory jack base. This product provides a sturdy platform for your factory scissor jack and provides an additional, and more importantly sturdy, 3.5" of lift to get that wheel off the ground. It is also the smallest device as far as how much cargo space it takes up in your Jeep. In my opinion, it is a much better solution than simply stacking a few 2x4's under your jack.
The most common solution I see employed by those with lifted Jeeps, is the Hi-Lift cast iron jack (above photo). This 48" farm style mechanical jacks is not only a great way to lift your Jeep off the ground, but it also has several other functions—like using as a winch in case you get stuck out on the trail. Another reason this is the most popular jack around is pretty simple: it works. Not to mention that some variation of this off-road tool has been in use since 1905, so there has been plenty of time to get it dialed in. Another bonus to its longevity is that there are a whole bunch of accessories to make the jack work even more efficiently. These include an off-road base, as well as plenty of covers and mounts to your Jeep.
Similar to the Hi-Lift is the Smittybilt Trail Jack which is also a mechanical jack that includes a large base and handle isolator.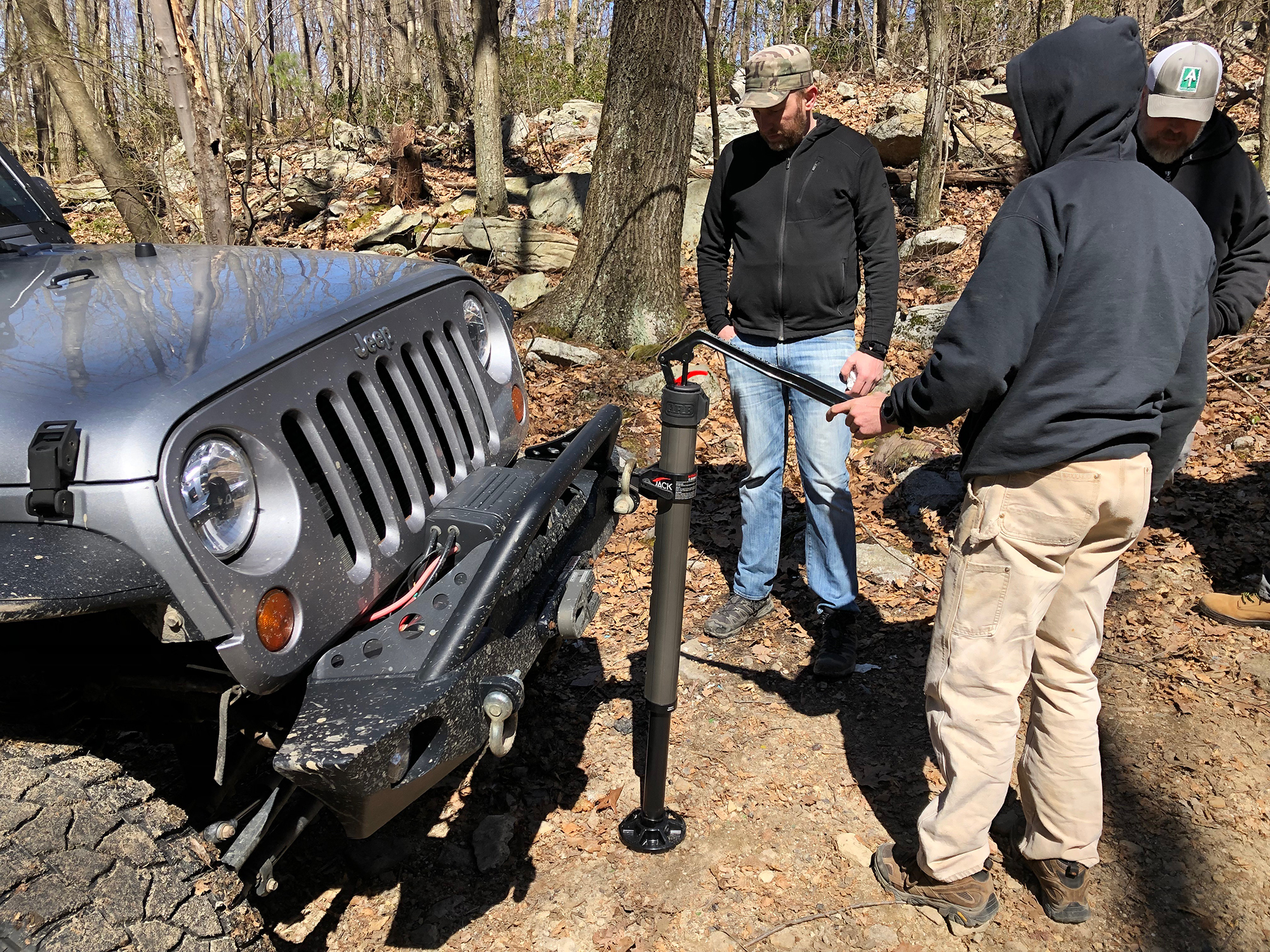 The newest entry into the off-road jack market is the ARB Hydraulic Long Travel Recovery Jack. While this one gets you the same results as the farm style jack, the ARB version gets the job done in a slightly different way. It has a 6061 T6 aluminum body with nine mounting locations for the adjustable hook, so no matter where you need to contact your Jeep to lift, there is a location in the right spot. With a lifting range of 6"-48", and a maximum lifting capacity of over 4,000 lbs, you can trust that this jack will do what you need it to without breaking a sweat.
Finally, ARB also makes an inflatable jack for those who spend a lot of time in the sand, snow or mud. The Bushranger X-Jack inflates using an air compressor or your exhaust, and provides 8,800 lbs of lifting capacity and 30" of actual lift.
No matter which tool you decide to go with, you'll be much happier when you can get that tire changed and back on all four wheels to continue your adventure.