Why use beadlock wheels?
Beadlocks "lock" the bead, or beads, of the tire to the wheel, so the tire won't unseat when aired down and come off the rim. We've even had standard wheels spin inside an aired-down tire, ruining the balance and, of course, causing the 4x4 to go nowhere.
Some beadlock wheels are very heavy. While this ensures a strong wheel, when paired with many of today's heavy off-road tires, they add too much horsepower sapping and suspension taxing unsprung weight. Other beadlocks are lightweight, great for street use and drag racing, but too weak for off-road use.
There are off-road suitable beadlock wheels manufactured especially as a beadlock. These are designed and built as beadlock wheels and are strong, reliable, and safe. The problem is finding one that will work on your vehicle. Wheel size, width, bolt pattern, center bore diameter, backspacing, and looks are important to us and most companies that offer ready-made beadlock wheels have one, or maybe two designs, with probably only one choice of backspacing for the bolt pattern needed. If you don't like the look of the wheel, or if it doesn't fit your application, you're out of luck.
OMF Performance has been building beadlocks for enthusiasts and racers for decades. They not only offer beadlock rings for manufacturer's ready-made beadlock wheels, they can convert almost any regular wheel to a beadlock wheel. This means you can pick any wheel that meets your requirements, then, have OMF turn those wheels into quality beadlocks, expanding wheel choices greatly. This is the route we chose to take.
Quadratec's new, exclusive 17x9" Baja Xtreme alloy wheels were the perfect choice for Project Q, our 2014 Jeep JK Wrangler Sport built for the road and to tackle more difficult trails. Large round holes reduce the wheel's weight, make them a snap to clean, and give them a conservative look we like. While the wheels work fine as they are, we needed to beadlock them for the tough trails we planned to tackle. You can check out all of our whole selection of wheels here
Quadratec shipped the wheels directly to OMF Performance, where the staff expertly converted them to beadlock wheels. OMF offers a number of beadlocks and options. We chose their 17" Rocklite beadlock rings and a set of Rock Domes that protect the beadlock bolt heads in the rocks. One advantage to beadlock wheels is you can mount tires yourself. In fact, to ensure the job is done correctly, we recommend doing the job yourself. It's easy.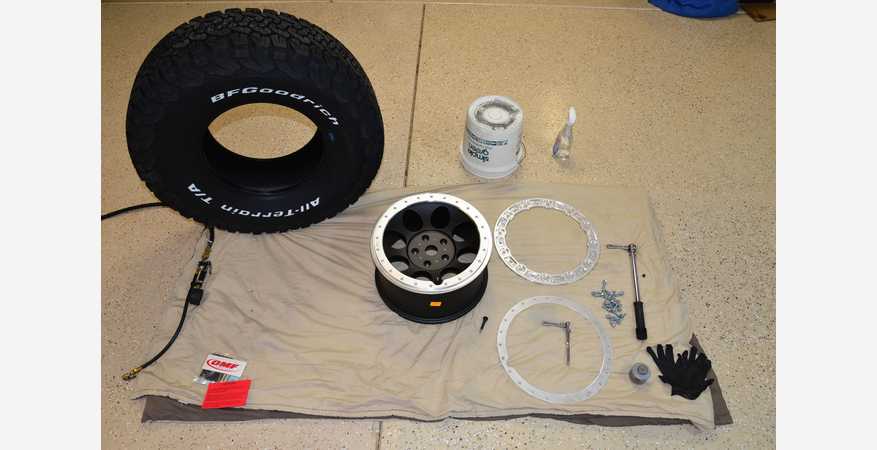 We laid everything out before starting to mount our 37x12.50R17 BFGoodrich All-Terrain KO2 tires on the Baja Xtreme wheels. When mounting beadlocks, we use a plastic five-gallon bucket, torque wrench, 3/8" ratchet, valve stem puller, a spray bottle of water, and anti-seize.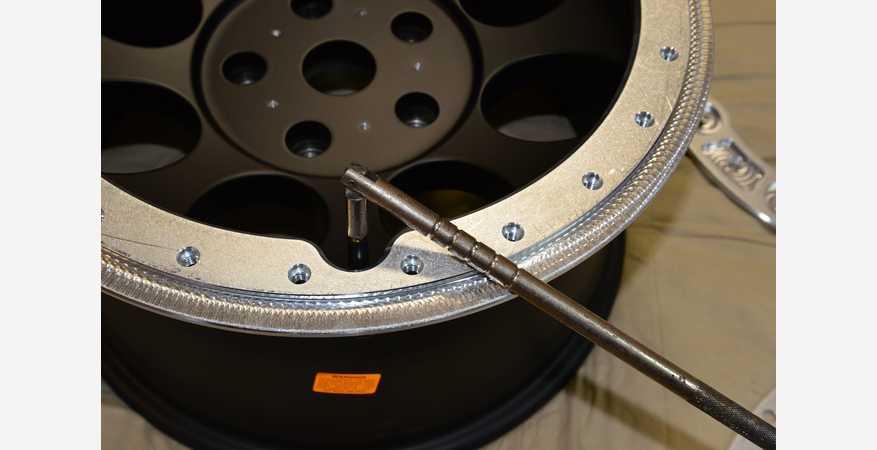 Remember to install a valve stem in the wheel before doing anything else. Yes, we forgot once and clamped the beadlock to the tire, then, when going to air up to set the rear bead, found there was no valve stem in the wheel. Duh. We've never forgotten since.
Most people use a soapy solution to mount tires, but we've found that simple water works. An old window cleaner spray bottle works fine to apply the H2O. Spray the beads with water and push the tire on the wheel. Sometimes, this requires putting your weight on the tire with a knee to get it to slip on.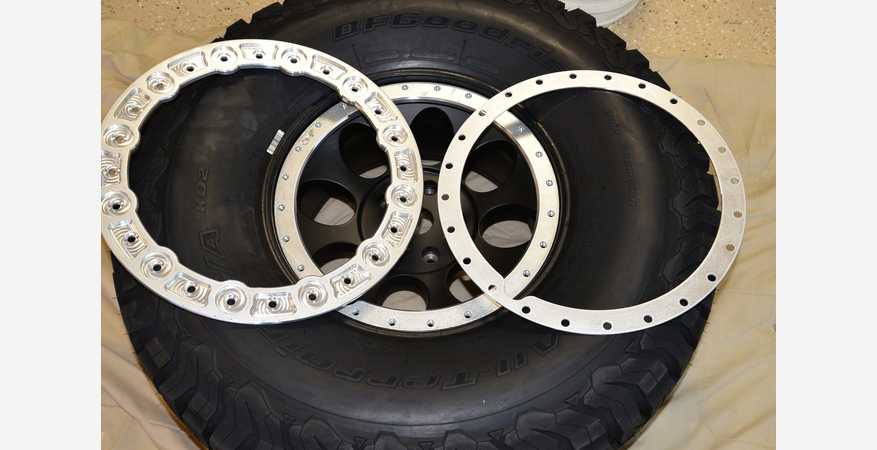 Some tires have beads that are as thick as 1". When this is the case, a spacer ring that's placed between the ring and the wheels is required for a tight, safe fit. OMF included these rings, but the BFG's have a standard width bead bundle and don't require them.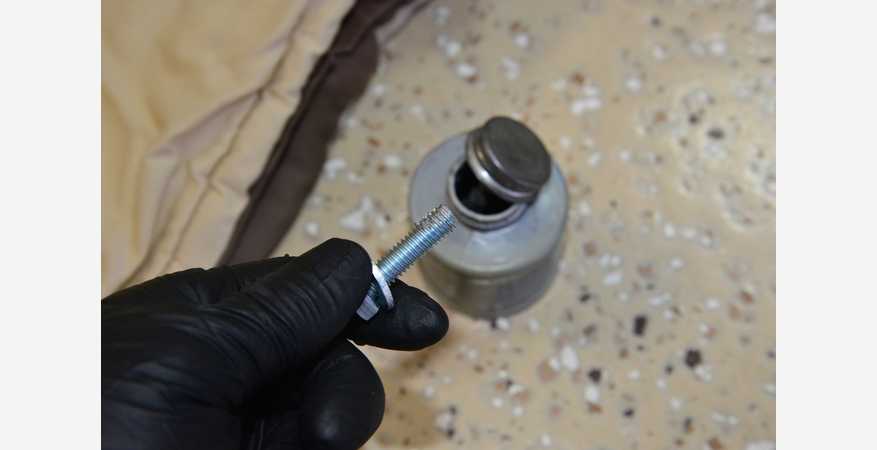 Unlike many available today, OMF beadlocks feature steel thread inserts. Even so, we always use anti-seize compound on the bolt threads. This ensures accurate torque readings and longer-lived threads.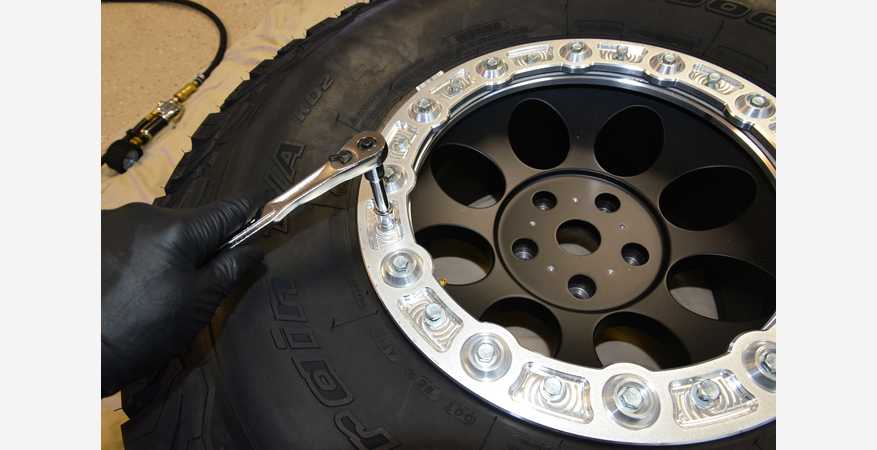 After installing bolts at the 12:00, 3:00, 6:00, and 9:00 positions (crossing them) we loosely installed all other bolts and, in this case, OMF Rock Domes, then proceeded to tighten them with our small 3/8" ratchet in a crisscross pattern. It's important there is metal-to-metal contact between the ring and the wheel. Don't overtighten!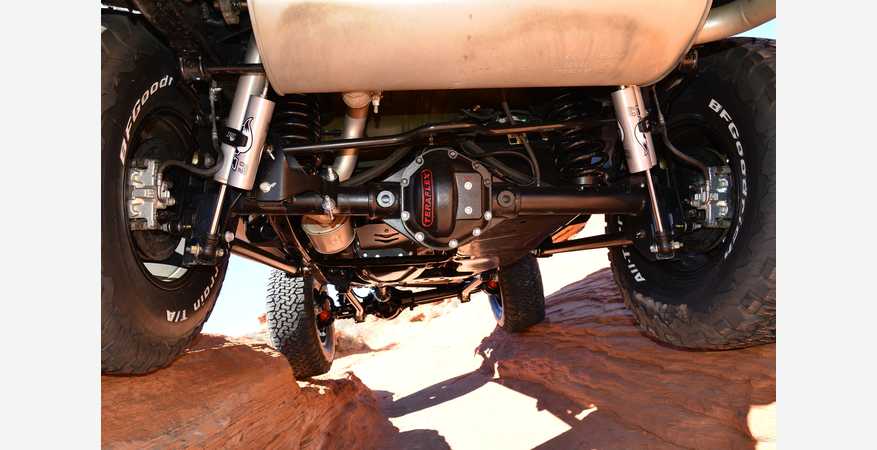 Spray the rear bead with water again.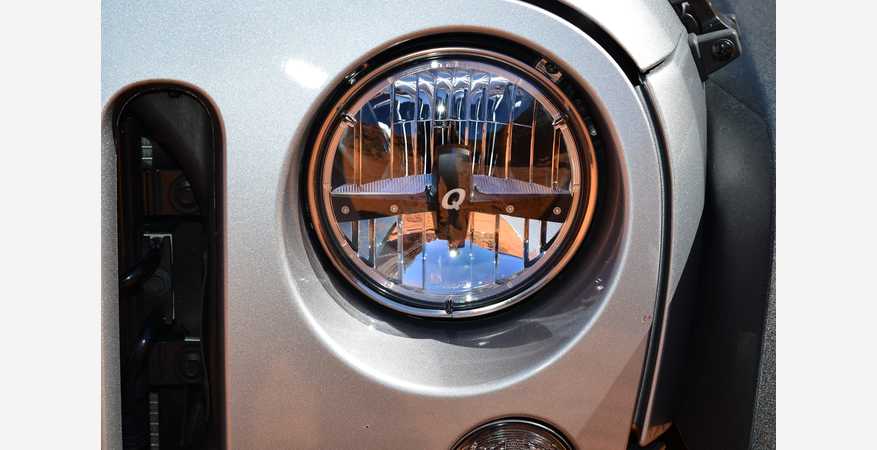 Place the tire and wheel on a plastic bucket, a stool, or anything that gets it off the floor. Then, inflate until the bead seats. We leave the valve core out during this step and let the tire fully deflate after seating the bead. Leave it deflated for now.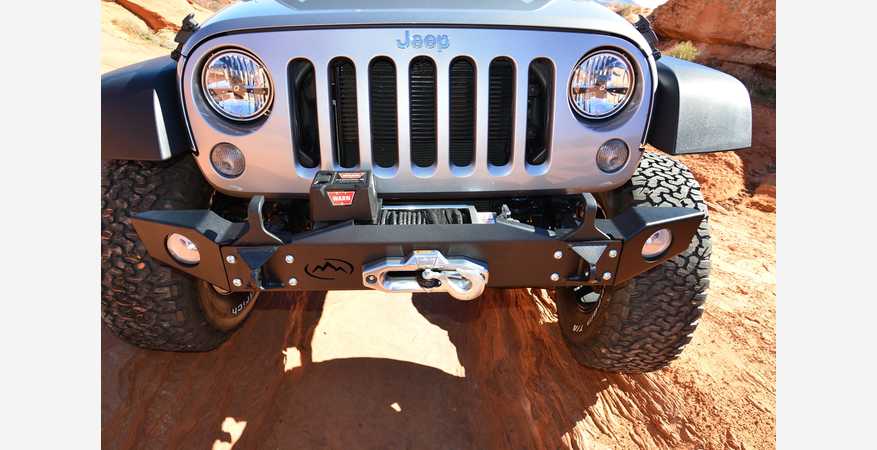 Using a crisscross pattern, torque the bolts carefully to spec. In this case, we torqued them to 20 ft. lbs. After torqueing the bolts, don't air up the tire and repeat twice. This isn't standard bolt torqueing protocol, but the tire bead will compress a bit and require this step. Once this is done, install the valve core and inflate the tire. You're finished!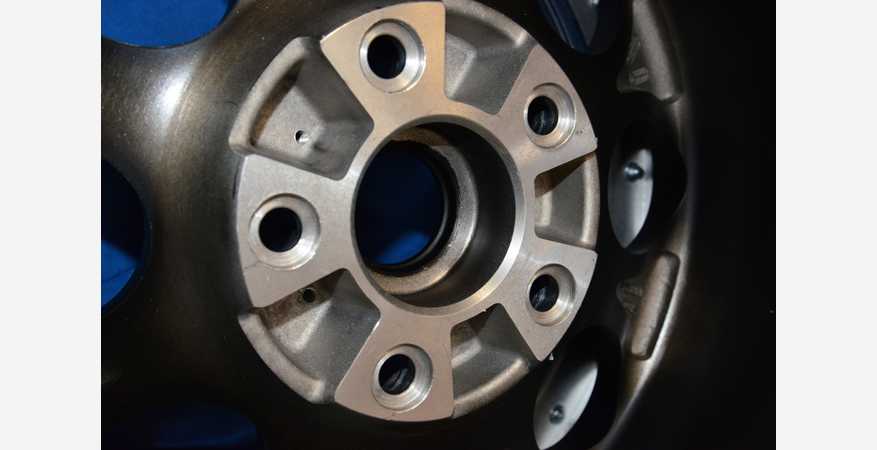 Quadratec Baja Xtreme JK Wrangler wheels are hub-centric just like OEM wheels. This means the wheel centers itself on the hub to perfectly center it and preclude weird bouncing and runout issues.
Our Baja Xtreme wheels with OMF beadlocks look great and work even better. We now can 'wheel on tough trails and know that our tires will stay on the wheels, even when aired down to single digit pressures. Plus, installing them was fun!