The announcement came in a 'blink and you'll miss it' moment: Fiat Chrysler will not build a highly-rumored SUV.
Pause.
Take a deep breath. FCA still has its Jeep Wrangler truck on the schedule.
Rather, the automaker said earlier this week it will not produce a Chrysler Pacifica crossover despite plenty of rumors the vehicle was nearing a final build stage.
So why does this matter for Jeep lovers? Well, with the future automotive waters always murky and full of danger, who is to say FCA engineers wouldn't also decide a Wrangler full size truck just isn't feasible against competition from established Ford, Chevy, or Dodge versions.
Even worse, what if short-sighted FCA executives decide sales from a Jeep pickup would cannibalize too much from the higher-profit Ram despite assurances the Wrangler truck is coming.
Both unlikely, but not impossible.
And, should it happen, that decision would surely cause much backlash from Jeep truck fans. Especially if you consider what FCA could offer as a replacement.
Something called the midsize Fiat Toro. Or should we dare call it the Cherokee Toro?
The Toro, based off the Cherokee platform, is currently selling well for FCA in Europe and South America, and could very well be in the automaker's US plans.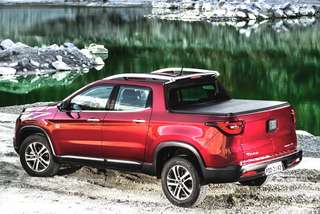 The vehicle has already been spied road testing this spring in the Eastern Michigan area and Mike Manley, head of FCAs Jeep and Ram brand, is on record saying the carmaker supports the idea of bringing a new midsize truck into the US.
"I think there's opportunity there in the U.S. if you look at what's happened in the midsize segment here – significant growth last year," Manley said in an interview earlier this year with The Detroit News.
Manley was quick to add a midsize truck could exist alongside the larger Wrangler pickup and probably would be marketed under the Ram brand. However, with the Jeep name driving sales month after month for FCA, the potential certainly exists for the Toro to rebrand and sell under the Jeep umbrella.
Especially if FCA execs backtrack and decide the less competitive midsize truck market is the only road they want to travel.
The Toro is currently offered in three trims - Urban, Adrenaline, and Country - and two drive options.
The Urban comes in a front-wheel drive configuration, and gets a 1.8-liter E-Torq Flex four-cylinder with 138 horsepower mated to a six-speed automatic.
Adrenaline is also 4x2 only, but the vehicle has a 2.0-liter Multijet turbodiesel with 170 hp tied to a six-speed auto or a six-speed manual transmission.
The Country, most likely what FCA would offer up for North American production, is the only one with four-wheel drive and it gets all the powertrain options: the 1.8-liter with the six-speed auto, or the 2.0-liter diesel with either a six-speed manual, six-speed auto, or nine-speed automatic. The turbodiesel option has up to 280 pound-feet of torque.
Should the vehicle make it to North American production, chances are FCA would include the 271-hp 3.2-liter V-6 used in the Jeep Cherokee, mated to a nine-speed transmission and all-wheel drive.
For now, FCA seems to be all-in on the Wrangler four-door pickup truck. Hopefully this interest continues and the cards all add up to a winning hand for Jeep truck lovers sometime in the next 18 months.
Otherwise, for many, they could just end up seeing Toro red.