by Matt Konkle
Quadratec Channel Editor
Editor's Note: In 2018, Jeep produced both the older generation JK Wrangler as well as a new generation Wrangler, the JL. Although both vehicles do have the 3.6L Pentastar engine, the JL version is a slightly different oil change process. You can find information on changing the oil in your 2018-20 JL Wrangler here.
Changing the engine oil in a 2012-2018 Jeep Wrangler really isn't the impossible task that many imagine, or what auto shops and dealerships around the country make it out to be in advertisements. In fact, Jeep enthusiasts of all skill levels can easily tackle this project. And many certainly do when it's time. All it takes is a few simple tools, maybe some jack stands depending on if the vehicle is stock or lifted, and you can get the project done without spending an afternoon in a waiting room with stale coffee.
It won't save you a ton of money, but a do-it-yourself oil change allows you to choose the type of oil and oil filter you want, as well as make sure everything is removed correctly and safely re-tightened upon completion. No more having to trust the shop with those important, but sometimes overlooked, details. Plus, this is also a great way to visually inspect other parts on your Jeep at the same time.
For JK Wranglers from 2012-2018 with the Pentastar 3.6L engine, Mopar recommends using six quarts of 5W-20 oil, however you can also use 5W-30 depending on what type of driving conditions you expect to encounter. If you are not sure what any of that means, here is a basic rundown: the first number before the W is the viscosity (thickness) of the oil at lower temperatures during winter engine startup. The second number is the viscosity at normal engine operating temperature which is somewhere around 190–200 degrees F. So 5W-20 oil is a little thinner at high temperatures than the 5W-30 and has less viscous drag when the engine is running, which actually can help fuel economy by as much as 5%. And the thinner oil (on the low temp end) will provide better lubrication on cold starts as well.
So for just about anyone, 5W-20 oil works the best unless you are in a warmer climate or only run the vehicle during hot summer months. Also, Mopar says to make sure any oil you use meets or exceeds Chrysler Materials Standard MS-6395—which is simply a motor oil certification from Chrysler that most major manufacturers will display on their packaging. Mopar recommends either its own brand, Pennzoil or Shell, but any other oil that fits these categories will work.
So let's get to changing.
What You Will Need
Instructions
Before starting this project, make sure you park your Wrangler on level, flat ground and verify you've set the parking brake. In addition, it is always a smart idea to chock the vehicle's wheels any time you are working underneath for additional safety. After parking, leave the engine on for a few minutes in order to let the oil warm up - which will help it flow easier when you remove the oil pan plug. Prop up the hood and then remove the top engine cover by pulling up on the front edge and sliding it toward you. Ours is still a bit muddy from a weekend off road trip, but no matter.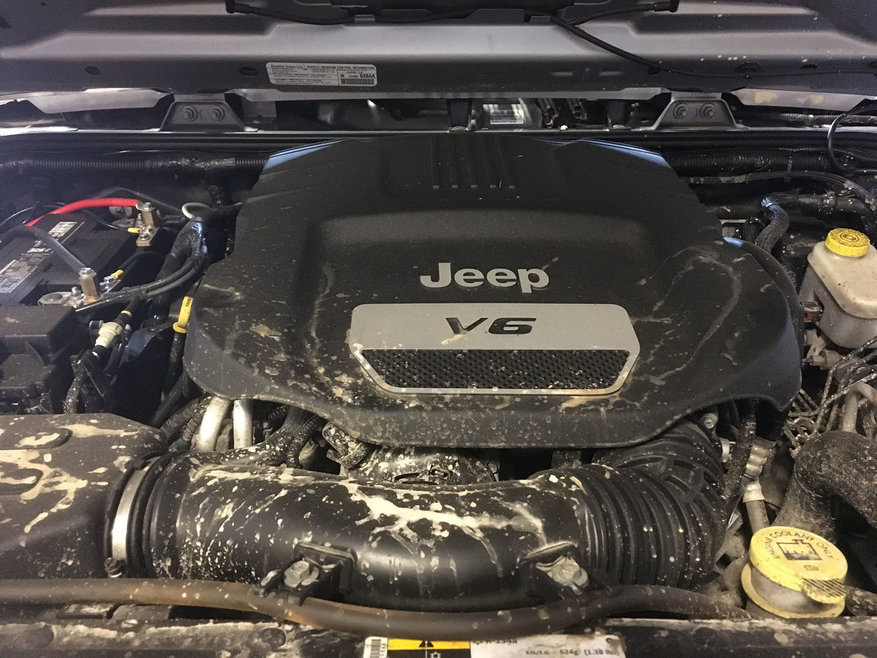 After setting aside that engine cover, locate the oil filler cap on the right side of your engine bay and remove. This will help allow oil to drain from the engine a bit easier.

Now you can move underneath the vehicle. We suggested earlier having some cardboard and paper towels handy, and placing them on the ground under the oil pan as that is a good way to prevent a small spill from becoming a major cleanup. With cardboard in place, attach your 13mm socket to your ratchet and carefully remove the oil plug. Keep in mind as soon as that plug is removed, oil will flow out so be sure to have your drain pan in position.

While you wait for the oil to fully drain, it is a good time to head back up top and remove your oil filter. Locate the cap at the center left in the bay (the top looks sort of like a piece of Honeycomb cereal) and attach that 24mm socket to your ratchet to remove the cap. The oil filter will remain attached to the cap, and will have a bit of oil leaking off it when you remove, so keep a towel handy to capture any renegade oil. Then, gently pull on the filter and it will pop out of the cap. The key word here is gently, because if you yank too hard on the filter then you could break the oil pressure relief valve inside the cap. Once the old filter is removed, simply attach the new o-ring to the cap and push your new filter into place and you are ready to re-install. One thing to note - Jeep did make a running change to the filter in 2014, so make sure your new filter choice does correspond to your vehicle year before trying to install.

With the new oil filter snugly into place, check back underneath and make sure all oil has drained completely from your Wrangler. Once set, attach that 13mm socket again and reattach the oil plug bolt to a torque setting about 25 ft-lbs. Use your towel to wipe up any oil residue in the plug area and then it's time to head topside and add your new oil.

Insert your funnel into the oil filler tube and refill the engine with all six quarts of oil before removing the funnel and snugly replacing the cap. You can then start the engine and allow it to run a few minutes. Observe the oil pressure gauge and make sure it is not lit. As long as everything looks good, shut off the engine and give it a minute or two for all the oil to drain to the bottom of the engine. Check the oil level and clean up your cardboard, towels and tools. Also, please be responsible and safely dispose of that used oil. Don't just throw it in the trash.

Resetting the change oil indicator
With the engine off, insert your key into the ignition and turn to the run position - but do not start the engine. Depress the gas pedal to the floor three times within a 10 second span and then turn the key to off. This should disable the change oil indicator until the next interval.
Notes
The mileage time frame for an oil change is not an exact science these days. While many still swear by the old 3,000 mile rule, and that is fine if you do, today's engines and oil blends do allow for a longer duration between changes. In fact, the Jeep manual recommends a swap every 8,000 miles or six months. However, your driving habits and conditions (temperature, off-road use) do play a part in this duration as well. So does your comfort level. And we've talked with plenty of people over the years with plenty of opinions. But whatever you decide, we do believe you should follow the other factory recommendation and not exceed 10,000 miles between changes.