Every time I've taken Project Snake Eyes into the woods, I've been careful to avoid obstacles that could come into contact with the not so strong factory differential covers. Usually, I'm only within a few hours of home if I run into trouble, and I've been very fortunate the rock crawling gods have spared me catastrophic consequences that a smashed or peeled back cover can bring.
From the factory, those stock differential covers are made of steel and a Jeep that stays on pavement will most likely never have an issue, as this is ample protection from most road debris.
Just behind that cover, however, are some expensive mechanical components that could easily be damaged beyond repair if the gear oil keeping it lubricated were to leak out. Since Snake Eyes is a Rubicon model, the differentials are also equipped with an electronic locker, and the cost of replacement parts goes up dramatically.
Contact with a rock could easily cause the ring gear to pinch against the cover with a minor hit, or crack the cover from a major strike - leaving me fully stranded. Rear differentials are especially prone to cover peeling as they pass over a rock, which could break the seal of the cover against the housing causing a much less noticeable issue, but with very similar consequences if left uncorrected.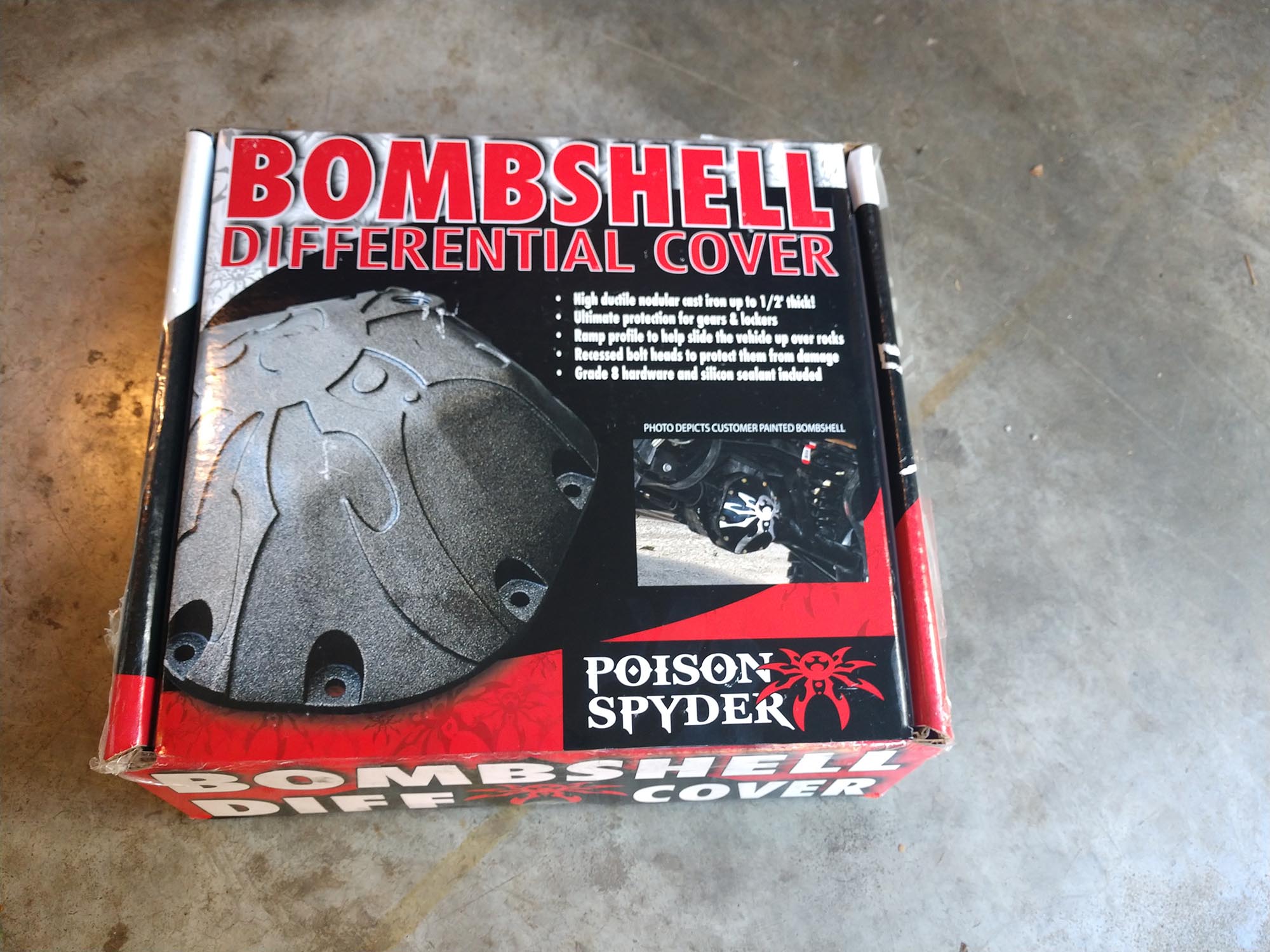 Poison Spyder has vastly improved upon the factory design, and offers its Bombshell Differential cover for both Dana 30 and Dana 44 axle assemblies commonly found in Jeep models. The Wrangler Rubicon edition is equipped with Dana 44s on the front and rear, so the same Bombshell cover works for both axles. As shown on the top of the box, you can even paint the spider logo a contrasting color to stand out more. These covers come in a black powder coated finish, but are also available in bare metal if you prefer a custom coating.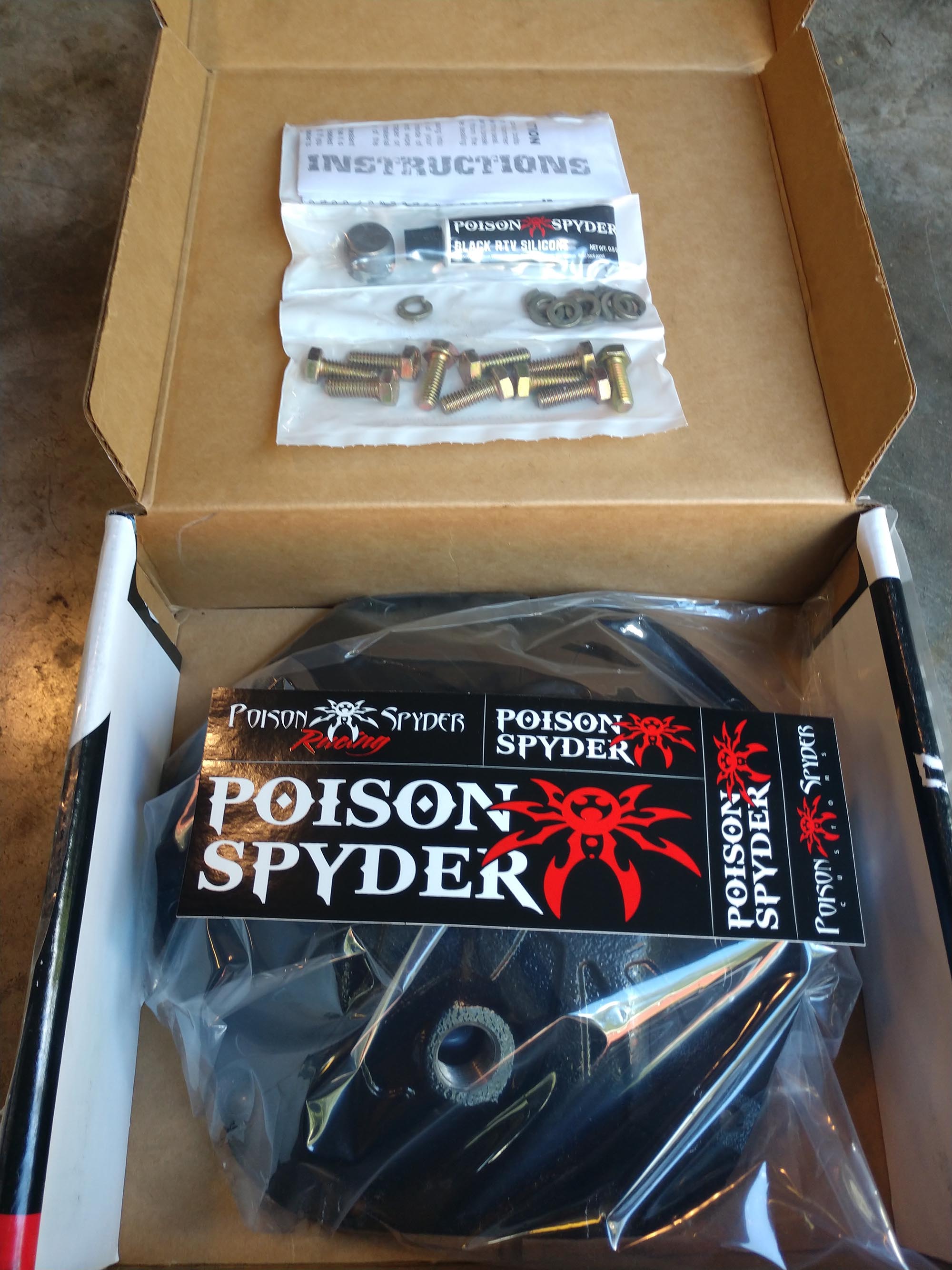 These stout covers are cast from highly ductile nodular iron, which gives them vastly improved strength and durability when compared to the flimsy factory originals. The included bolts reside within recesses in the cover to protect them from impacts that could snap the heads right off if they were unprotected.
The profile of the Bombshell units also present a ramped face to help your differential slide over some objects, rather than crunching up against them and lodging in place. These Bombshell covers are among the thickest and most durable units on the market, ranging in thickness from a full inch around the bolt ring where impacts are most likely, to 7/16" and ½" inch thicknesses around the perimeter of the mating surfaces.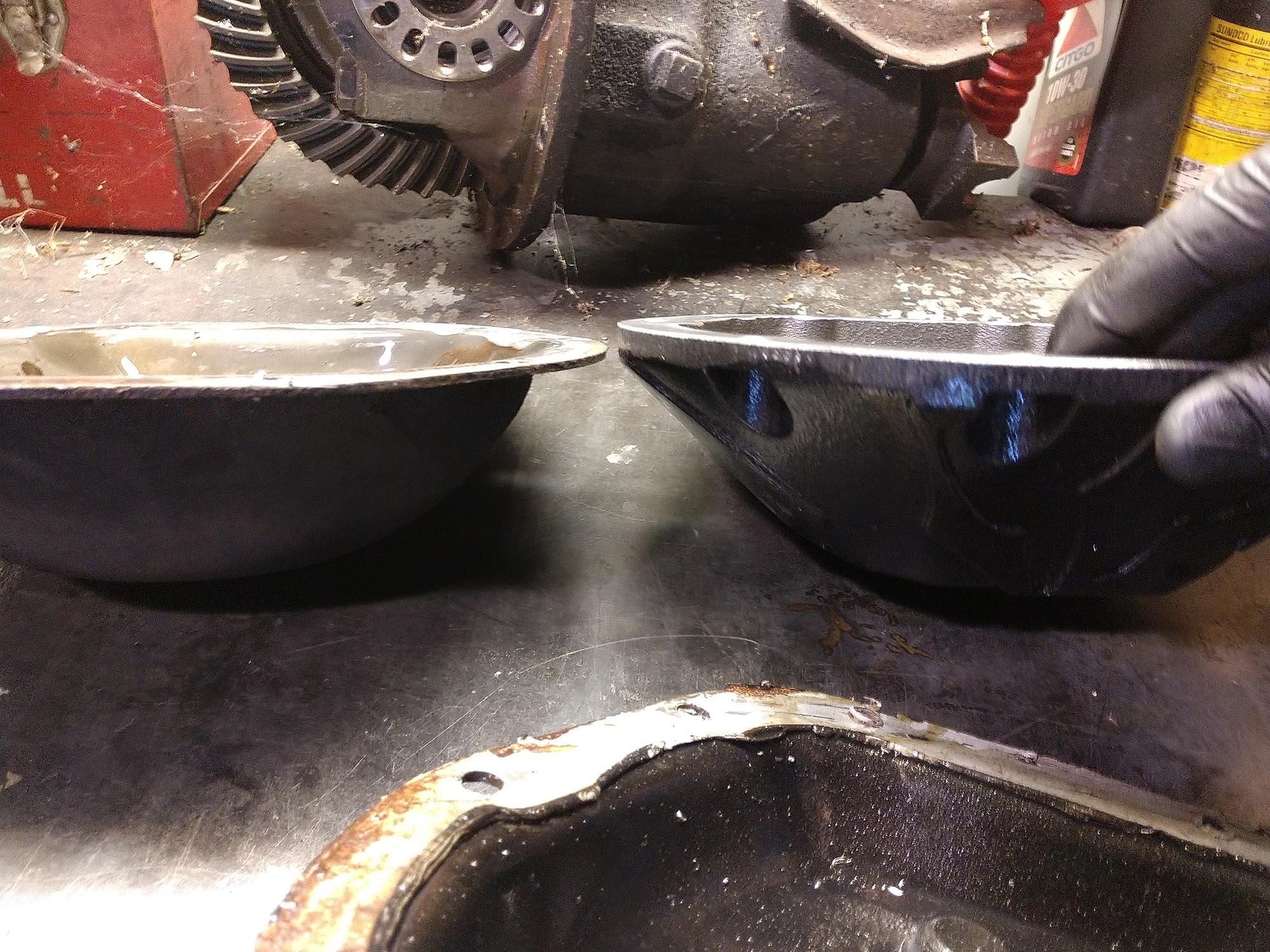 This newest incarnation of the Bombshell is engineered to work on front differentials without requiring any aftermarket steering upgrades. Even if this is one of your first Jeep modifications, rest assured it will fit without having to buy any additional parts. Poison Spyder includes everything you need to install them right out of the box, with a thoughtfully packaged hardware kit that even includes sealant for the mating surface between the cover and your differential housing.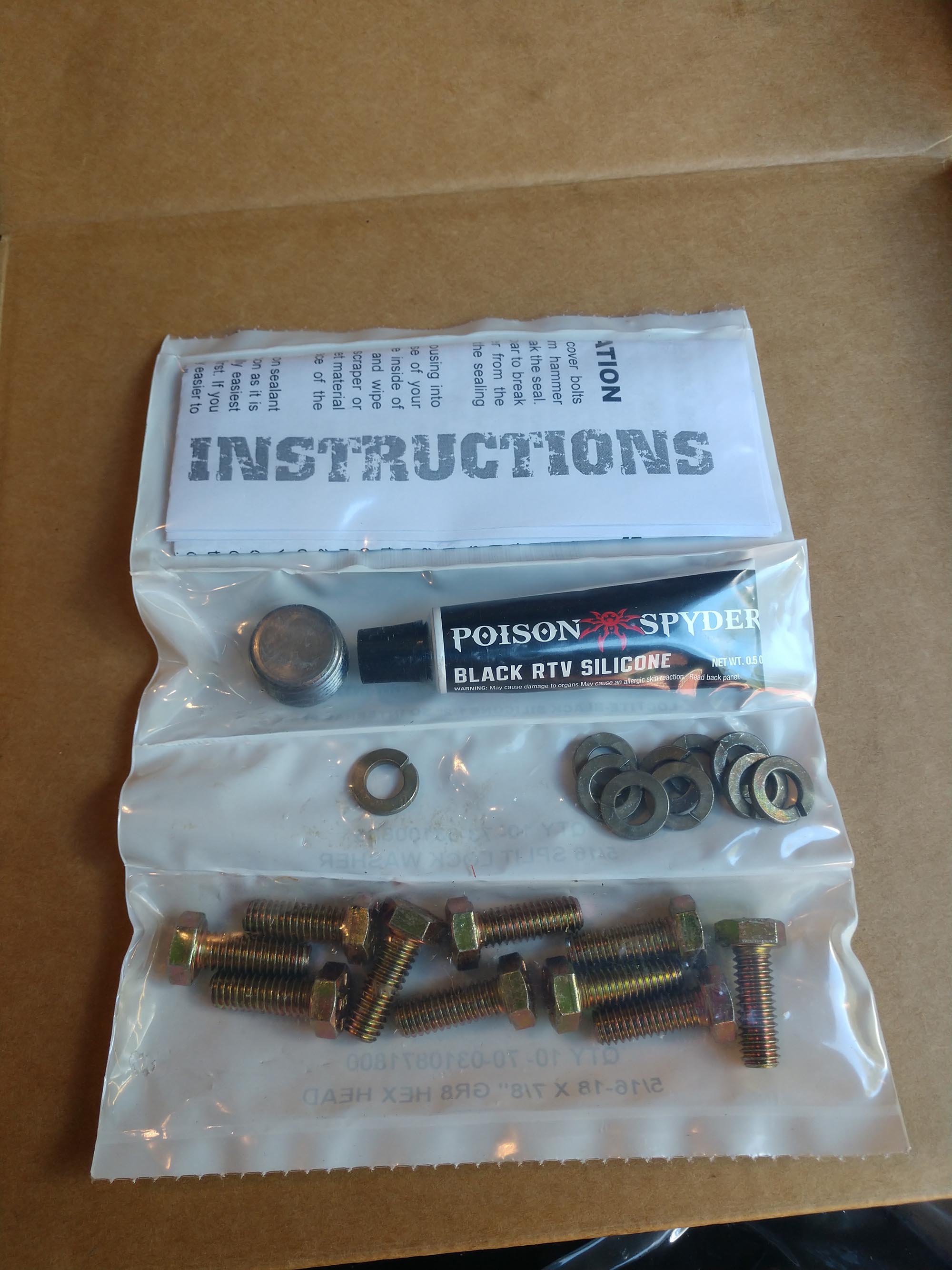 The fill holes on these covers are exactly where they need to be for correct fluid level filling without using guesswork or precise measuring to fill the differentials back up after replacement.
So, with an upcoming trip to the 28th Maine Mountains Jeep Jamboree, I decided to address this long overdue need for an upgrade. We intended to sign up for some of the most difficult trails this Jamboree has to offer, and this kind of hard wheeling 10 hours away from home could easily create a full blown, but avoidable, disaster. Since the differential covers are one of the lowest points on a Jeep, they should be armored enough to take the hit if your plan is to put them in harm's way,
Since axle shaft upgrades and new internal seals are on the 'not too distant' horizon, we opted to use Lubelocker's Reusable differential gaskets for this installation rather than the supplied sealant.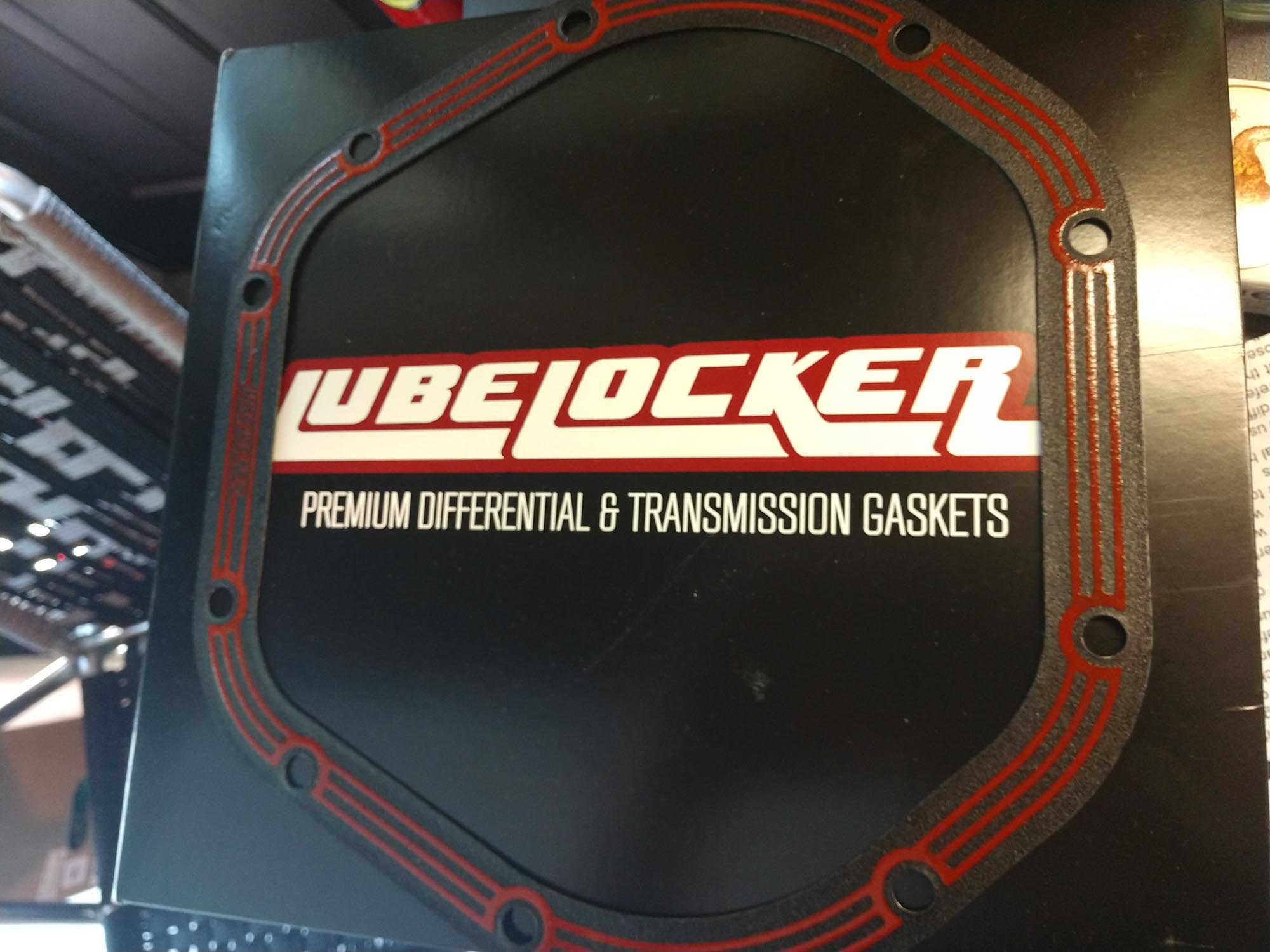 Tools and materials required:
⅜" ratchet
⅜" short extension
13mm socket
Torque wrench
Gasket scraper (to remove all the old silicone sealant and pry covers off)
Scotchbrite pad (mine was on a die grinder) to clean the mating surfaces
4 quarts of the gear oil your Jeep requires (limited slip and hot climates require different oil)
Drain pan to catch all the old gear oil
Teflon tape for the fill plugs on the Bombshell covers
Procedure:
Since this is very similar to the procedure of changing your gear oil, there's not much to it.
The JK models have a drain plug in the differential housing, just behind the cover. Or, in front of it in the case of the rear housing. These plugs, as well as the factory fill plugs, are designed to be used with the head of a ⅜" ratchet with no socket.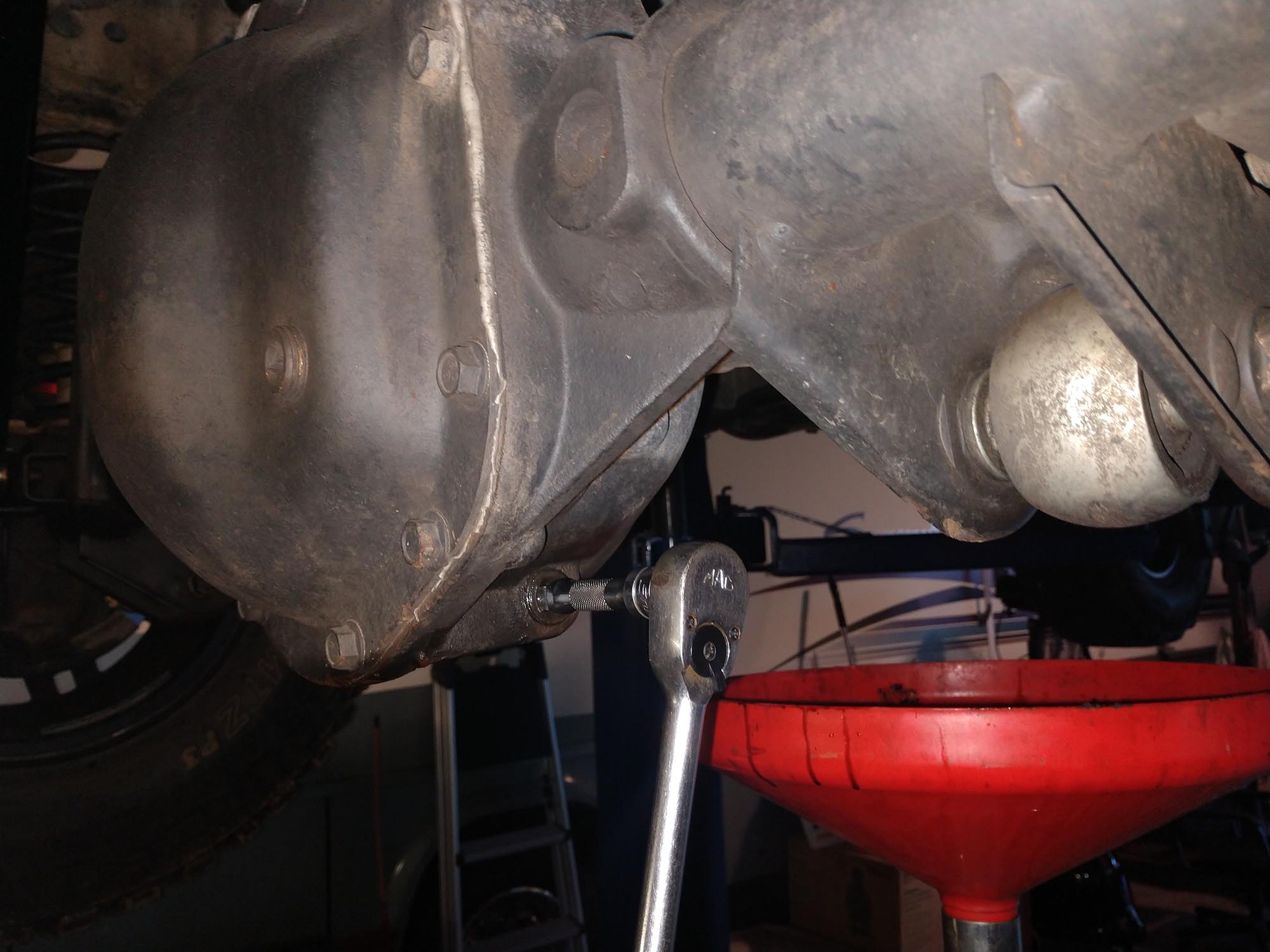 For the drains, you'll need a short extension to get the ratchet in there, but drain plug removal is simple. Remove the plug and allow the fluid to drain for a few minutes.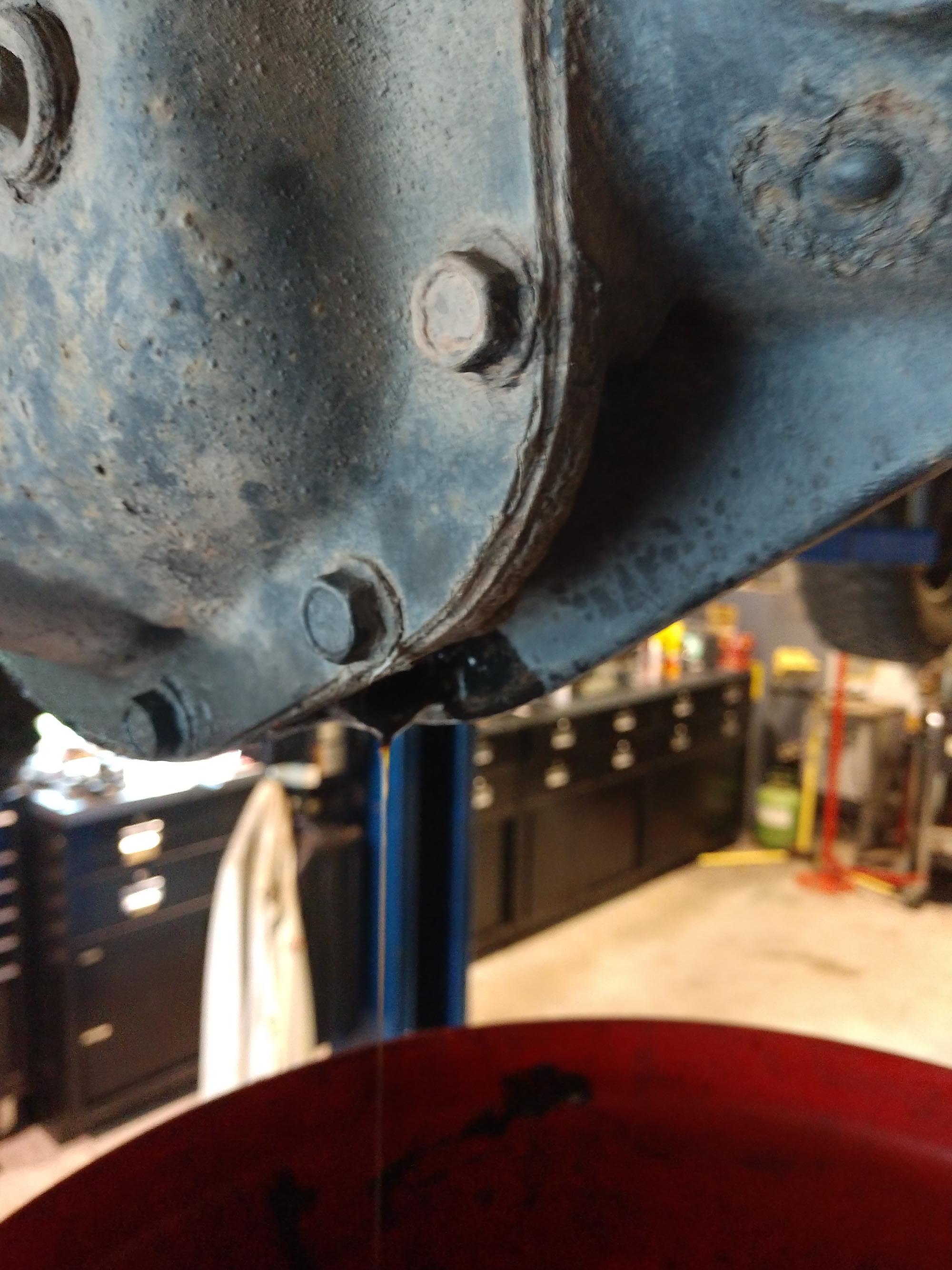 Once this step is completed, you can remove the cover bolts. I used a ⅜" impact, but this can be done easily by hand.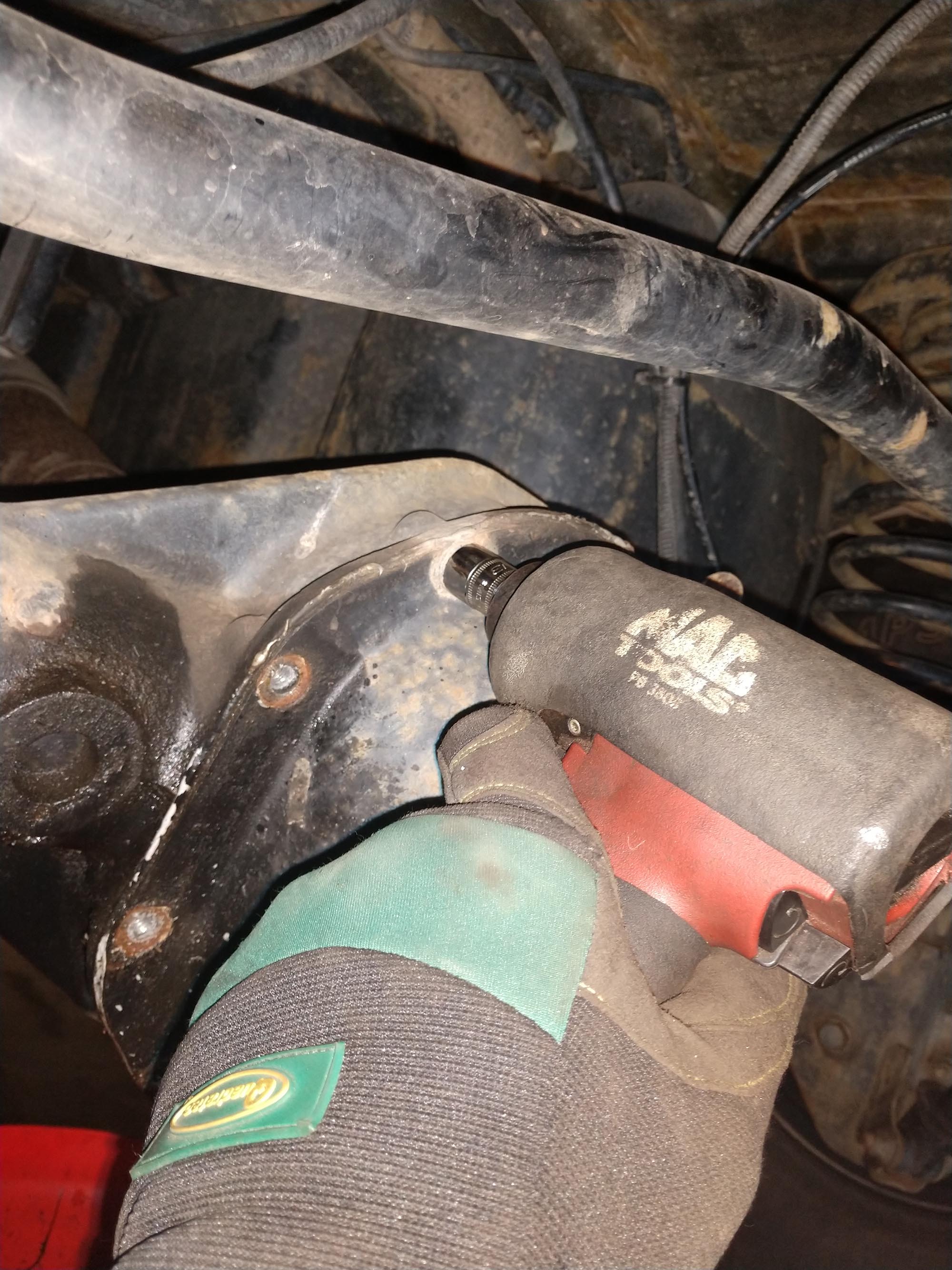 With all the bolts removed, you can pry off the cover with a screwdriver or a gasket scraper. If it is particularly stuck, you can smack them loose with a hammer if you have no intention of using them again.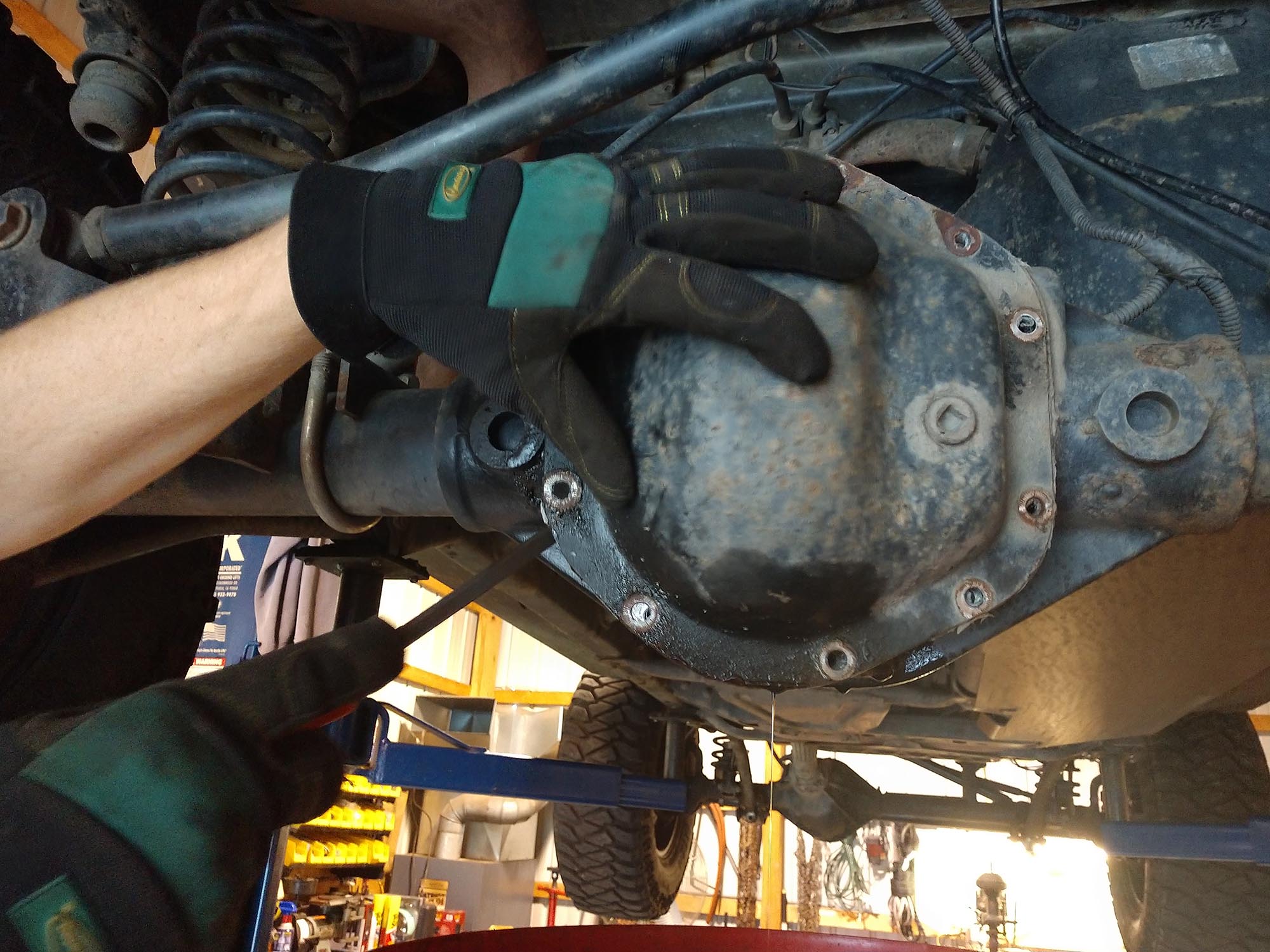 Once the seal is broken, most of the RTV sealant that was used at the factory can be peeled off or removed with a gasket scraper.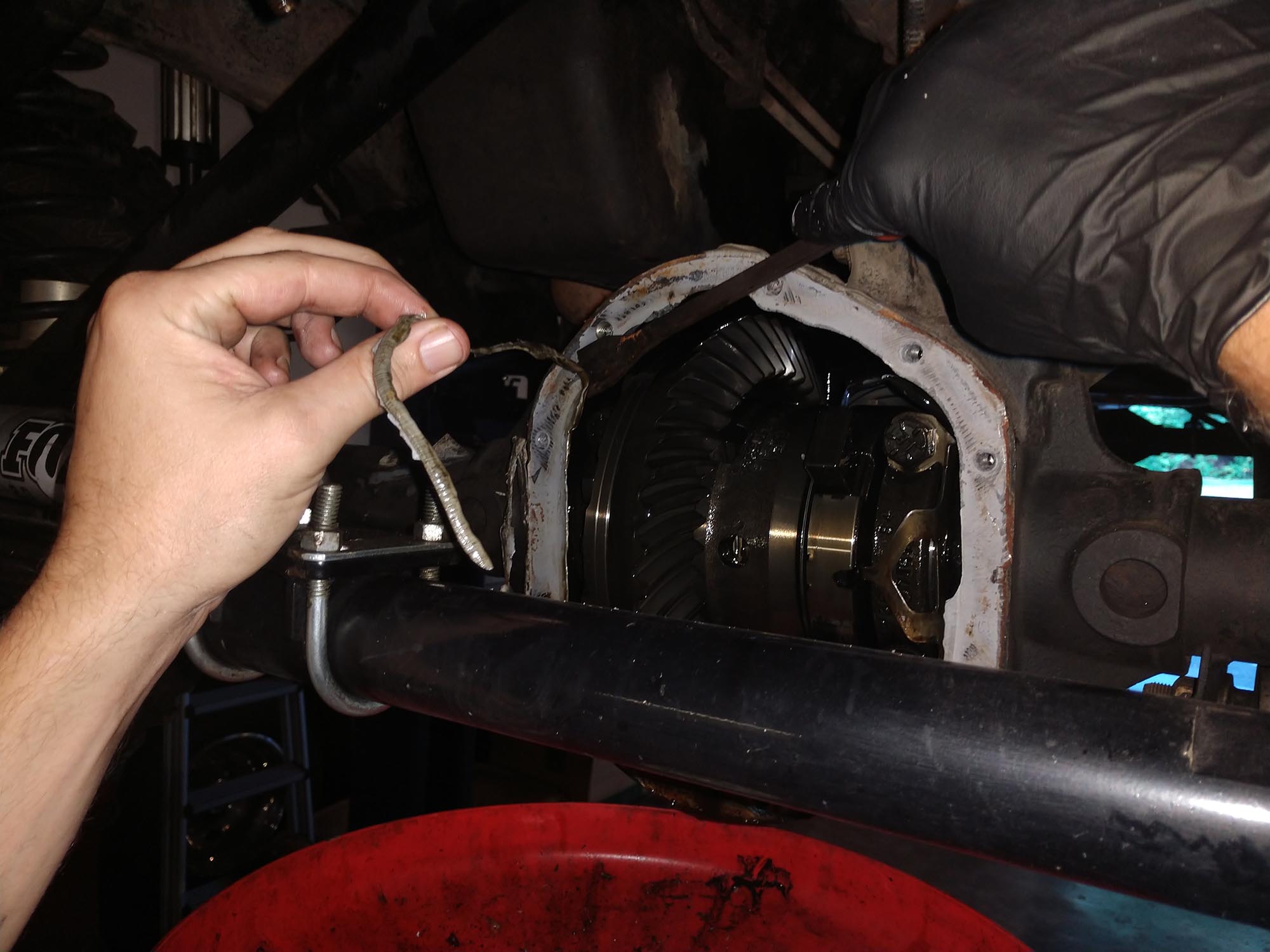 The rest will need to be cleaned off to create a clean mating surface for either new sealant, or in my case the Lubelocker gaskets.
I used a right angle die grinder with a Scotchbrite pad, but this could also be done with a wire wheel - or by hand with Scotchbrite pads, emery cloth or something similar.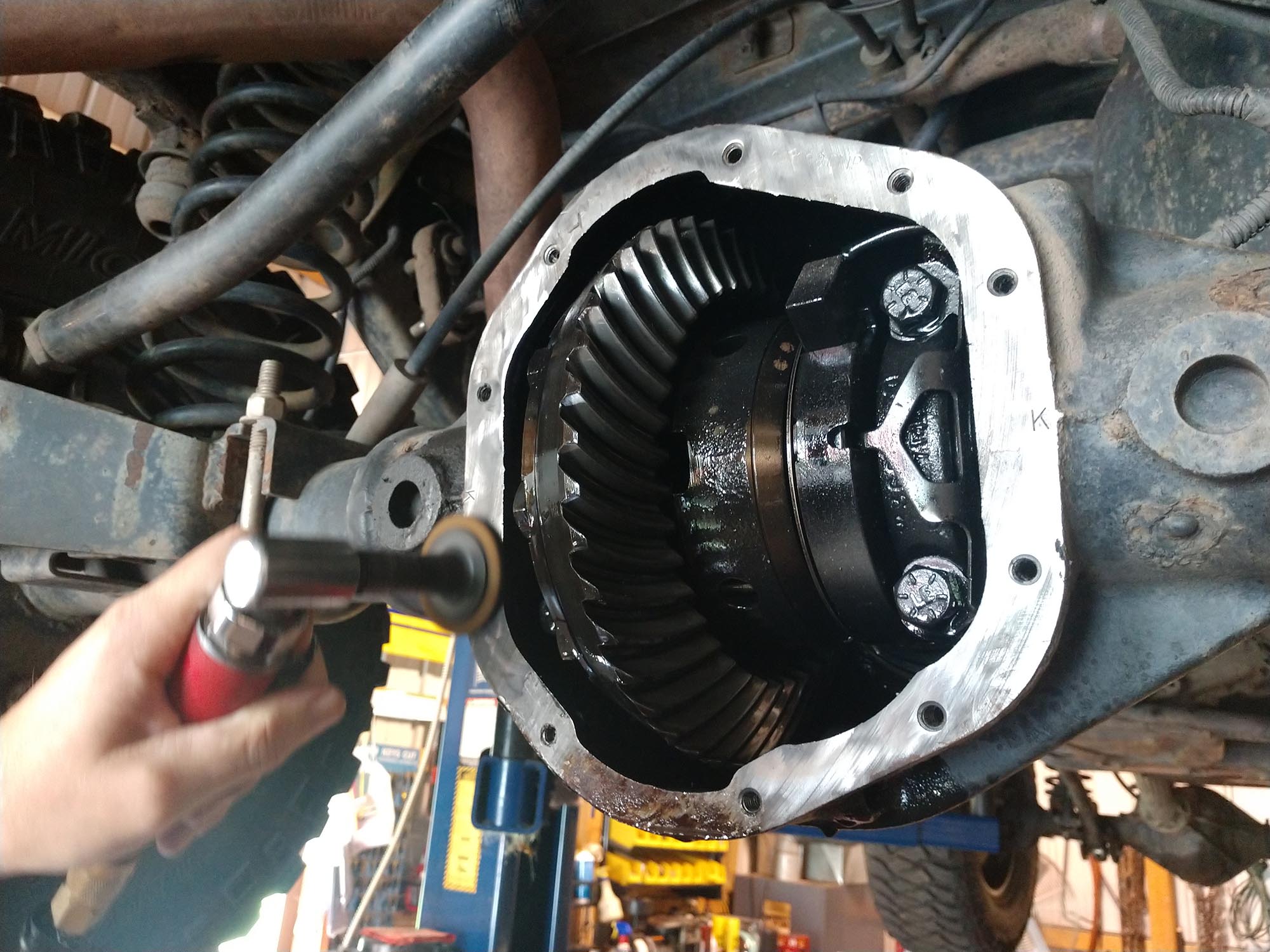 With the surface fully prepped, assemble a few of the grade 8 bolts and lock washers supplied in the Poison Spyder kit, and have them in easy reach. These covers are not light, so a second pair of hands might be useful here if you have someone nearby.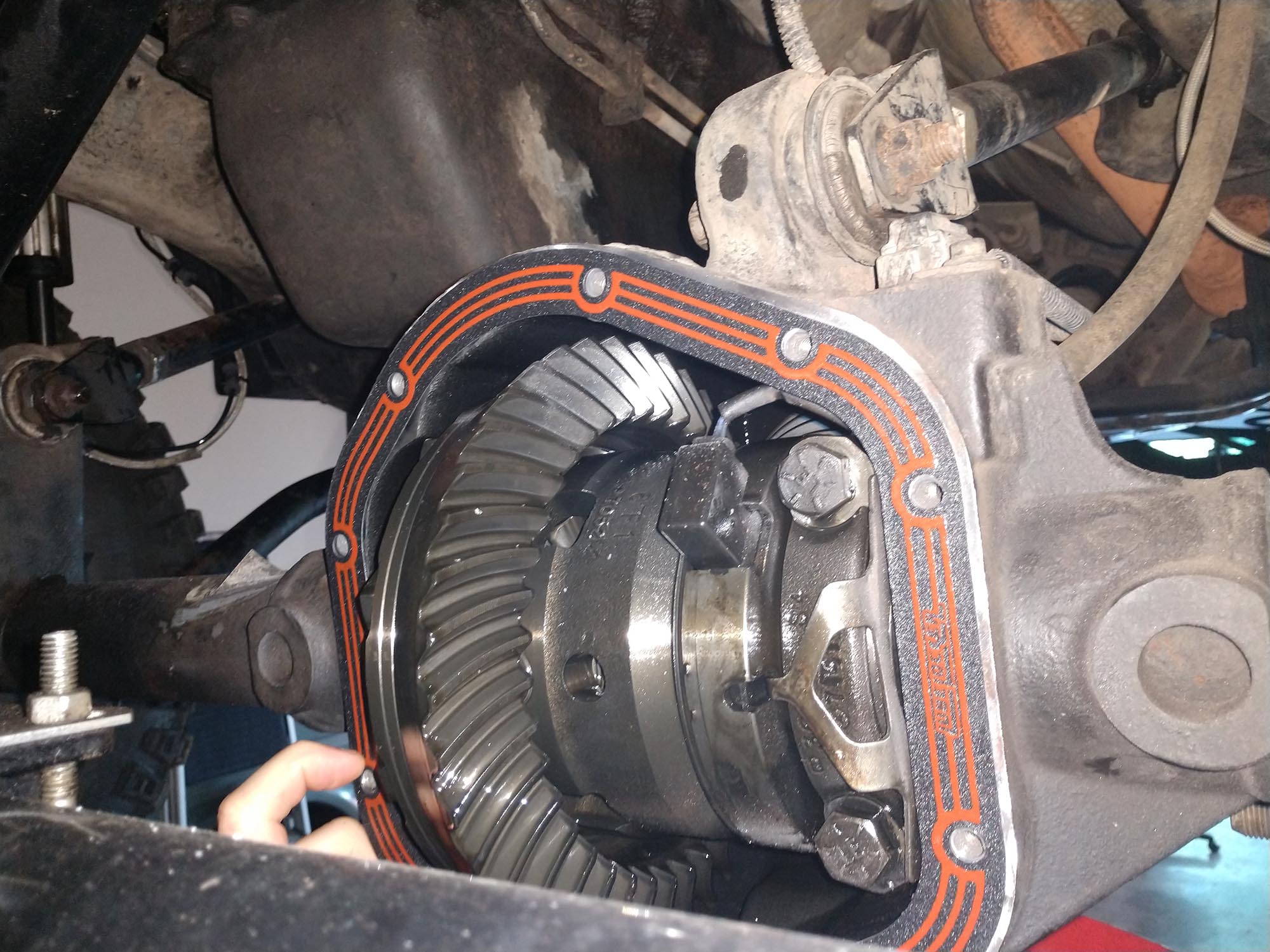 Check the fit of the Lubelocker gaskets on the differential, and if everything lines up, then install the cover with a couple of top bolts by hand.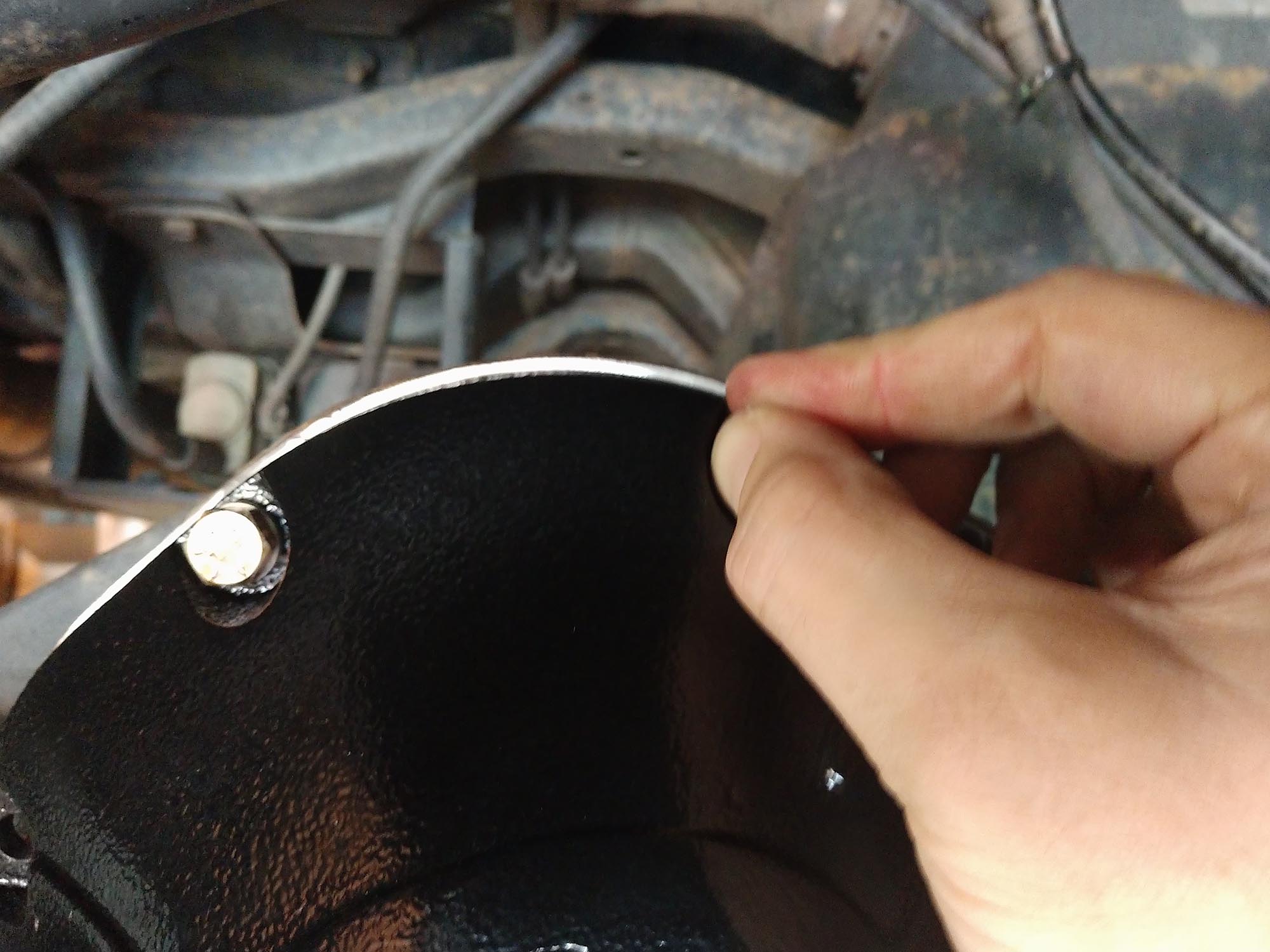 Thread the rest of the bolts in by hand around the perimeter of the Bombshell.
The back of the Lubelocker packaging has a nice tightening order diagram on it, which can conveniently be placed at eye level (if working on a lift) and tucked into your suspension or steering. Tighten the bolts with a ratchet until snug, but don't go crazy.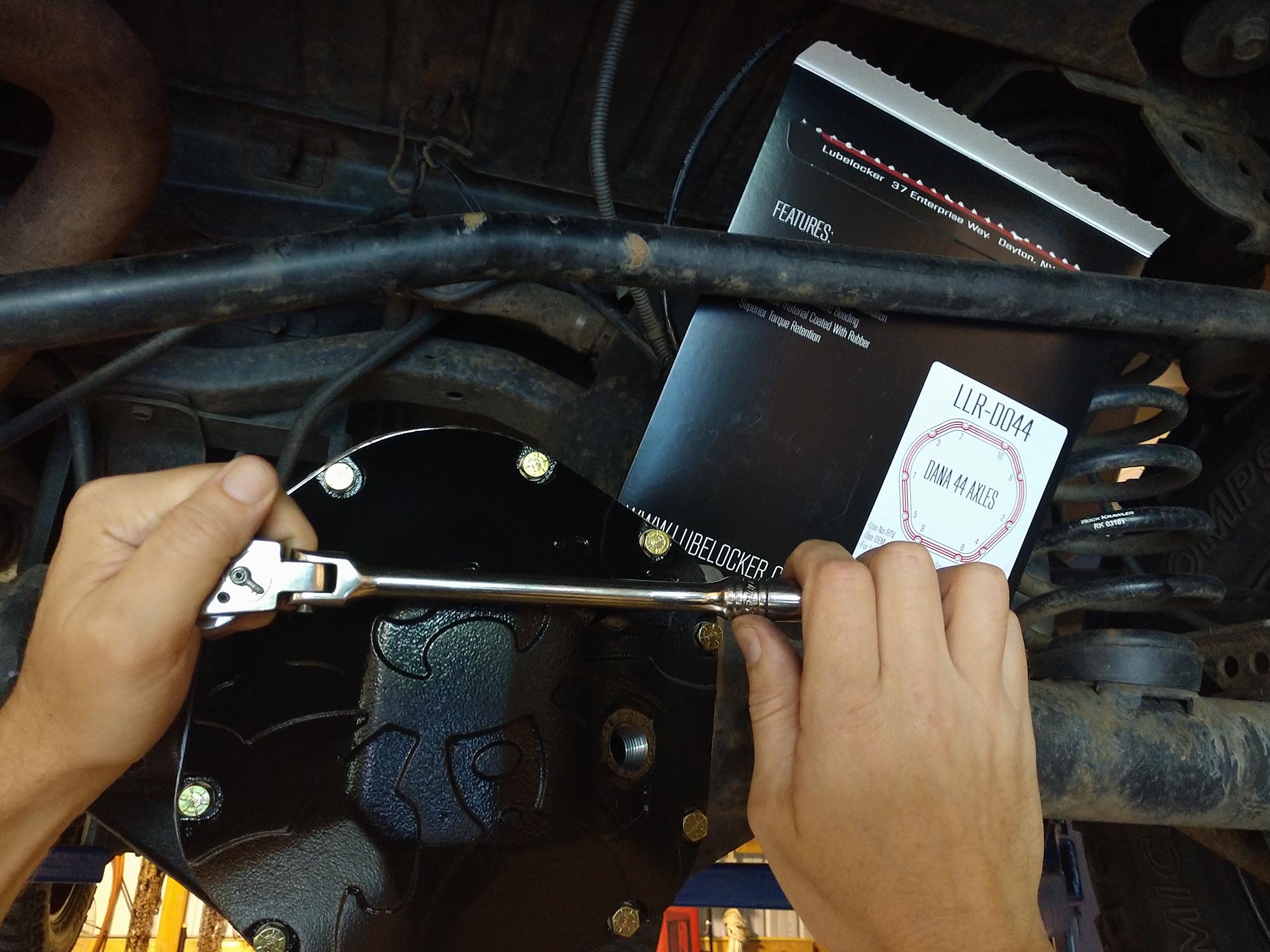 Using a torque wrench, first tighten each bolt to 12 ft/lbs following the diagram and using a crisscross pattern.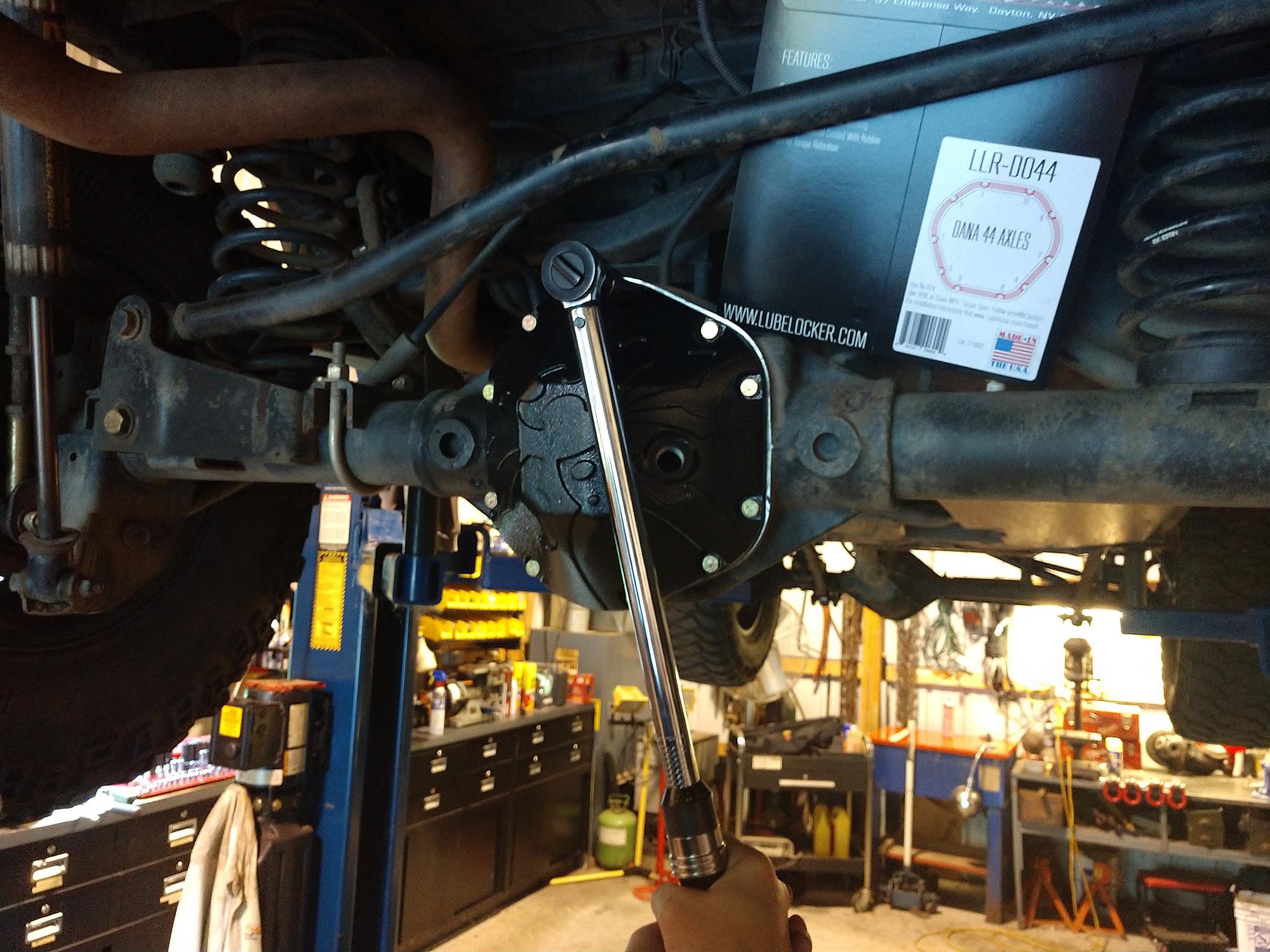 Next, set the torque wrench for 27 ft/lbs for the final torque to compress the Lubelocker gasket.
Filling these covers is easy thanks to their latest design, and fluid capacity is very similar to the factory specs. Since the fill plug is at the factory level (for a Jeep JK, other applications may be different), and even with the bottom of the axle tubes, you can fill the differentials until gear oil just starts to drain out.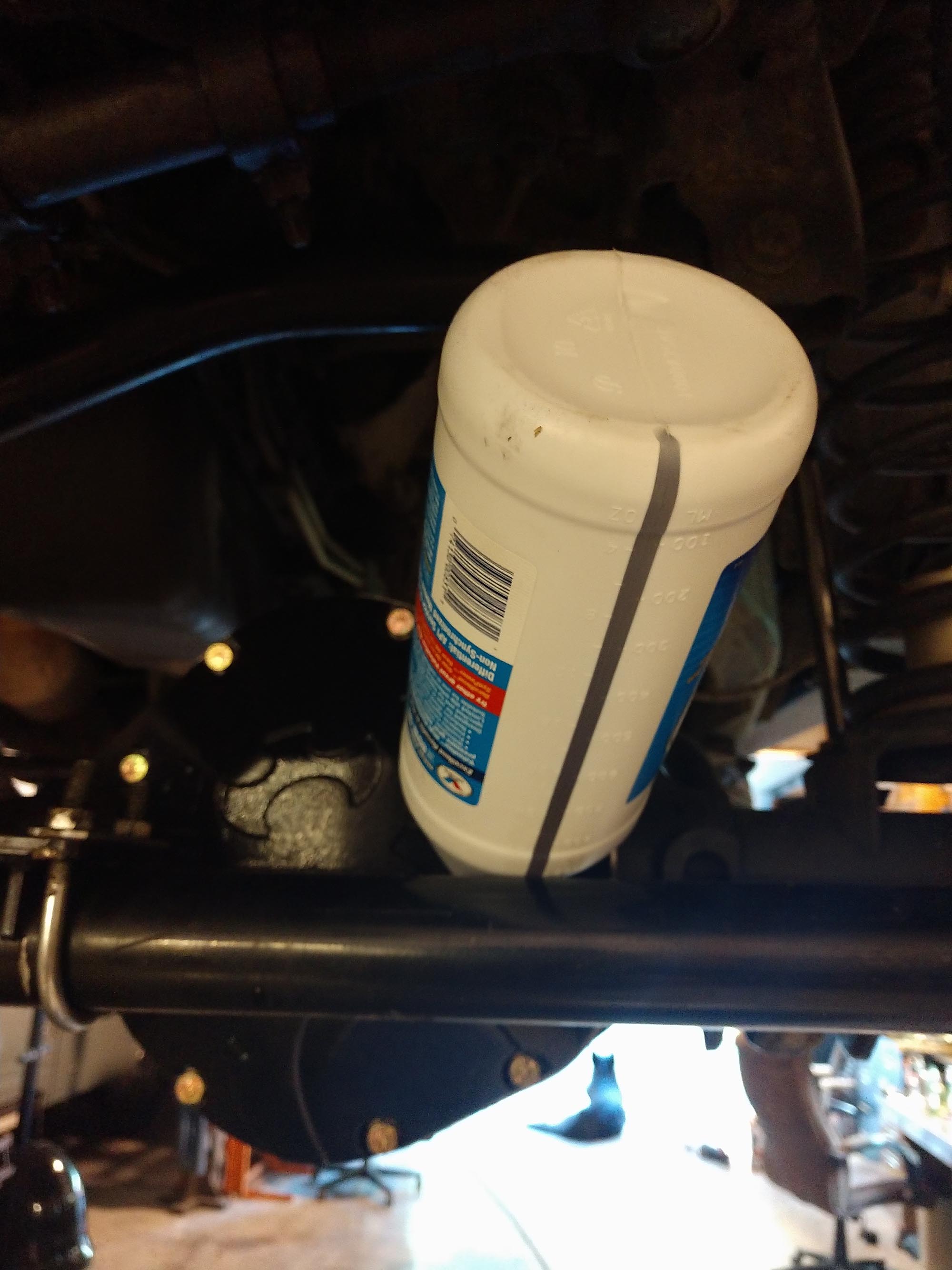 Total capacity of both differentials was a slightly over three quarts. I didn't precisely measure it, but the front differential took a tiny bit out of the fourth bottle. Poking a hole in the bottom of these bottles with a knife does allow them to drain faster, but you won't be able to squeeze the bottle afterwards.
Install the fill plug with a layer of teflon tape or plumber's sealant, and tighten it up with a ⅜" ratchet.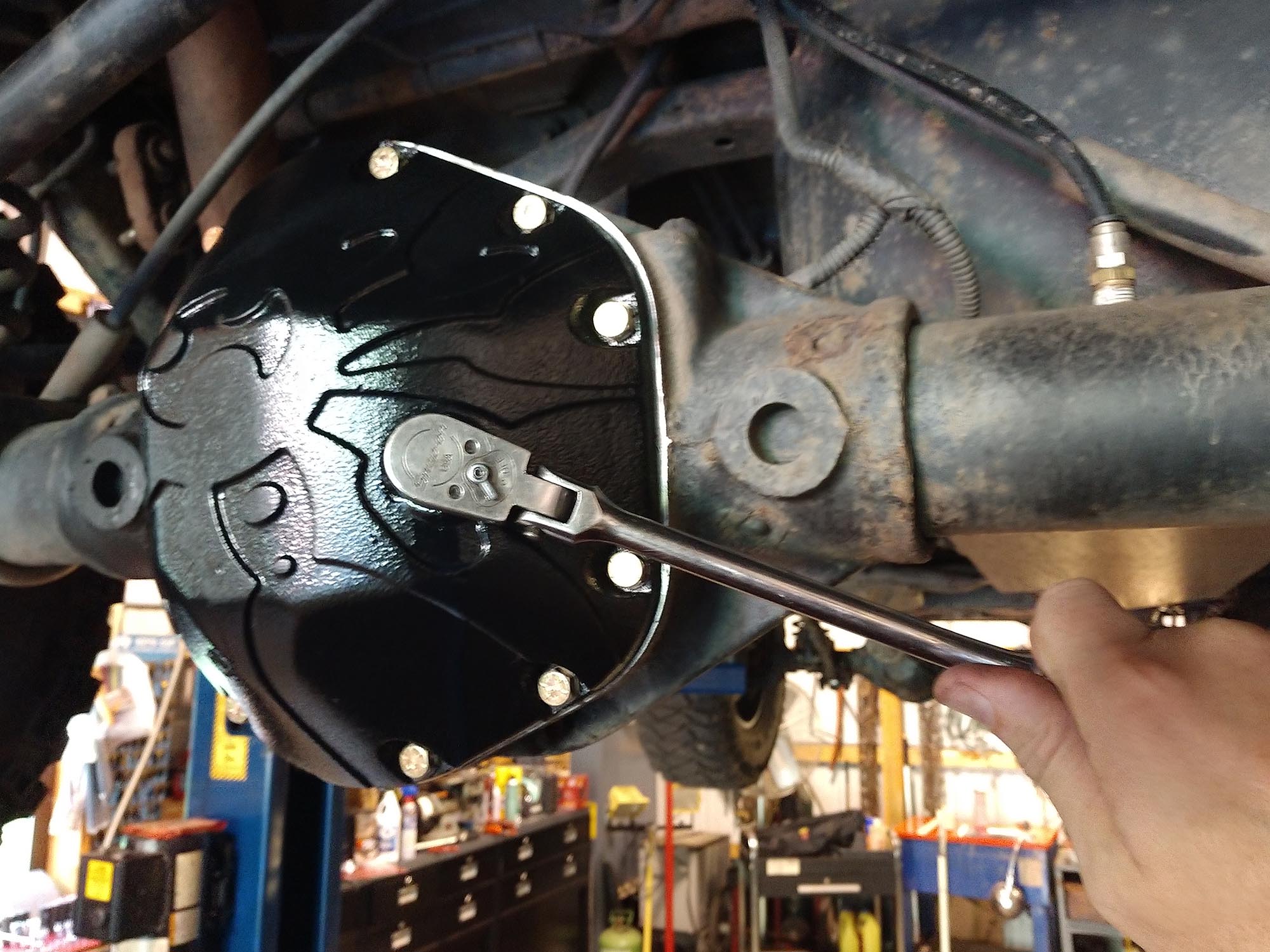 This is the final installed product, both front and rear. Plenty of room up front for my Rock Krawler oversized steering with no clearance issues.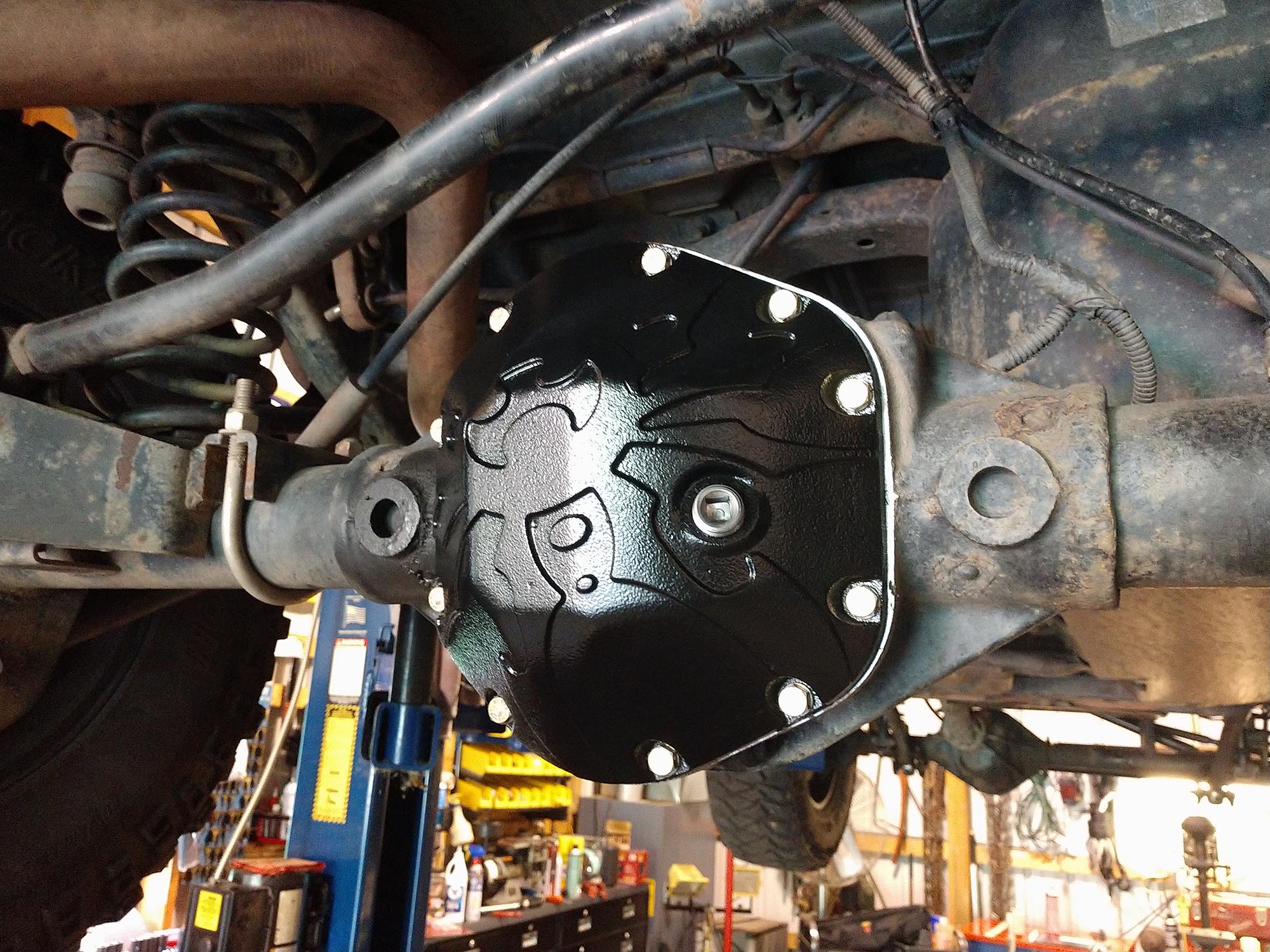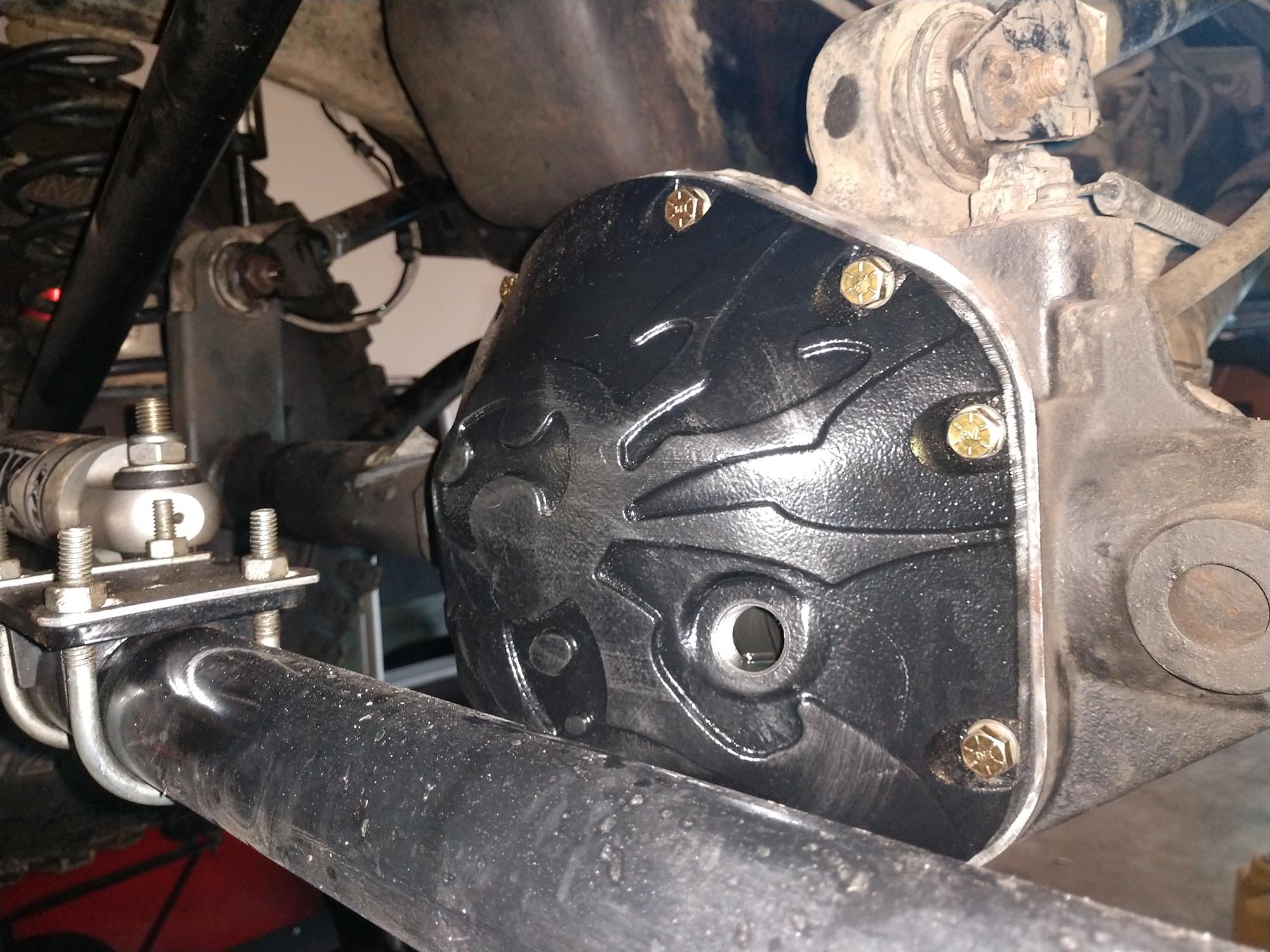 Like I said before, we recently took Project Snake Eyes up to Bethel, Maine for the 28th Maine Mountains Jeep Jamboree, and we really put these covers through some abuse. I'm happy to report they held up with only minor scratches. I am confident, if I left the factory differential covers on for the trip, they would have absolutely suffered a catastrophic failure with the lowest hit - a submerged mud hole rock that stopped me dead from about 5 mph, causing the rear end to lift up a few inches.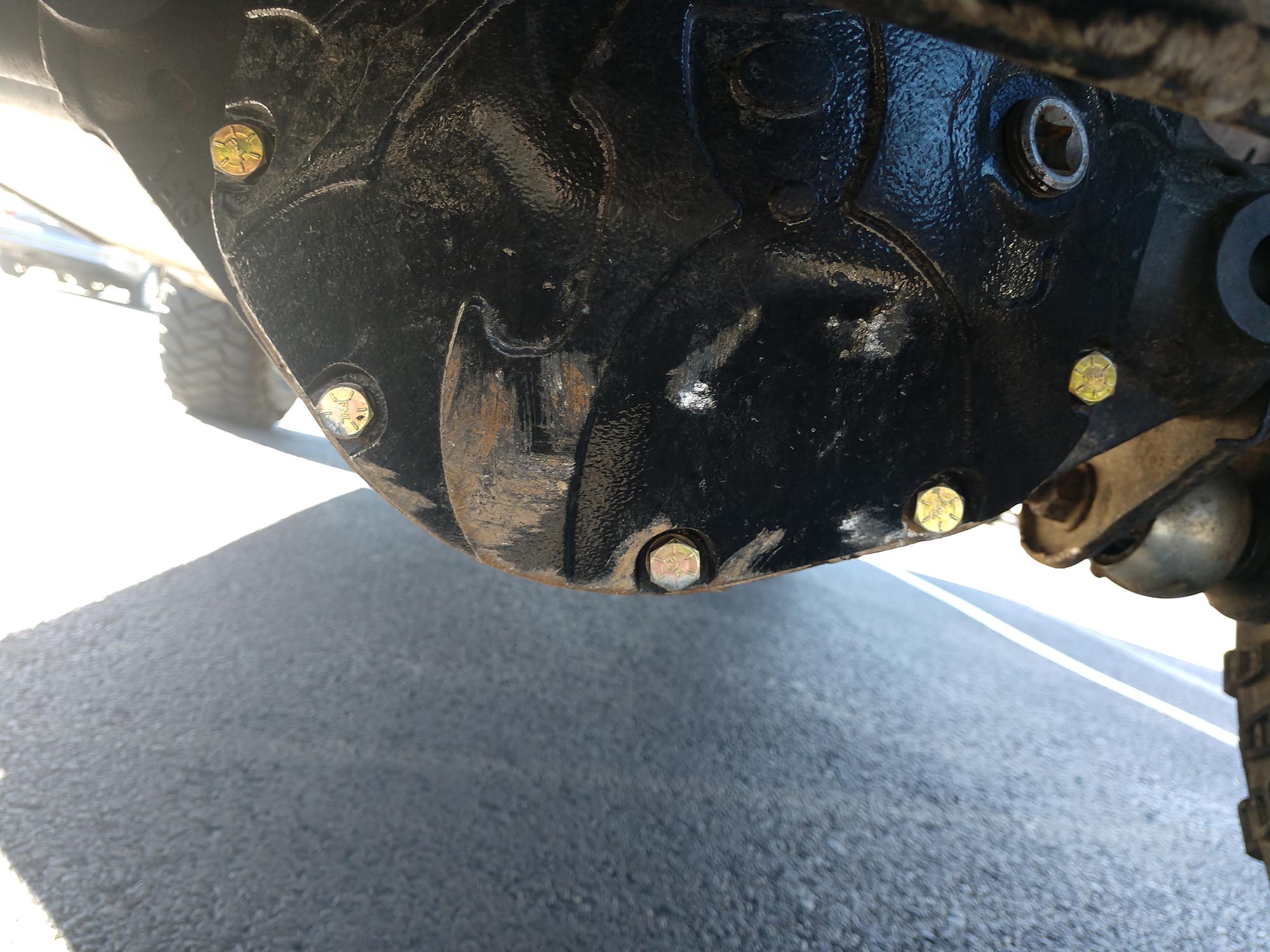 A quick touch up and double check of bolt torque will be all it needs to be perfect again. I don't know about you, but that sounds a lot better than a tow truck and a new set of gears.
This mud hole obstacle proved to be a challenge, and involved pivoting over a few feet on the rear differential. While that's not the line I initially chose, it's the line I ended on so best to be prepared and have no regrets, right?