by Scott Ammerman
Quadratec Channel Correspondent
Hardtop envy. For anyone who spends their days awkwardly maneuvering a soft top up and down on their Jeep, jamming window zippers into a slot and hoping they catch, well, hardtop envy is a thing.
But is buying that hardtop really worth it to replace your soft top?
Short answer, maybe.
In reality, there are several reasons you may want to ditch that fabric top and go fiberglass. However, there is something to be said about utilizing both a hard and soft top depending on how you use your vehicle.
So here are seven solid reasons why a hardtop may be a better solution for you, along with a few cons listed towards the bottom to ensure, for me, why a hard top will never be my only choice.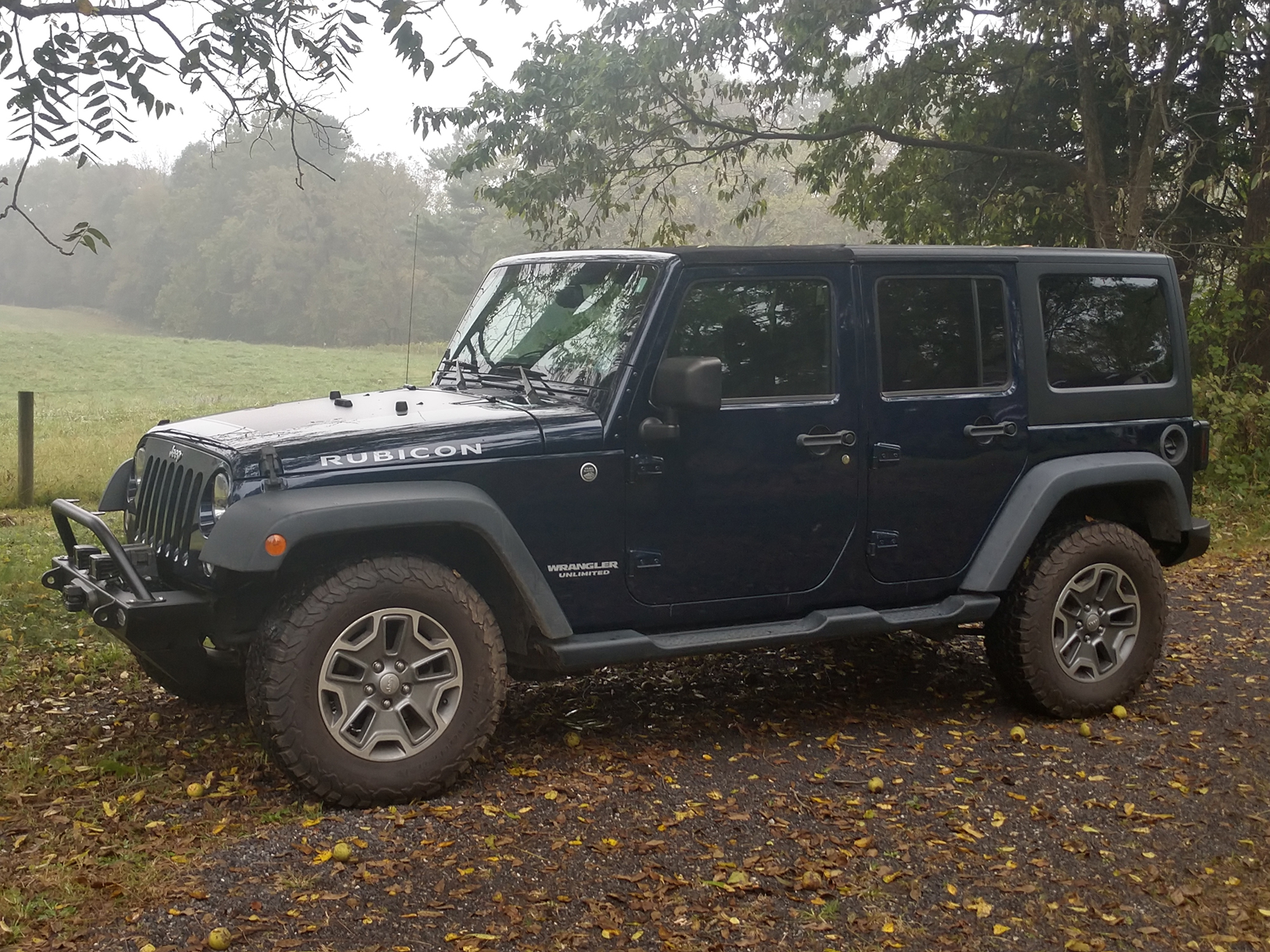 Pros:
The biggest advantage a hard top adds for you is security. With a soft top, there is always a chance some nefarious individual could gain access to your vehicle in seconds — either by slashing the top material or unzipping a window. Even though glass windows can always be shattered (as with any vehicle), your Jeep and its contents are definitely more secure with a fiberglass hard top than a fabric top.
Many people using soft tops (or no top at all) tend to add things like security boxes under the seat or in the cargo area, or fortify the center console and glove box to have more resistance to theft and vandalism. With a hardtop in place, that extra security isn't really needed; unless overkill is your thing.
Hard top windows are also FAR more difficult to scratch. Soft top vinyl windows can be gouged, or get hazy, simply when you're trying to clean them (or sometimes if you look at them the wrong way) — even when accidentally using the wrong type of cleaning solution. With a hard top, glass cleaner and car wash soap are all you really need for a good cleaning. Plus, with glass windows, you get better overall visibility and gas-strut assisted hatch glass, making full trunk access way faster and simpler.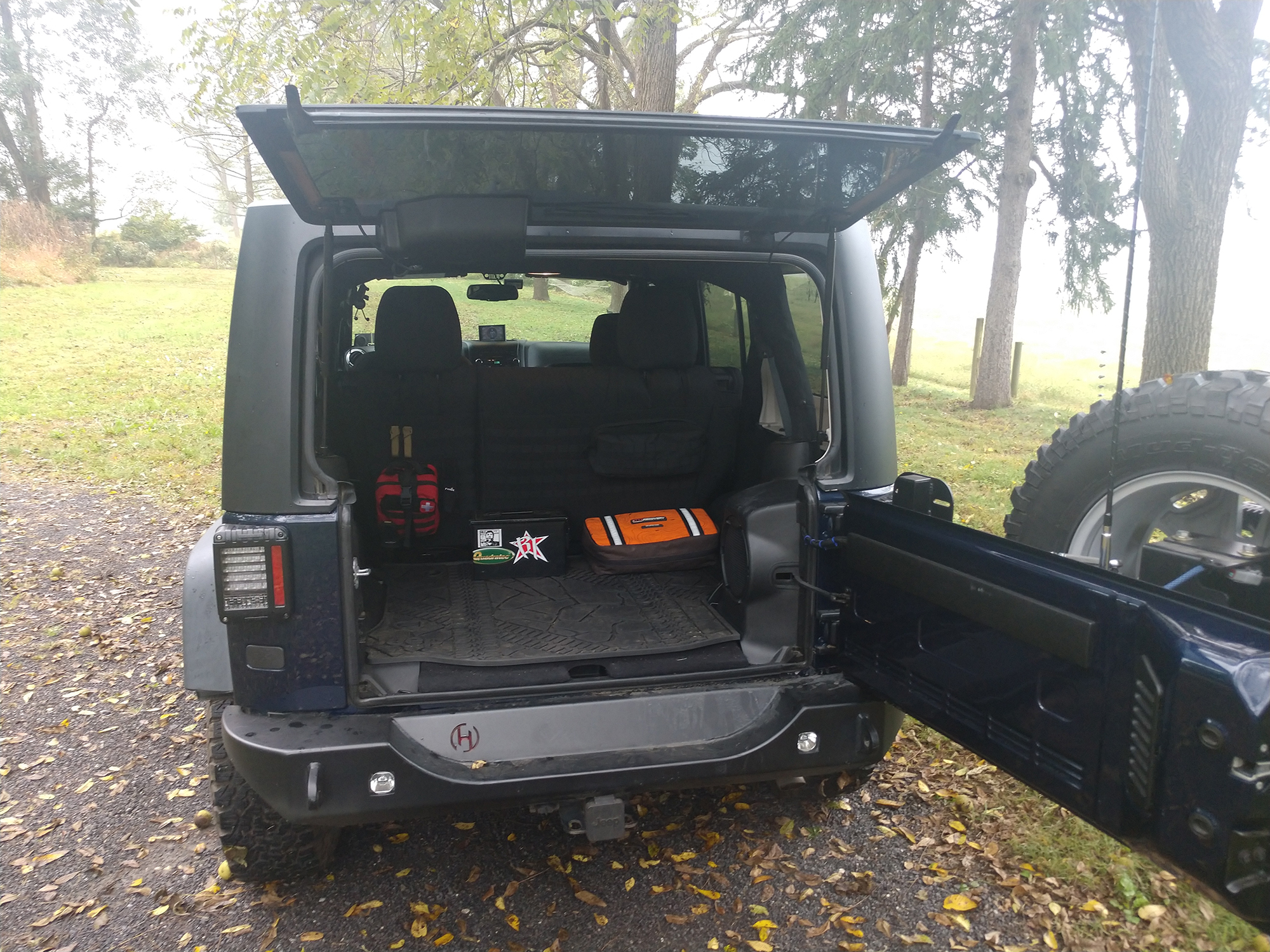 Increased durability is also an added bonus with a hard top. For people in colder climates, it is much easier to remove snow and ice from a hard top when the nasty stuff starts to fall from the sky. It is also easier to clean in general, and due to its increased durability, hardtops will typically last the lifetime of your Jeep.
Soft tops, no matter how careful you are with them, will always have a shorter lifespan because of that fabric material. In order to be flexible, the material in a soft top must be somewhat thin, and added weight from pooling water or frozen precipitation can strain that material, causing it stretch and break apart. You can even paint a hardtop to match your vehicle's color which, for some, is an additional benefit over soft tops.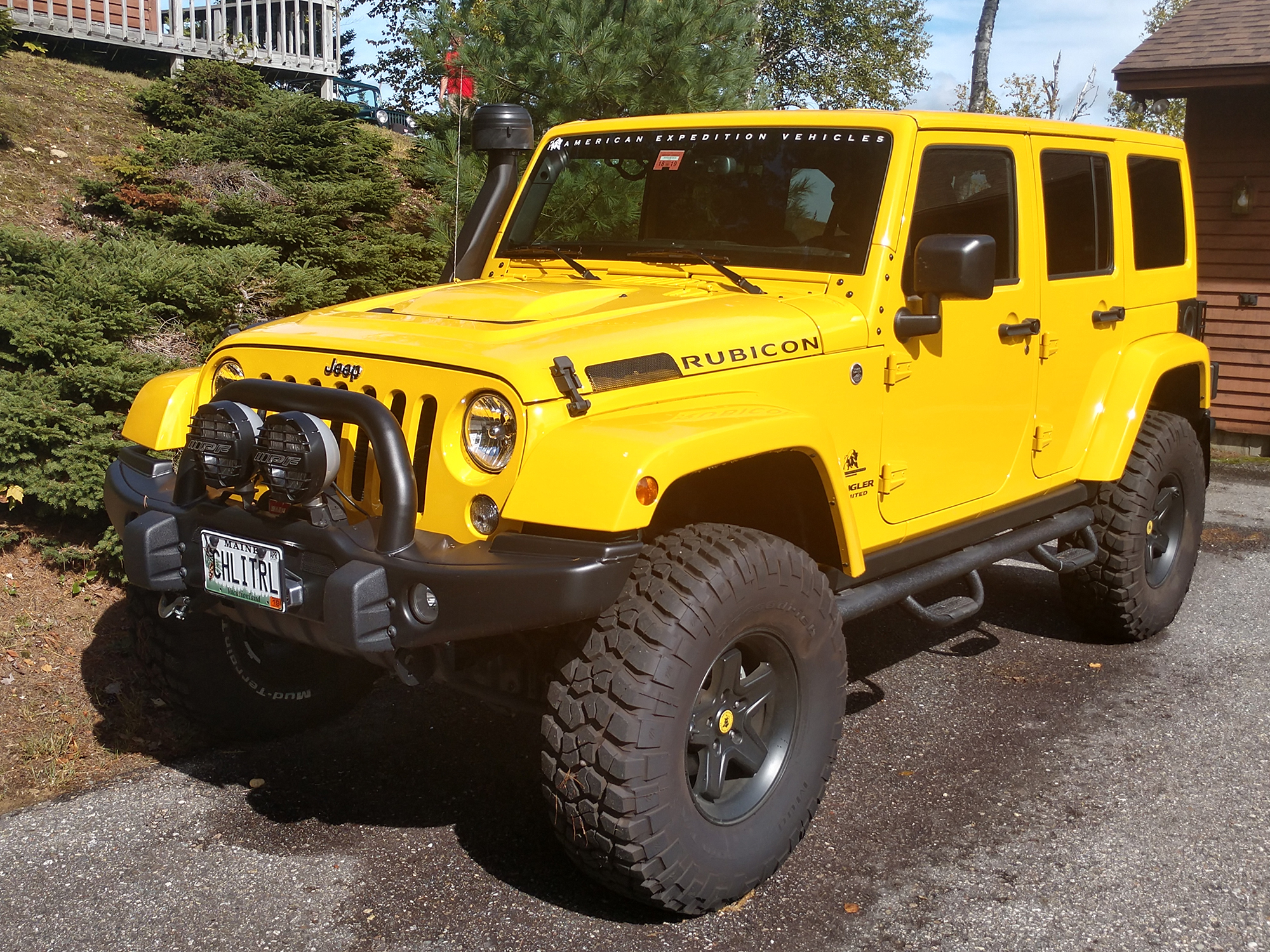 Thermal insulation and weather sealing are also huge plusses, as the hardtop's thicker fiberglass material is naturally able to hold in heat in the winter, or A/C in the summer. Being better sealed against the outside air keeps fumes and nasty smells out a little bit better, and keeps water leaks to a minimum — even against wind driven rain or power washes.
The decrease in road noise is also dramatic, as fiberglass insulates the occupants from hearing many sounds associated with highway driving (or at least muffling them substantially) from both your vehicle and those on the road around you. I know I was never bothered by the noise my choppy original equipment mud tires made until I switched to a soft top.
Many modern hard tops (both factory and aftermarket) are made with removable panels for added ventilation during nice weather. This is a huge plus, as it helps to create a compromise for the open-air feeling many people associate with Jeep driving.
With a hardtop, roof racks for storage or transport are easy to add (and remove), and many have rain gutters compatible with many leading aftermarket rack manufacturers. That's not to say there aren't soft top compatible rack options available, but those are not as quick to swap on and off. With my JKU hard top, I can throw on a pair of Thule crossbars to haul kayaks by myself in a matter of minutes, while in comparison, an external safari rack over a soft top takes much longer and typically requires a second person.
Cons:
Hard tops are heavy, bulky and do require a lot of space to store. Even the front removable panels are clunky and can be easily damaged if mishandled. Sure, they can be stored outside, but this is not usually ideal and also can lead to damage if you are not careful. Quadratec sells a lot of great storage solutions in the form of wheeled racks, hoists and wall brackets for the removable panels, but you do need to have space set aside to ensure you aren't spending your whole summer tripping over the thing. A hardtop also adds a substantial amount of weight to your Jeep, and will cut fuel economy versus a lighter soft top.
The normal manual removal of a hard top usually requires a second person, unless you have a hoist. Sure, some people can remove them solo and while impressive (showoff!), the unbalanced weight and awkward shape of hard tops can easily damage to your Jeep, the top, or even yourself if you happen lose your balance and drop it the wrong way. Larger spare tires and other bumper add ons (like a Hi-Lift Jack or Rotopax mounts) can add to the removal difficulty.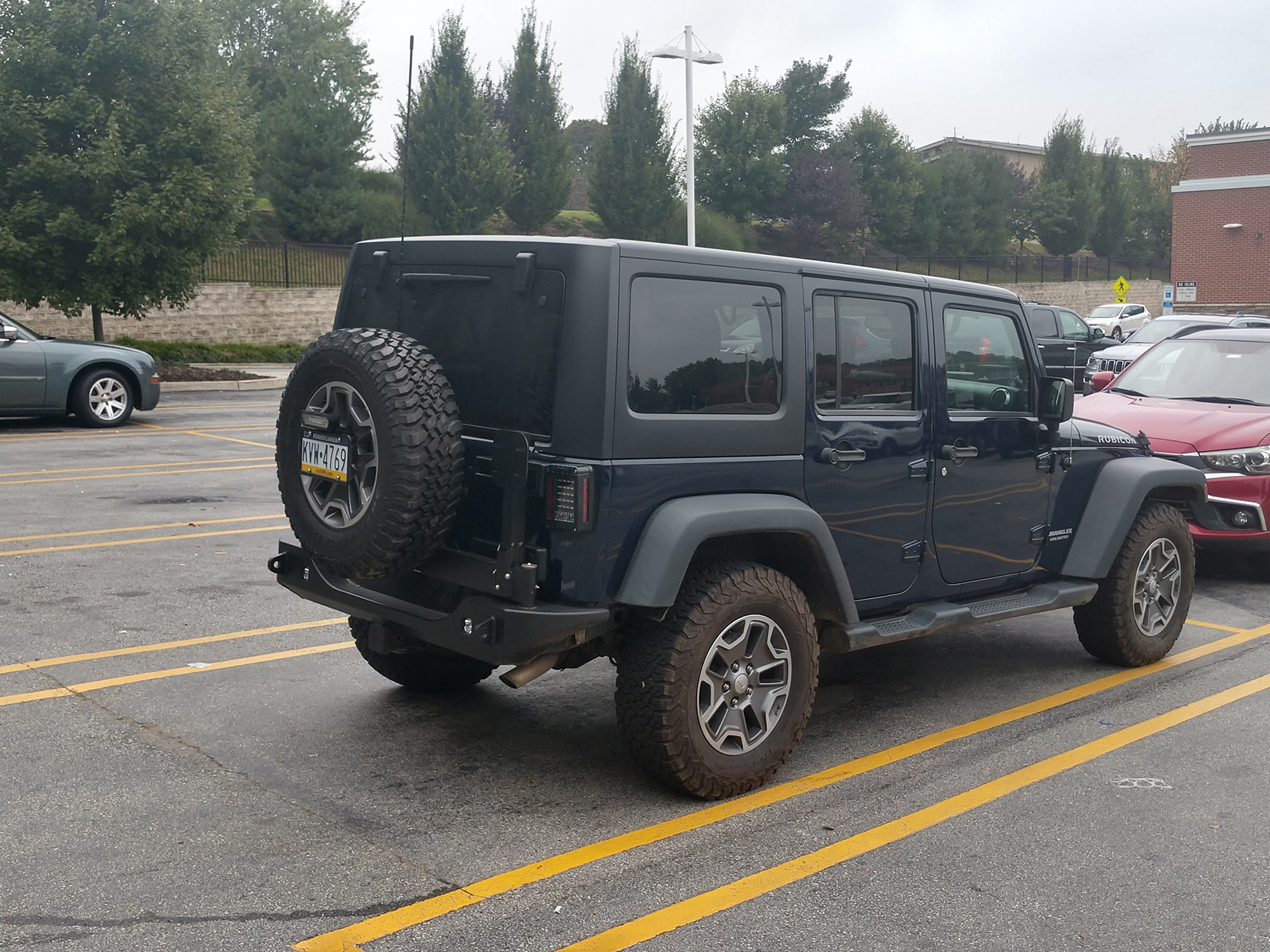 Hard tops are made of painted fiberglass and have tempered glass windows. Yes, these same things are listed in the previous section as pros, but depending on where you use your top, that glass set up can also be a disadvantage. During hard wheeling trips, I have whacked the rear corners of my hard top on trees and that usually results in a nasty scratch. If hit hard enough, it could actually crack the top or glass. Now, it does take a lot of force to make that happen, but the chance is always there. A friend of mine actually punched out a side glass window of his YJ hardtop on a trail at Anthracite Outdoor Adventure Area this past fall. However, if you do not wheel around trees or high rocks (or stick mostly to paved surfaces), this may not be a factor for you.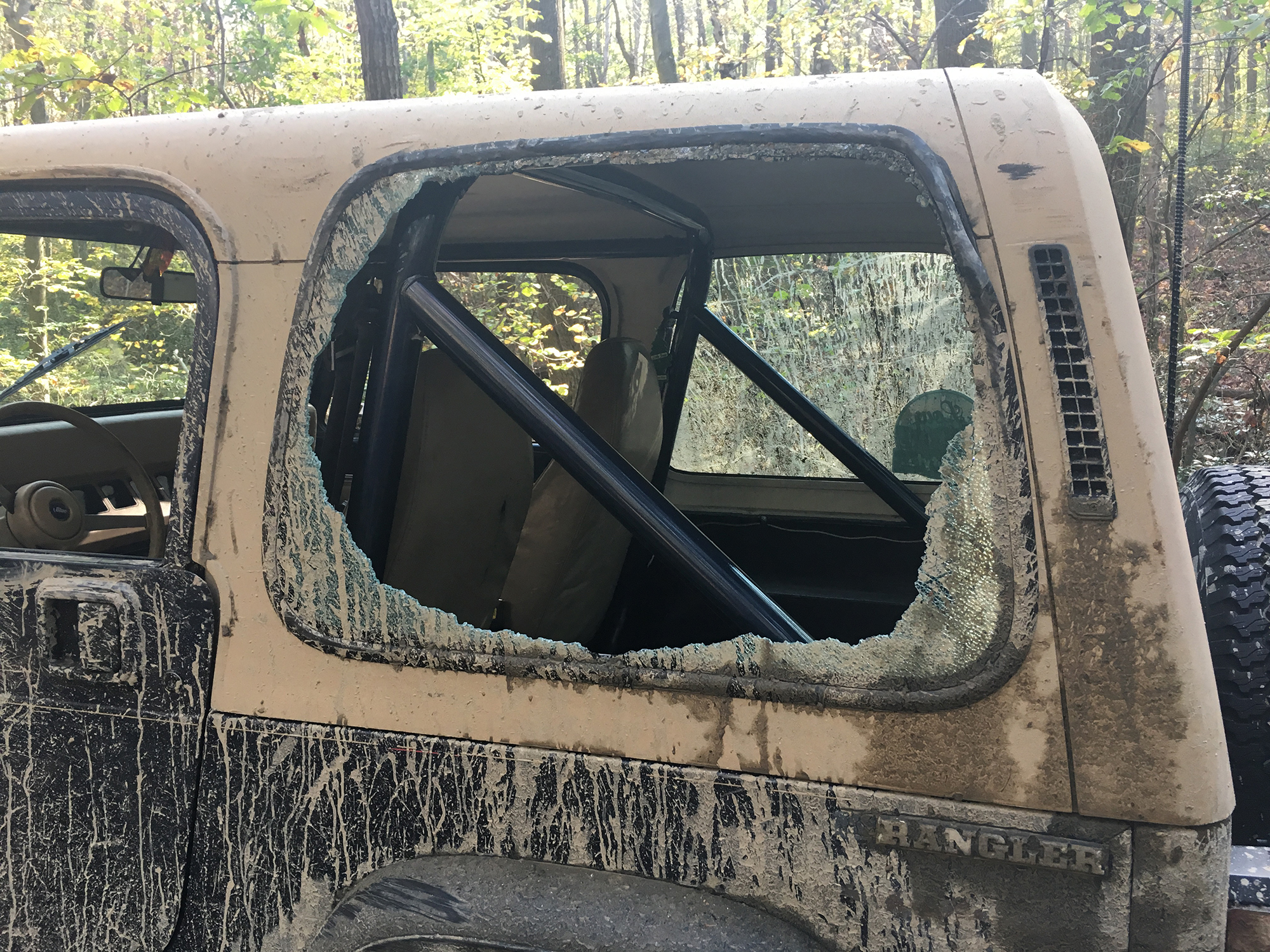 If I am running higher difficulty trails, I'm usually leaving the hard top at home. Soft tops, with their extra flexibility, can bend and slide across these same objects, and soft top frame parts or door surrounds can always be replaced if damaged. Trail tops and frameless tops are also a good alternative to prevent trail damage, and cost a whole lot less than having to repair or replace a hard top. Of course, having no top at all is always a solid choice, but a passing thunderstorm or sub-optimal temperatures may make you rethink that top-free choice.