by Matt Konkle
Quadratec Channel Editor
Perhaps the whole thing began with a tear on the seat. Just a little accident where something got caught on the material. Nothing major, but a cause for worry. So you stared at it everyday, and hoped the thing wouldn't get worse. But it did. And now you are worried the seat is beyond hope; destined for a spot in the scrapyard.
It doesn't have to be just seat damage, though, that can cause concern. Maybe you just bought the Jeep and plan on having the top off a lot this summer, and you don't want the original seats exposed to the elements. Or you just want to totally change over the interior look of your Jeep.
Whatever the reason, investing in a good pair of seat covers is an excellent way to extend the life of any Jeep seat by covering up annoying issues, as well as providing additional comfort, weatherproofing and offering the chance to customize the interior.
If you still need convincing, we've put together many reasons why Jeep Seat Covers are a good idea for any Jeep owner. From there, it is just a matter of choosing the right material for your covers.
That's right. Material.
See, choosing a good pair of seat covers isn't just grabbing the first one you see that fits your Jeep. You may think that after a trip to the local auto store or big box retailer, but you don't have to settle for some one-size-fits-all vinyl covers or thin fabric replacement that constantly needs adjustment. These days there are comfortable, spongy neoprene designs, tough ballistic nylon, durable and soft polycotton, as well as automotive grade vinyl and leatherette covers. Plus, thanks to highly accurate computer designs, most covers out there will custom fit to your Jeep's specific seat. Front or back.
So let's take a look at some of the most popular materials out there that make up the majority of seat covers found on our Seat Covers page.
Neoprene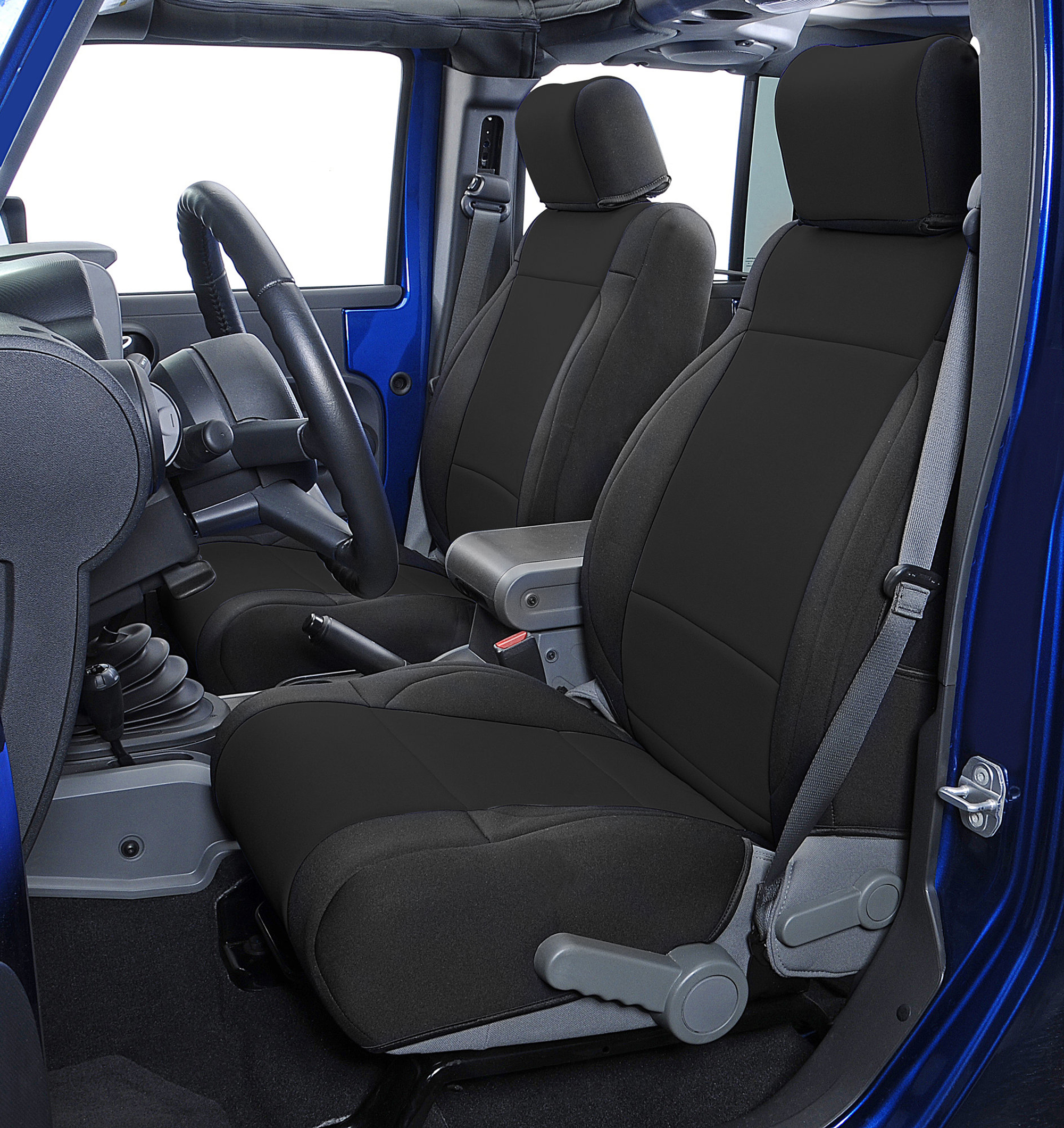 This is perhaps the most popular seat cover material on the market these days, and for good reason. Neoprene is a high-grade spongy rubber just like what is found in diver wet suits. Because of this, neoprene covers are easily able to form fit over your vehicle's seats without any excess material that could bunch up and wear faster or tear.
It is also extremely comfortable and regulates temperatures well to help you stay cool in the summer and warmer during the winter. Besides comfort and fitment, neoprene does a great job with water absorption so it is a solid shield for your Jeep's seats — especially if you tend to leave your top off a lot during the warmer months and there is a sudden pop up storm. Plus, should the covers get muddy or stained, they are easily removable for cleaning.
One thing to keep in mind with neoprene, though, is the material color can fade over time if continually exposed to overhead sunlight. While the covers are treated to deter UV fade right from the factory, that protection doesn't last forever so it is always a good idea to invest in a UV protect spray which acts kind of like suntan lotion, and will definitely help the covers retain their appearance longer.
Custom fit neoprene covers are available in numerous color schemes for CJ and non JL Wrangler seats by Coverking, Diver Down, Rugged Ridge and Smittybilt. Additionally, Wet Okole covers these vehicles as well as JL Wranglers.
Polycotton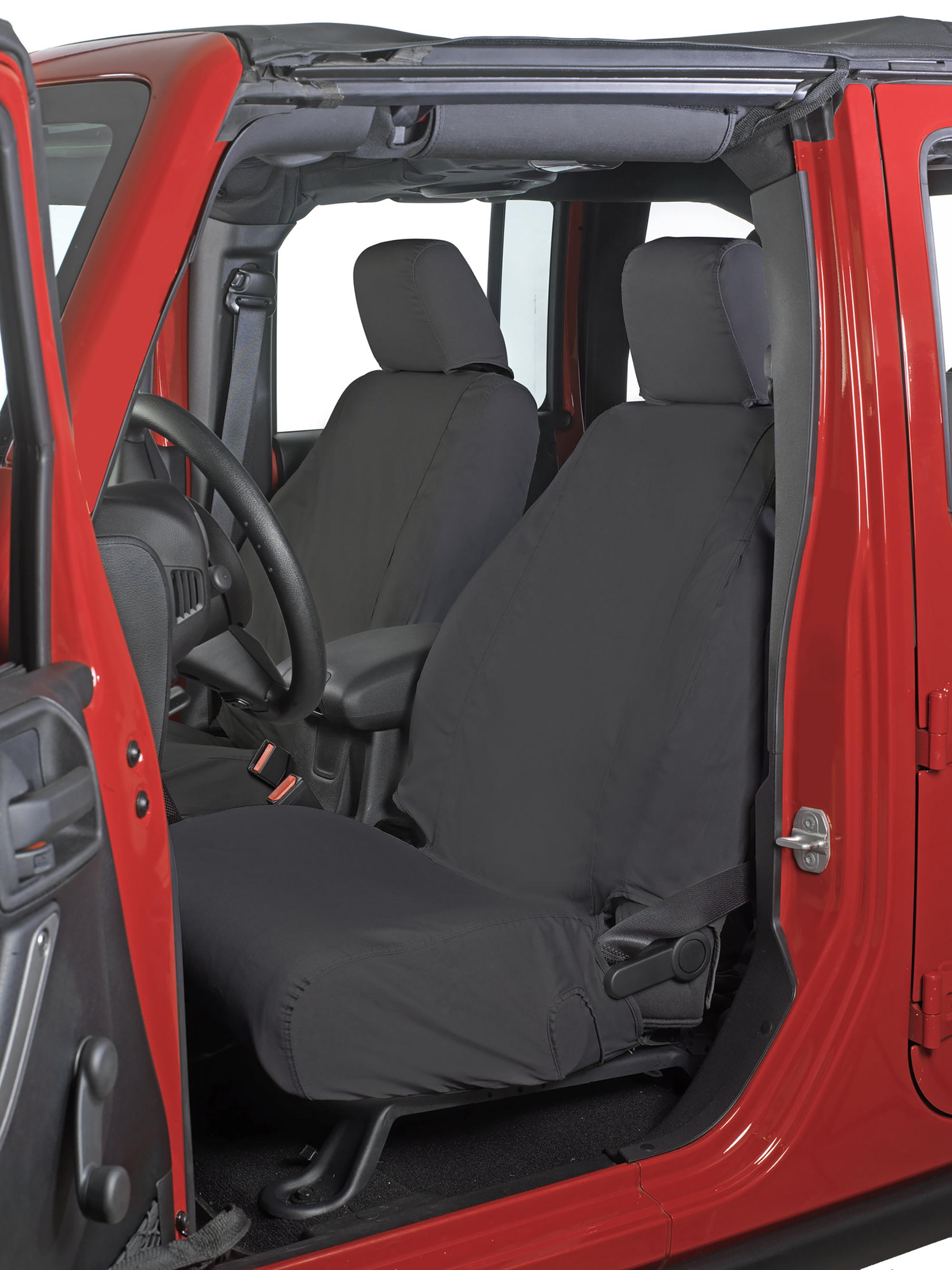 This polyester/cotton material isn't spongy like neoprene, but the softer cotton liner ensures a custom, comfortable fit over many Jeep seats, while the canvas polyester layer provides excellent strength and durability.
Polycotton is highly breathable which works great during the long, hot summer to help you remain cool when sitting, and the material itself is UV, weather and mildew resistant. It is also treated to be stain proof and to provide a good barrier against the everyday abuse of pets and kids. Additionally, the covers can be quickly removed and tossed into the wash for cleaning—which is certainly helpful after those long, muddy weekends off the beaten path.
Covercraft, Mastercraft, Corbeau and Rugged Ridge all offer options in several different cover types in this material, and fitment includes CJ and most Wrangler vehicles.
Ballistic Nylon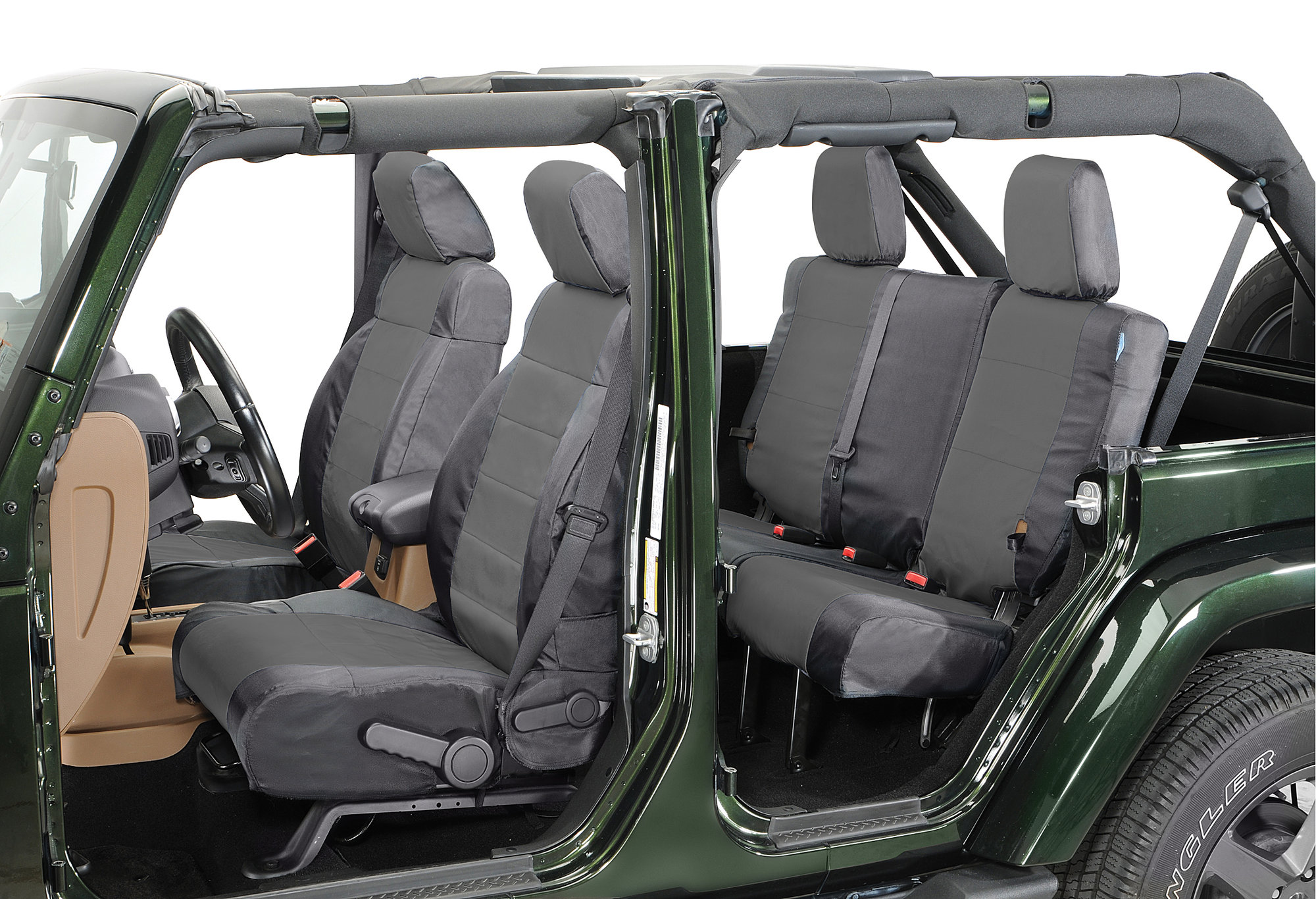 Ballistic nylon is an incredibly dense material that may not fit quite as snug as others on this list, but provides unmatched protection in all types of environments thanks to its 1000 Denier Cordura fabric. Like neoprene and polycotton, it is water resistant so you won't have to worry about leakage when you accidentally leave the top off and a surprise shower pops up. Likewise, it is UV and mildew resistant as well and is simple to clean.
Where this fabric really shines though is in its durability, which makes ballistic nylon covers ideal for those who want to protect their seats because they do a fair amount of traveling with pets and children. Or, really anyone who hauls a lot of items and is continually loading/unloading things over the covers as the dense Denier Cordura material is abrasion, tear and puncture resistant
While you will be able to notice a fitment difference between, say, neoprene and ballistic nylon, the denser protective fabric may more than make up for the not-as-tight fit.
Ballistic nylon covers are generally for TJ and JK Wrangler vehicles and are offered by Coverking, Smittybilt and Rugged Ridge which even has a heated version.
Vinyl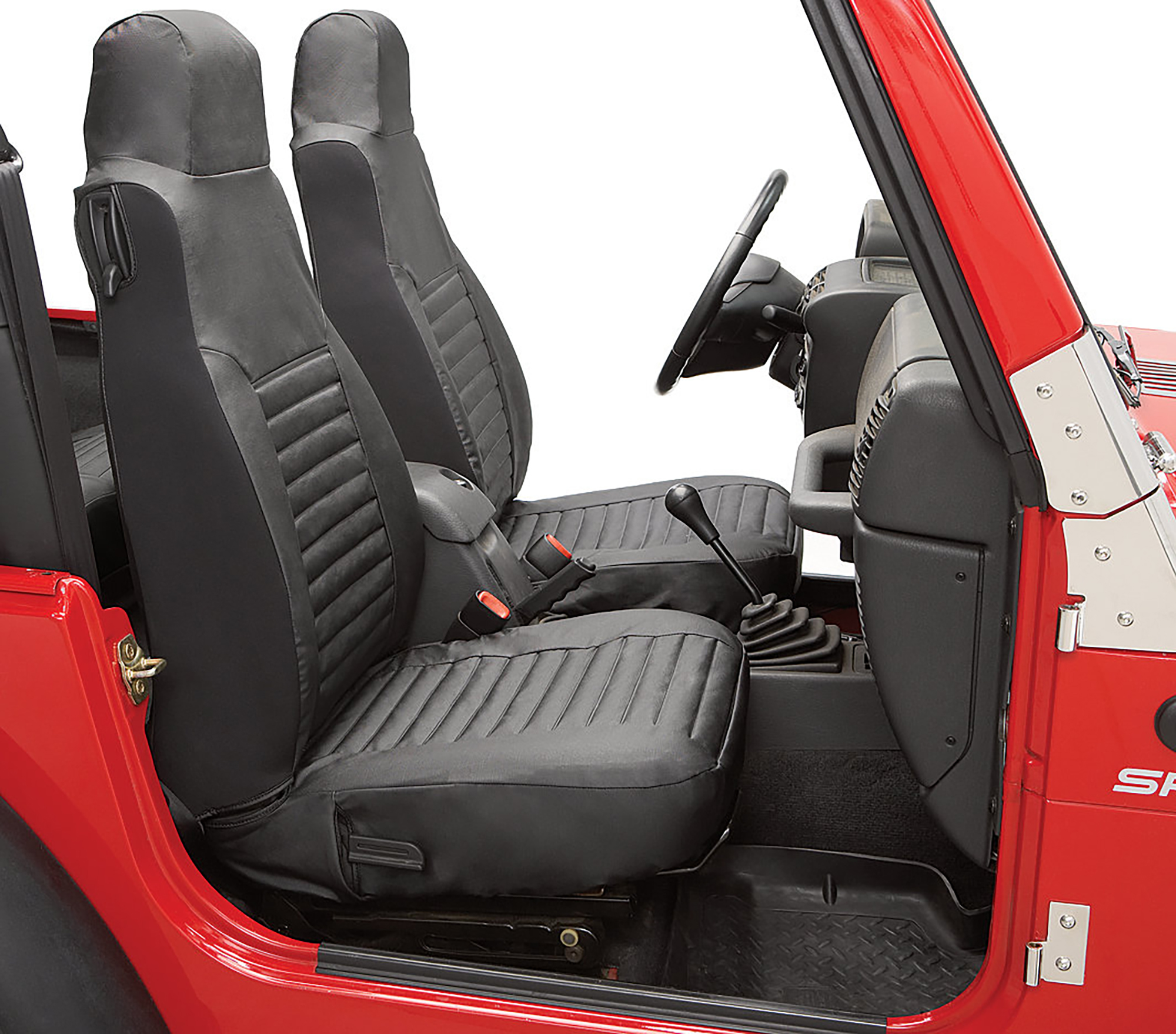 With the advent of other, more comfortable and better fitting materials, automotive grade vinyl has somewhat taken a backseat lately as a preferred seat cover material. However, it definitely still has a place for those with CJ, YJ and TJ Wrangler seats. That's because vinyl covers remain the easiest material around to clean and are not porous so they are essentially waterproof, while providing decent protection against ripping or tearing.
Vinyl seat covers also tend to cost less than other materials, so they can be a nice price-effective solution for those who do not want to spend a lot to protect their older seats — yet still want something durable.
But a longtime knock against vinyl is fitment quality. And while these covers have improved over the years, they do not have that same snug fit as other types of covers which can be an issue for some people. Plus, as vinyl is not breathable, it does not distribute heat very well during hot summer months which can make the covers very difficult to sit against. Direct sunlight can also dry out vinyl and cause cracking over time.
Bestop, Smittybilt and Corbeau all have options for those with older CJ, YJ and TJ vehicles.
Leatherette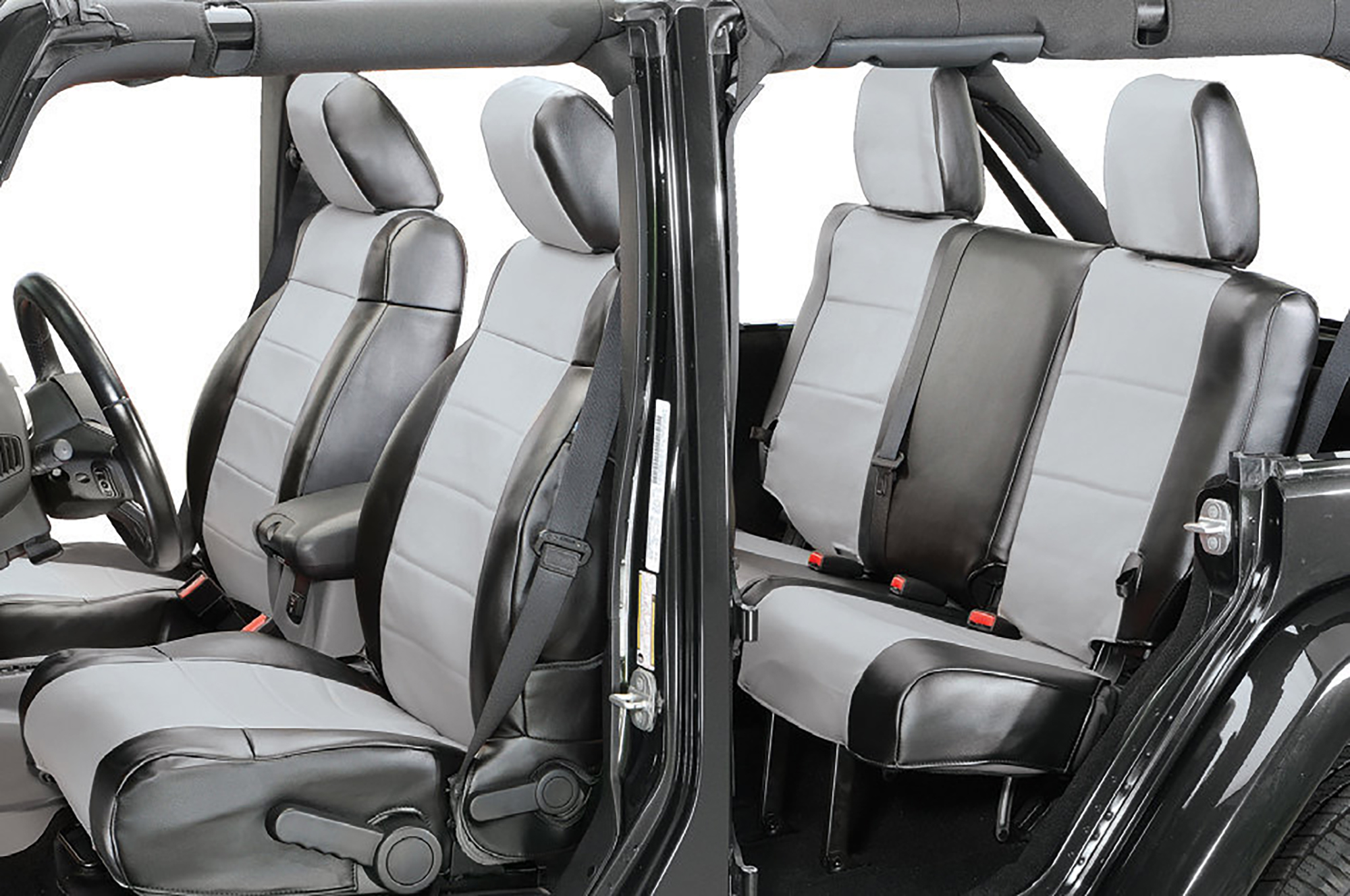 Leatherette, at first glance, could also fall into the vinyl seat cover category, but realistically it is a much higher grade of material and has an extremely soft and supple finish — unlike regular vinyl. This means it will have a substantially tighter fit over your Jeep seats and provide you with a top quality, premium appearance without the cost of adding new leather seats inside your vehicle.
This breathable material also offers exceptional water resistance, while the dense three-layer material effectively blocks mildew, stains and UV damage while remaining comfortable and durable. Leatherette covers are simple to clean, unlike some other soft materials, so you don't have to stress when bringing along children or pets and something gets spilled.
Currently, leatherette is available for TJ and some JK Wrangler owners from Coverking.