by Rick Rotondo
Quadratec Channel Staff Writer
Battery choice is an important factor of the overall health and function of your electrical system. This is important for any vehicle, but even more so for a Jeep that ventures off-road and runs multiple accessories.
Given that the average battery life for most vehicles is somewhere between three to five years, it is certainly a good idea to start thinking about a replacement if you are in (or close to) that zone. It is also a smart move to look at an upgrade if you run multiple accessories off the battery—such as auxiliary lighting, winch, or fridge/freezer.
When it comes to the Optima brand specifically, there are three main performance choices: Red Top, Yellow and Blue. All are serious upgrades over the original equipment battery, though each has different uses.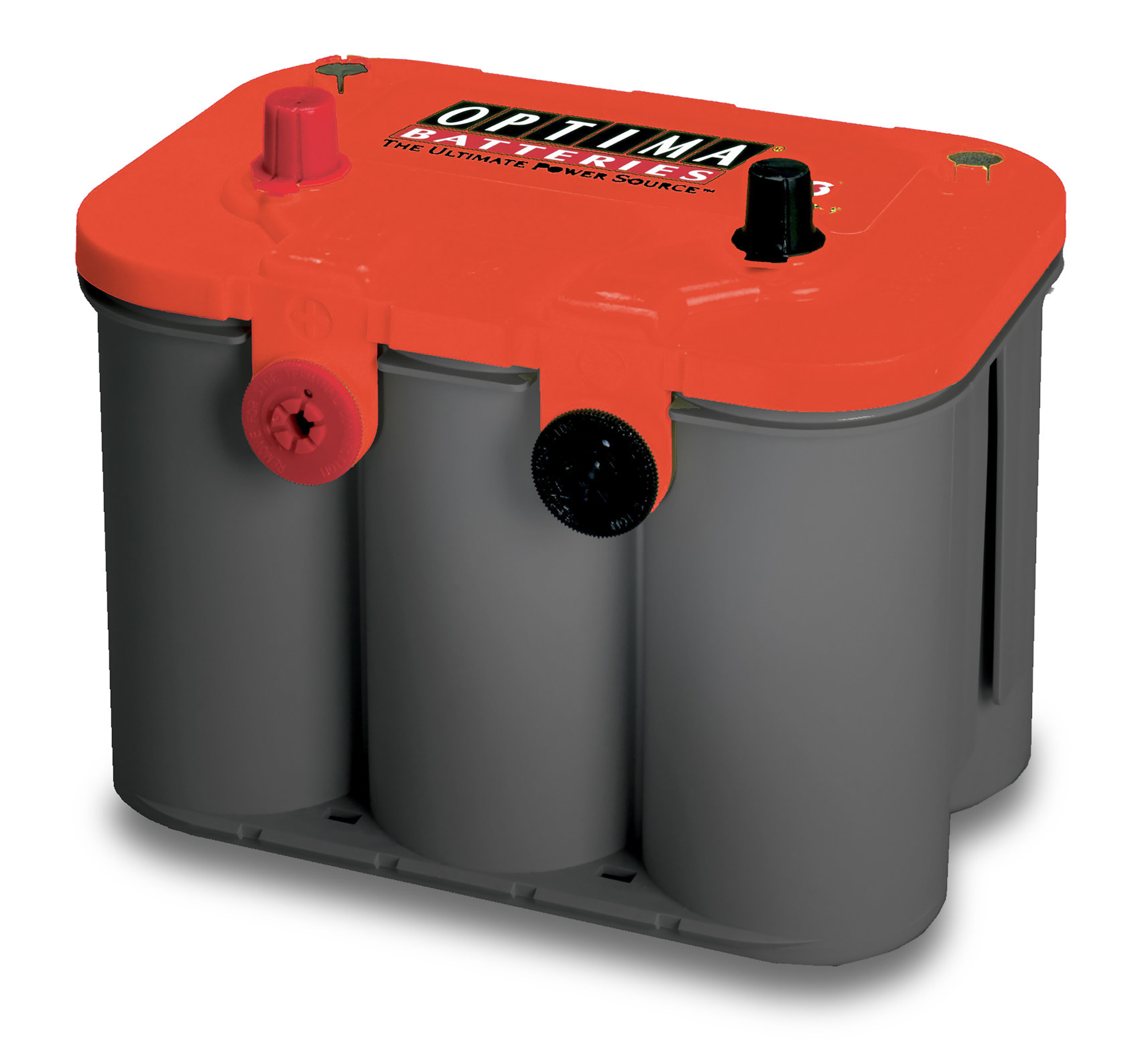 The brand's Red Top battery is perhaps its most well-known version. This is a starter battery that provides some seriously high CCA's (Cold Cranking Amps). These are what helps start your Jeep in all types of weather conditions—especially in very cold weather when the ambient temperature can cause failure of lower CCA batteries. The SC34U Red Top, for example, provides 800 CCA at zero degrees Fahrenheit. So not only is this a powerful battery replacement, but it is the perfect one if you live in areas that regularly see below freezing winter temperatures.
On the other hand, Optima's Yellow Top is a deep cycle battery, which means it is able to provide sustained power over a long period of time. Where a starter battery may only discharge short bursts of energy (somewhere between two- to five-percent) each time it is used, a deep cycle battery is capable of providing constant power until it is around 80 percent discharged. So this is the ideal battery for those who run multiple power accessories and need that sustained energy. It also offers 750 CCA at zero degrees Fahrenheit, so it is a solid option for the off-roader who needs both starting power and lasting energy for multiple applications.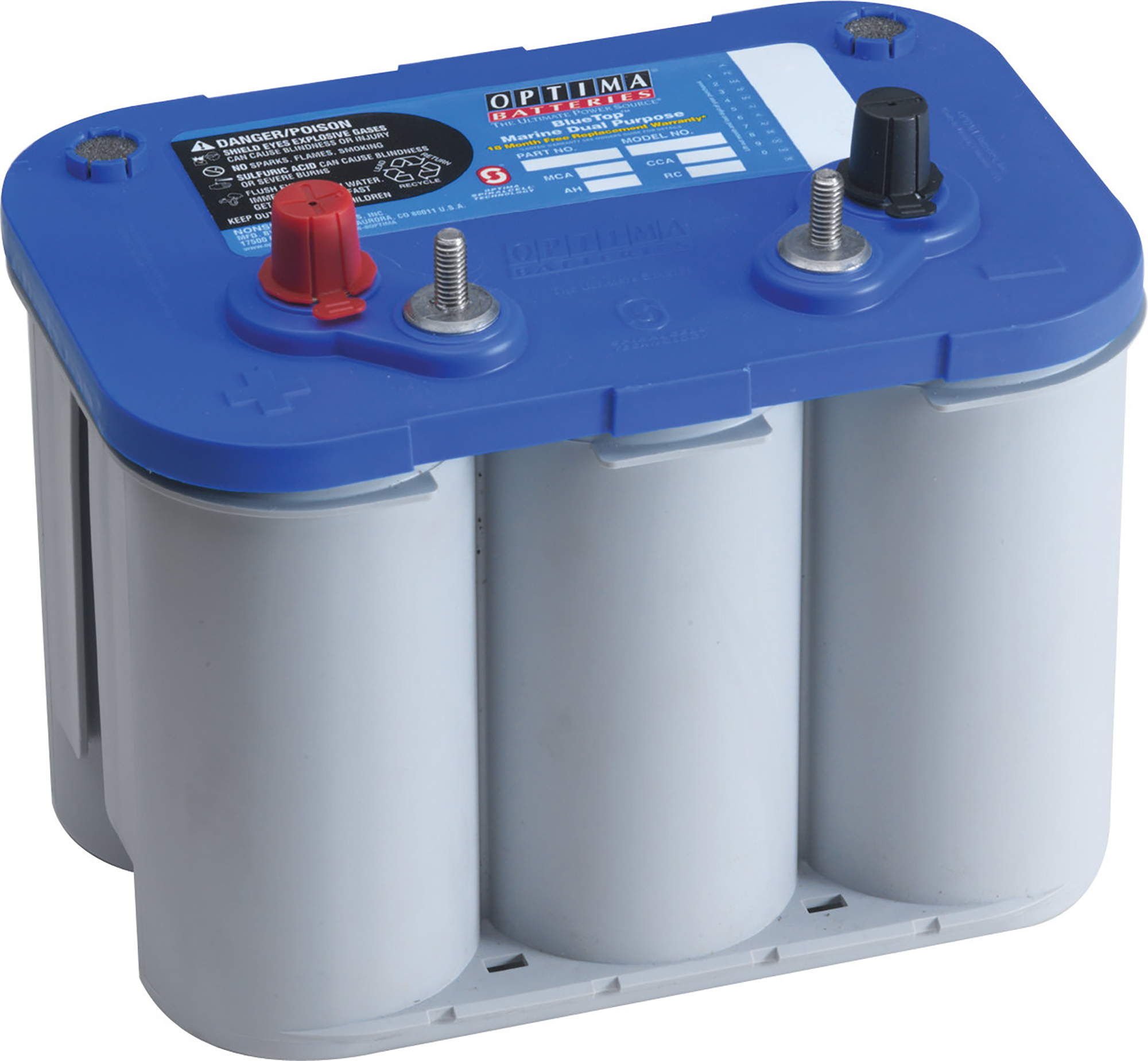 Finally, Blue Top Optima 34DM batteries are considered a starting and deep cycle battery, and functionally equivalent to the Yellow Top series. But, this Blue Top version comes with both automotive and stainless steel terminal studs. This makes it exceptional for marine applications that need those stainless steel studs to attach additional accessories, or for hooking up to a trolling motor. You can still use this battery, but generally the Red or Yellow are the most popular for Jeep vehicles. Additionally, the Blue Top offers the same 750 CCA at 0 degrees Fahrenheit as the Yellow Top.
All three batteries utilize the company's proprietary SPIRALCELL technology which, basically, is a 'series of individual spiral-wound cells comprised of two 99.99% pure lead plates coated in a specifically measured application of lead oxide', according to Optima. This design feature, the company says, delivers more power and consistently outperforms conventional batteries. It also allows the battery to be installed at nearly any angle, unlike flat plate lead acid batteries.
Optima says its SPIRALCELL technology is also far superior to traditional batteries for maintenance - meaning none is required. No need to add water or watch out for acid coming out of your battery. Its design even helps with vibration resistance, as Optima batteries are 15-times more resistant to vibration than conventional batteries, and longevity—typically lasting 2-times longer than a conventional battery. Another key benefit of this technology is the ability of the battery to sit. With a full charge, Optima batteries can sit at room temperature for up to 12-months, and still start a vehicle.