by Matt Konkle
Quadratec Channel Editor
There were 9,244,800 seconds from the first of May this year through August 15th. That's 154,080 minutes, or 2,568 hours, or 107 days as the clock dial goes.
And for Ed Tripp, all of that time simply came down to just one second. One mere second when he learned he and a guest will be headed on a Jeep adventure of a lifetime.
Tripp, from Gaithersburg, MD, was Friday announced the 2018 winner of Quadratec's Ultimate Fly and Drive Jeep Jamboree USA Giveaway. His name was randomly picked from over 270,000 contest entries for a trip to Moab, Utah for Jeep Jamboree's 20th annual Moab event October 26-27. Once there, JJUSA will provide Tripp and his guest a 2018 JL Unlimited Wrangler to use for both event days as they head down some of Moab's most iconic trails.
"It's awesome," Tripp said, sitting recently in a golf cart and clutching the Fly and Drive announcement poster that bore his name against a backdrop of Moab scenery. "Just incredible. I'm speechless."
Around him, dozens of kids from his tennis day camp began lining up along a chain link fence, calling out and asked what was going on.
"Hey guys," he called back to them, holding up the contest sign. "We just won a grand prize to go to Utah for the Jeep Jamboree, and these guys came down to surprise us with the trip. What do you think?"
The group cheered its approval.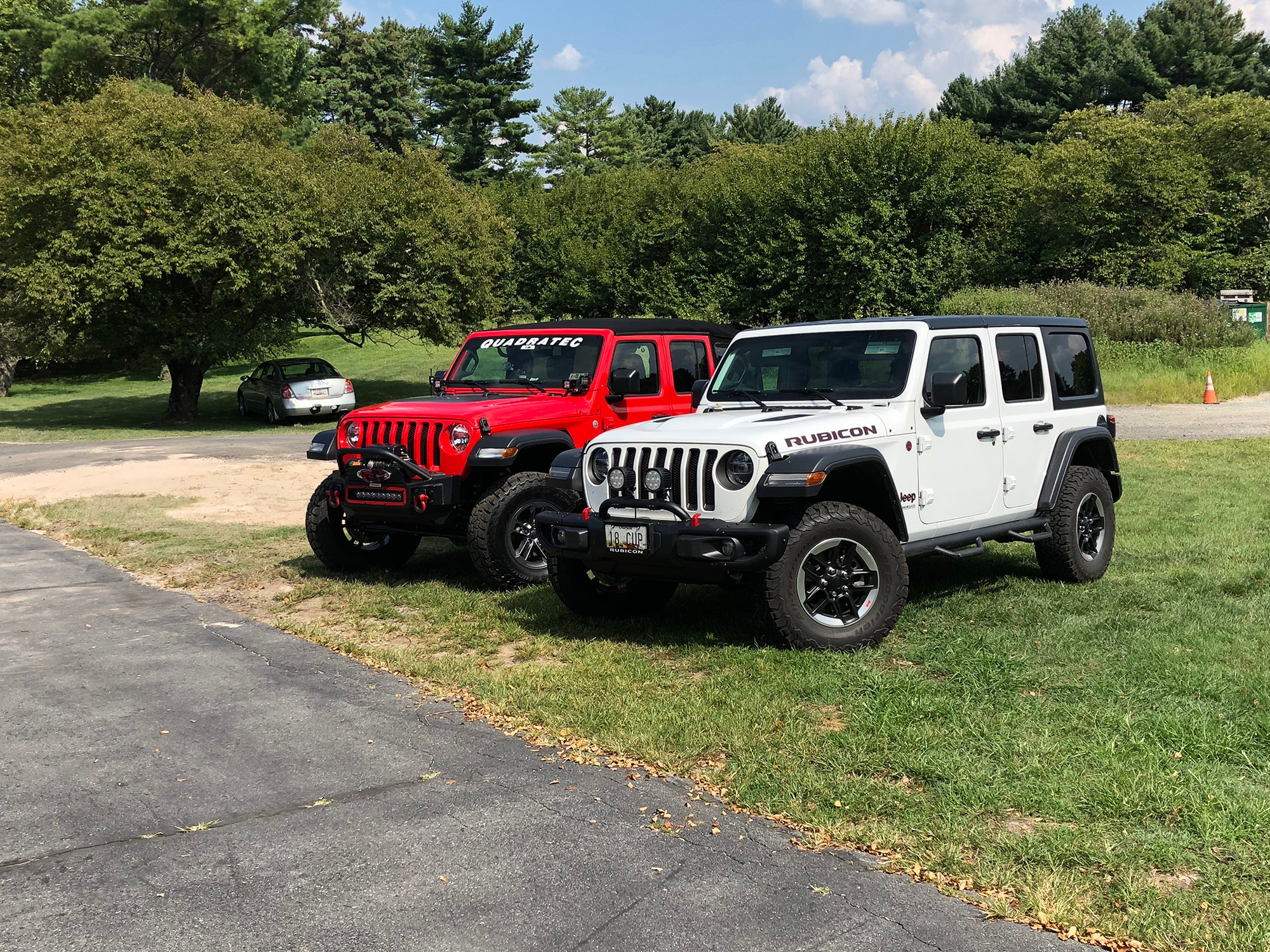 Tripp is the Head Tennis Pro at a club northwest of Washington DC, and currently owns a 2018 white Jeep Wrangler Unlimited JL Rubicon. It is not his first Jeep — that honor goes to the CJ5 he owned back in high school on Michigan's Upper Peninsula. He has also owned a CJ7.
During high school and college, Tripp was nothing less than a tennis phenom — compiling a 54-7 lifetime number one singles record. He also set an Upper Peninsula state record, finishing 21-0 without losing a single set his senior year. For college, Tripp played for Northern Michigan University where he won Freshman of the Year and an MVP award, before transferring to Ferris State University in order to attend their Professional Tennis Management Program. Ferris, nationally ranked at the time in tennis, only had one spot available so Tripp had to best 53 players to secure that spot. He then went on and posted an undefeated singles record in his Ferris career.
From Michigan, tennis then took Tripp down to Maryland where he has coached aspiring players, both individually and through clubs, since the late 1980s. His dedication was even recognized by USTA Magazine, which awarded him the 2003 Mid-Atlantic Unsung Hero award.
Now, his love of Jeep will be taking him from the rolling hills of Maryland to the unbelievable scenery and off-road adventure of Moab. And while Tripp has all the experience in the world on a tennis court, his off-road background falls more into the beginner range.
Like Kylen Hill, our 2016 Fly and Drive winner, Tripp will be immersed into the Jeep culture at the Moab Jamboree for two days — traversing obstacles that may, at first, seem impassible. But the fun of taking a Jeep off pavement, just like fighting off a tough opponent on the tennis court, is seeing exactly what you can accomplish. And overcome.
So stay with us on all our social platforms, as well as our YouTube channel, in the upcoming months as we follow Tripp and bring you his entire Moab experience.
"We can't wait, what an amazing surprise," Tripp said. "Thank you so much for selecting our entry and making the trip down to present us with the Moab Jeep Jamboree grand prize. We are thrilled to be able to go on this adventure."
Quadratec's Ultimate Fly & Drive Jeep Jamboree Giveaway ran from May 1 through August 15 and afforded one automatic entry per person each time they placed an order with us (up to once per week). However, no purchase was necessary to enter as those interested could also manually enter via a form on Quadratec.com (up to once per week).
For more information as well as product suggestions to augment your own next adventure, check out our Jeep Jamboree USA page.