by Matt Konkle
Quadratec Channel Editor
Winter is certainly no friend to your Jeep. Not only can it cause troubling issues to the vehicle's exterior, but more importantly it can seriously affect the interior as well.
Between the bouncing temperature extremes, all kinds of moisture types hitting your seats and carpeting, plus salt, dirt and whatever else you track in on your shoes, the inside of your Jeep takes a beating during the winter months.
The question then is simple— is your Jeep's interior ready to fight back against those conditions?
If the answer is no, or you just are not sure, then it is a good idea to take an honest evaluation of the vehicle's inside. Look at carpeting, seats, floor protection, even storage space, and decide if upgrades—or better protection items—are needed. Think of it as a tune up for your Jeep's interior. Just like you do for its engine.
Here are five of the top interior products that continually are on the 'most wanted' list when it comes to sprucing up your Jeep' cabin.
Seat Covers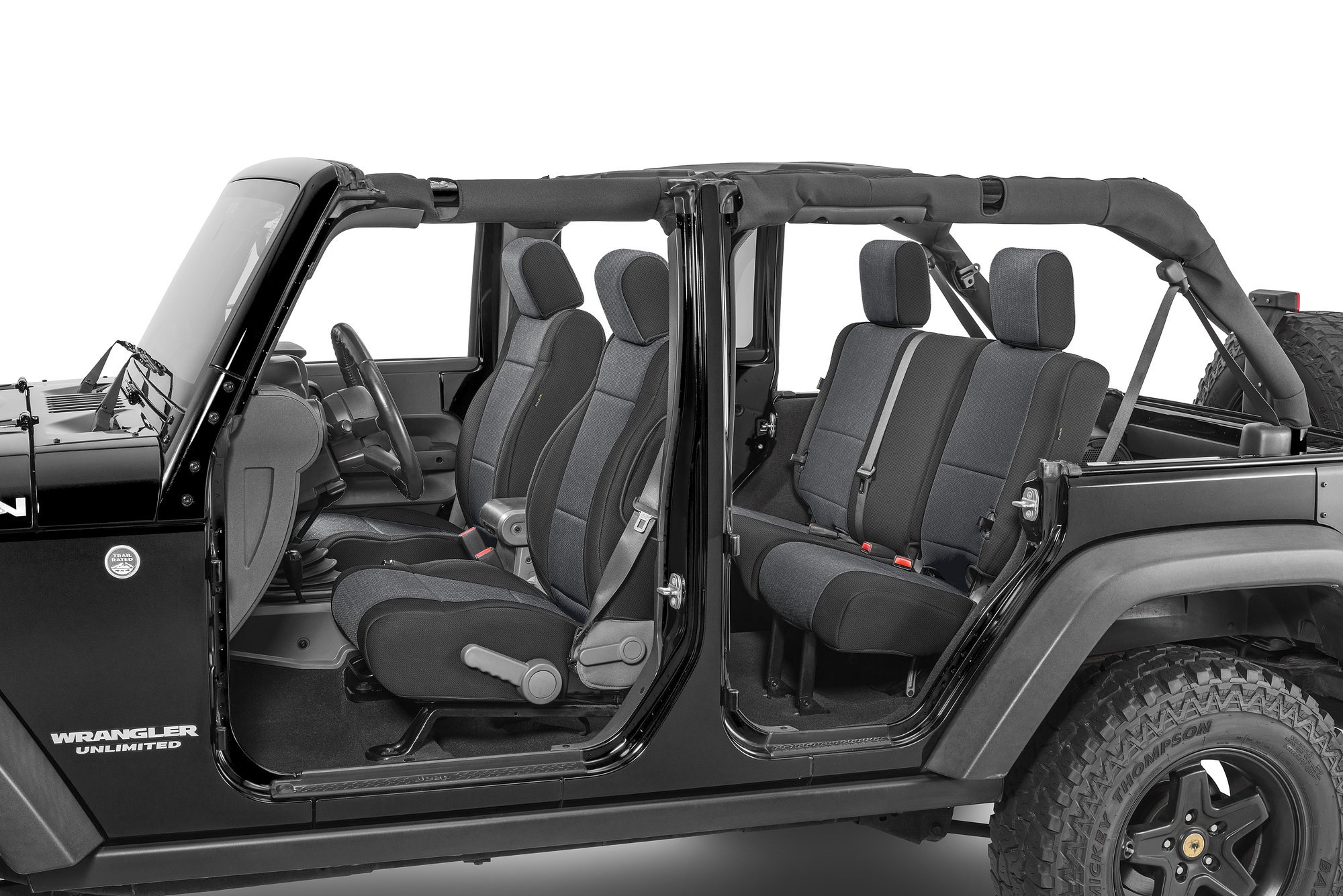 Jeep seats are affected by the elements more so than just about any other type of vehicle seating. In the winter months that means continuous exposure to moisture every time you and your passengers climb in the Jeep. But things may also have gotten worse over the previous summer because once that top goes down, those seats can be assaulted by weather and sun, not to mention the usual water, mud or other debris. And if you have rolled into the winter without doing any seat maintenance, then things may be pretty bad.
This is why Jeep seat covers are one of the most popular interior products out there, year after year, and make for a great upgrade heading into warmer weather. Whether it is snug-fitting neoprene, vinyl, ballistic nylon, polycotton, or some other material, seat covers give your current seats the shield they need to increase their overall longevity, while offering you a good bit of comfort. Plus, covers can hide seat imperfections and, with all kinds of color combinations, they can also provide a nice way to change over the vehicle's interior look.
Floor Liners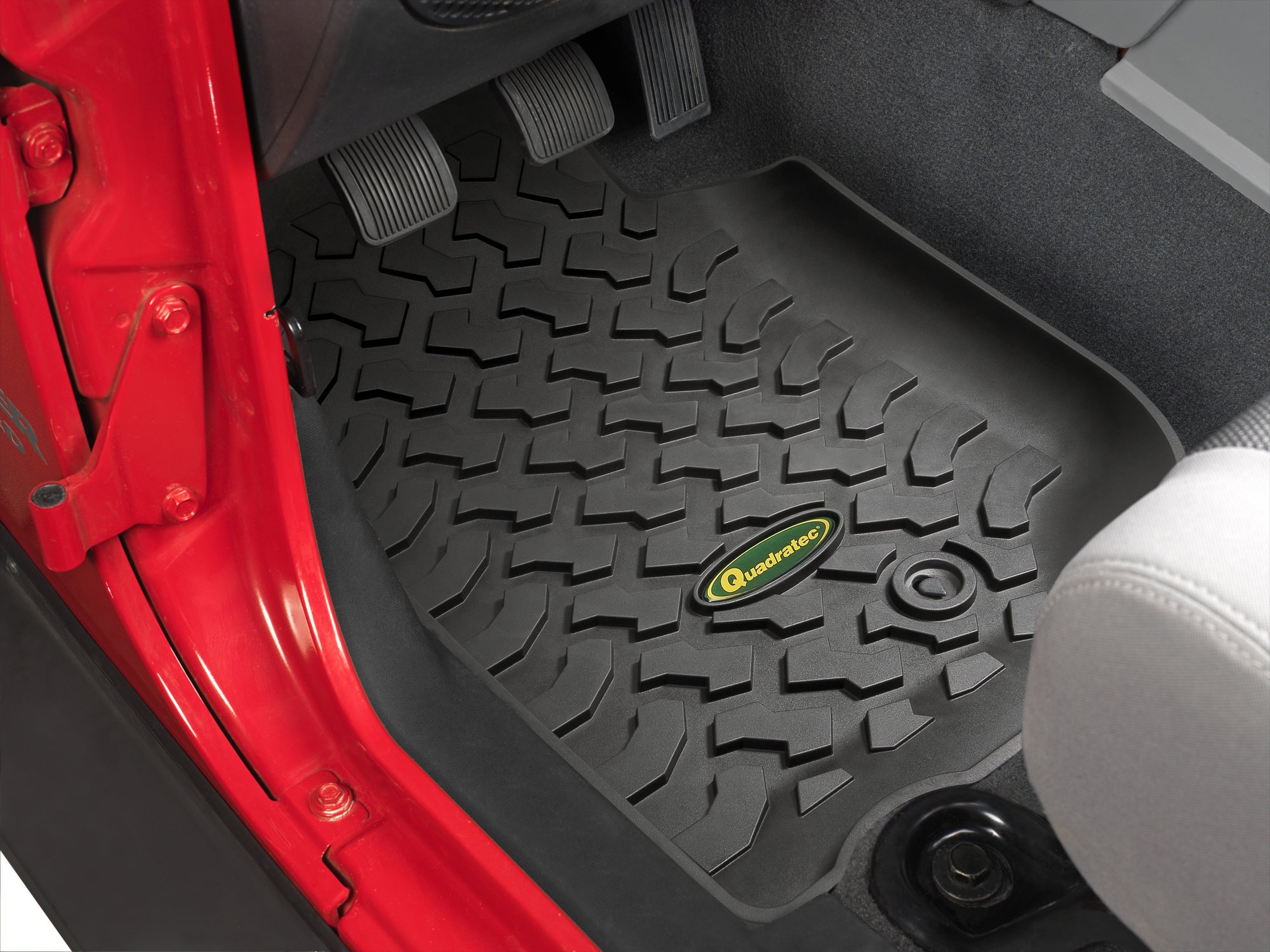 Just like with Jeep seats, your vehicle's carpeting can also come under attack from the elements. And it doesn't really matter if that top is off, either. Everyday wear and tear can chip away at a Jeep's carpeting over time just as much as tracking in mud or snow, or accidentally leaving the top down in the rain. So before your carpeting really needs an overhaul, upgrading to a highly protective set of floor liners is a great way to ensure your Jeep's carpeting remains at its best.
Most liners are custom designed to perfectly fit the Jeep's front and back footwell areas, and even come with anchors so the liners do not move around. Some are carpeted, while others are rubberized or plastic with high edges and grooves to trap moisture or spills. And the best part, floor liners are simple to remove and hose off following a spill or other mess. Much easier than having to pull out vast sections of carpeting.
Consoles / Storage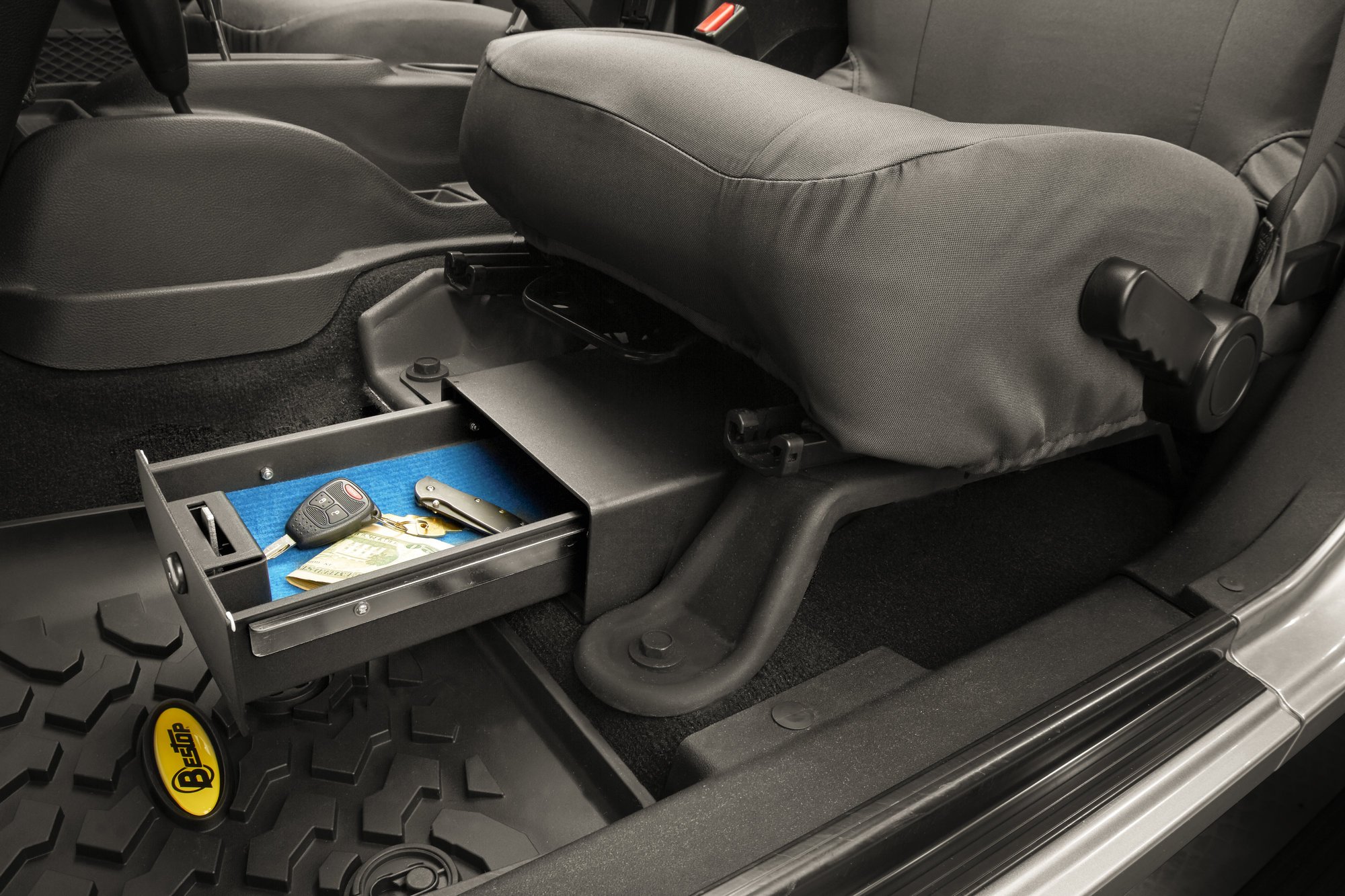 One of the few things people complain about when owning a Jeep is the lack of real storage space. If you just bring your phone along for the ride, it is not a big deal, but when you have other things like books, trail maps, work stuff, kid items — maybe even something more expensive that needs to be locked away — then investing in additional protective internal storage options not only makes sense, it is absolutely necessary.
Storage products like larger center consoles, roll bar storage bags, grab handle bags, MOLLE seat back storage compartments, dash top consoles or even under seat storage boxes can all give you the extra space you need for your everyday belongings, while lockable metal versions provide a handy way to secure valuables when the Jeep top is off and you are away from your vehicle.
Carpeting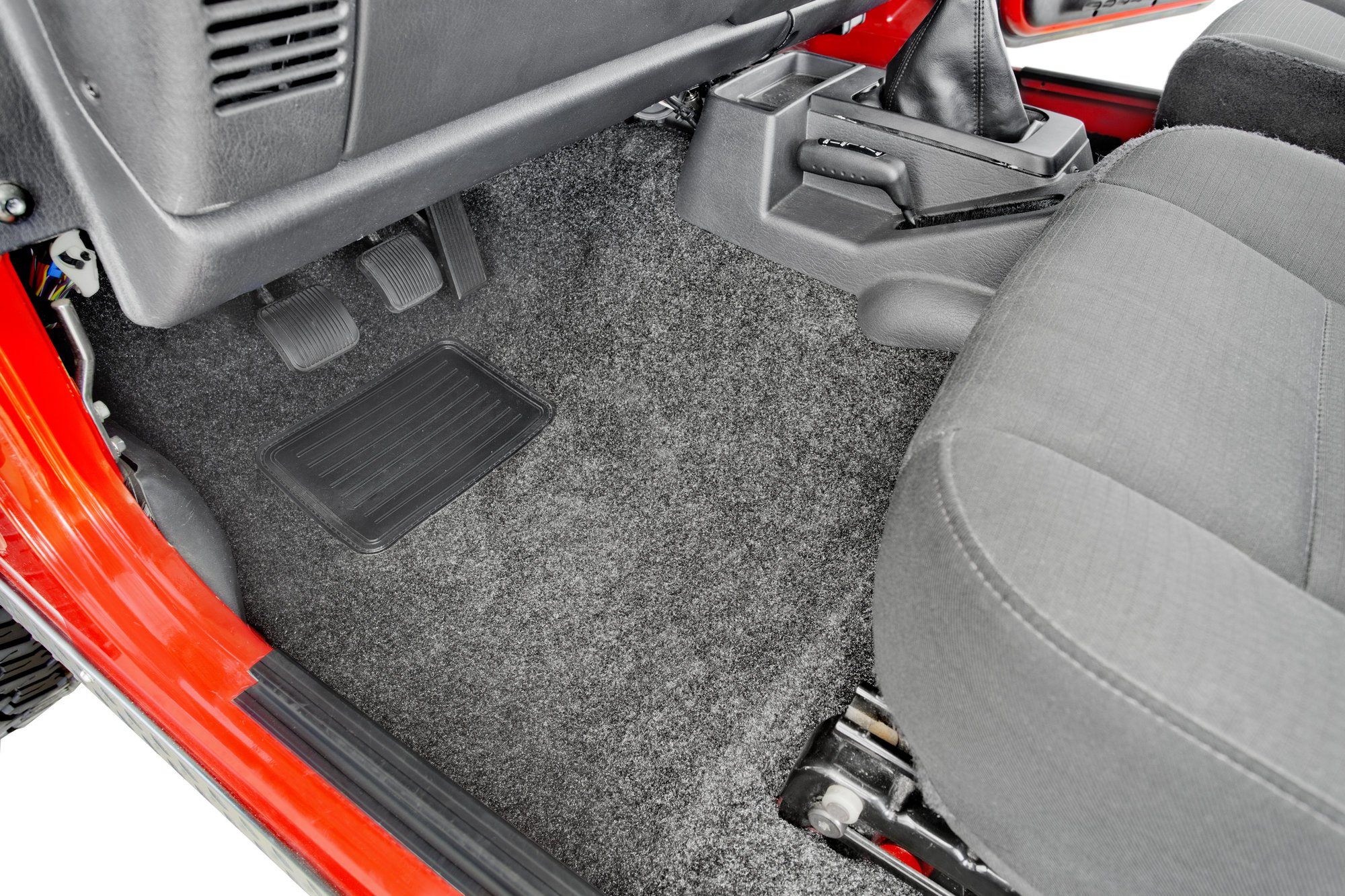 You may think the carpeting in your Jeep is merely something that sits under your feet. However, it also serves the important task of helping regulate the temperature of your Jeep's interior, making sure you stay cooler in the summer and warmer in the winter, as well as being a layer of insulation that helps reduce road noise.
So when that layer of protection breaks down because of old age or wear from one too many off-road trips, finding a capable carpeting replacement should be near the top of your upgrade list. For many, that means a good custom fit carpet set that mirrors the factory style and makes your vehicle's interior look just like new. These sets are molded to fit the contours of your vehicle, have a rubber backing to help insulate and reduce road noise, and includes UV, mildew and stain protection to keep the carpet in excellent shape.
Besides factory-type carpet sets, there are also more economical indoor/outdoor versions that are not molded, and do not have the same carpet thickness, but still have stain, mildew and weather resistant features. For those with older vehicles that are not driven everyday, this type of carpet set may make the most sense.
Another alternative these days are molded floor coverings — similar to a spray-in liner. These kits are constructed with a polypropylene fiber top and mildew resistant foam, and are simple to install and remove, while still providing excellent insulation and noise reduction qualities. Additionally, molded floor coverings are easy to clean and are resistant to stains, acids, chemicals, gas and oils, while the foam does not absorb water and dries in minutes.
And remember, once that new carpet goes in, toss some floor mats over it for perfect all-season interior protection.
Grab Handles / Entry Guards
As you've no doubt already realized, climbing inside a Jeep is different than just about any other vehicle — especially after that Jeep has been lifted and stands even taller. This additional height is great to help overcome any off-road obstacles, but it does make things somewhat more difficult for you and your passengers to get inside the vehicle. Plus, it can also can expose the bottom door sills to scuffs and scraps when people use them for steps. Things can be even more difficult on the trail when the Jeep is parked off-camber and someone is trying to get inside.
So adding a set of grab handles above the doors can provide a helpful boost when climbing into your Jeep, while door entry guards cover up the bottom door sill area and keep it free of abuse.
Grab handles normally attach via hook and loop straps around the upper door roll bar and have either a nylon or foam handle. Once in place, you and your passengers can grab onto the handle to give you the support needed when stepping into the Jeep. This works especially well with younger children or older family/friends. Door entry guards attach via 3M adhesive tape to that bottom door sill area and are constructed with durable thermoplastic. This material bears the brunt of anyone stepping into the vehicle in order to protect the factory paint from damage.