by Scott Ammerman
Quadratec Channel Correspondent
Hardtops are essential for many Jeep Wrangler drivers, even in spite of the classic popularity of soft tops. That's because soft tops, while fun to use in the summer, do have plenty of drawbacks when it comes to security. With a soft top, your unsecured belongings are always just a zipper away from theft when unattended. Plus, soft tops attach to metal hardware that tends to rattle and don't get me started about the wind.
I use a hardtop year-round for a lot of reasons. Security is a prominent one, but there are also many accessories that can give a hardtop-equipped Wrangler advantages over a soft top. After all, when foul weather and theft aren't an issue for you, it can be removed in minutes.
Mopar Top And Door Removal Torx Set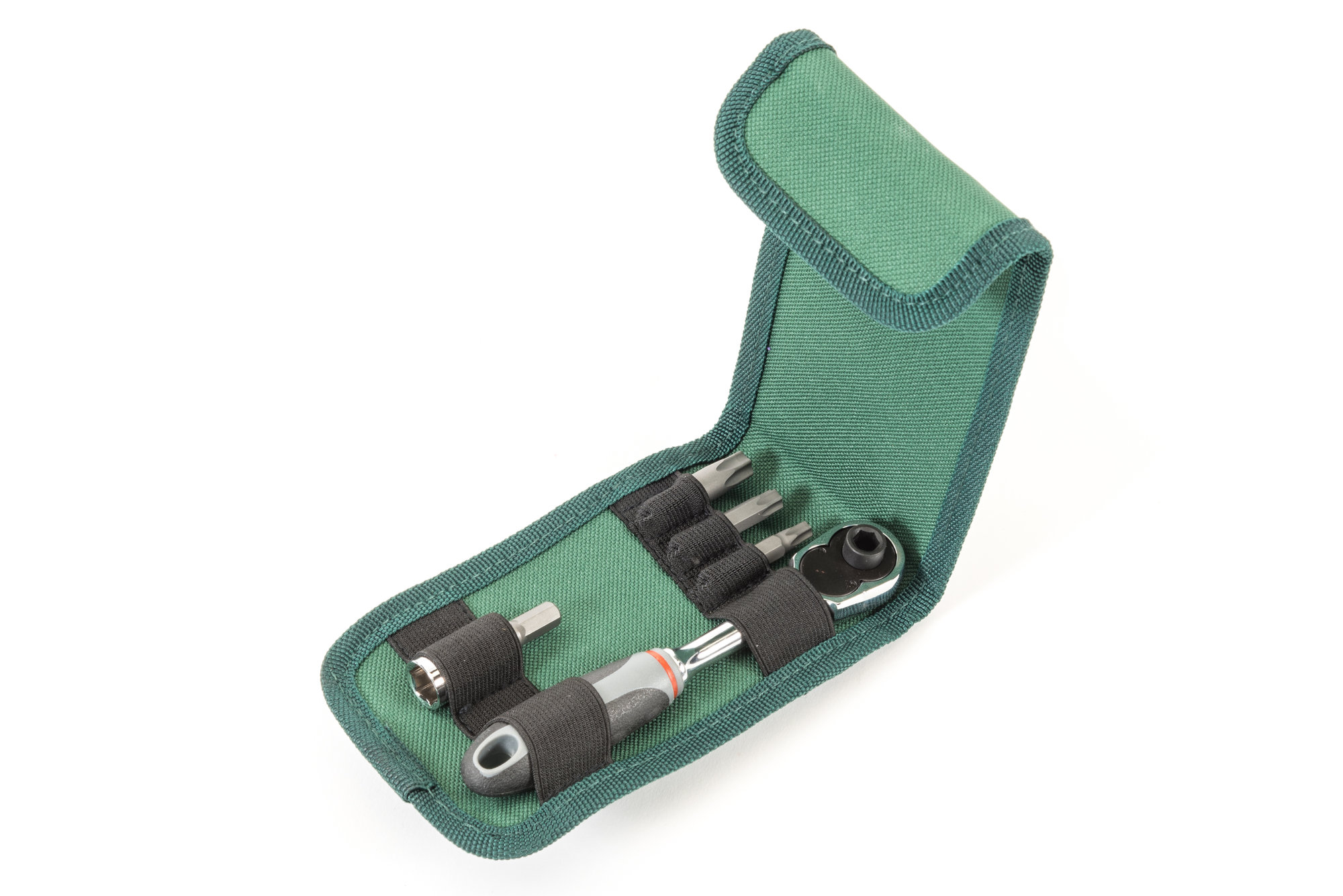 The least expensive, and still the most essential accessory for Wrangler hardtop owners, is the Mopar Top and Door Removal Torx Set. This little tool kit takes up almost no room in your Jeep, and gives you everything you need to remove the hardtop and doors to enjoy open air driving in the warmer months. The small ratchet and torx bits can remove both the torx fasteners that hold the hard top to the body tub, as well as the security nuts securing the door hinges. A small cordura pouch keeps everything contained and safe until it is needed. Even if you have a full set of tools, this is a convenient way to make sure the essentials to remove your top stays with your Jeep. In fact, many newer Jeeps came from the factory with this tool kit included, but it is often lost or removed so if you are currently without one then make sure to grab it before your next trip.
Deluxe Heavy Duty Hardtop Storage Cart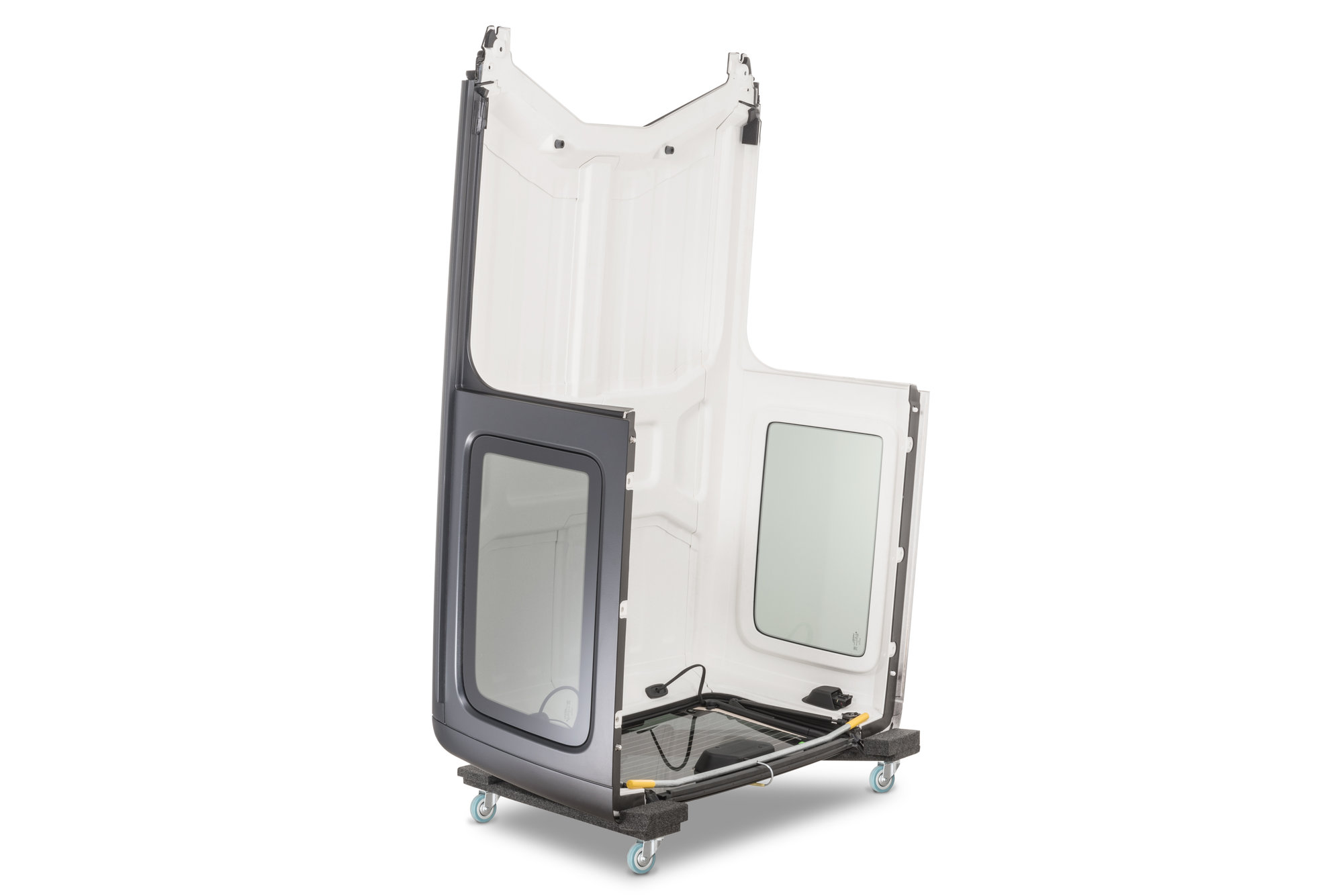 If you do remove the hardtop, then a storage cart to keep it safe is one of the best investments you can make. Hardtops are big, heavy and very awkwardly shaped. They are also a challenge to store safely, not to mention very expensive to replace. Comprised mostly of fiberglass, hardtops can easily get paint chipped off them, should they come into contact with garage floors, rocks or anything remotely sharp. A Deluxe Heavy Duty Hardtop Storage Cart is one of the best ways to keep the hardtop safe and secure, while still being able to easily roll it around the garage if you need the space for any of your other projects.
Lange Originals Hoist-A-Top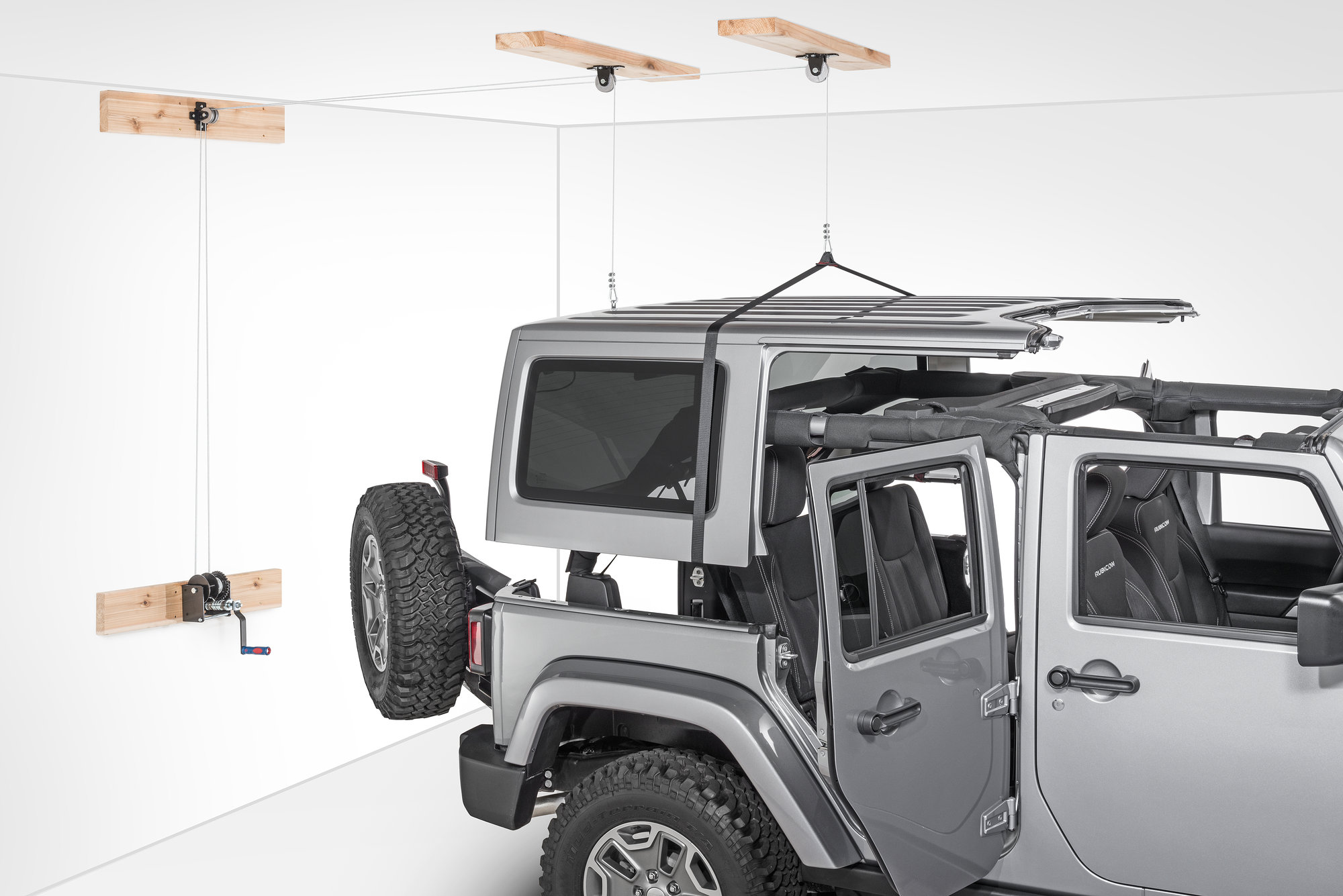 While we're on the subject of hardtop removal, if you have a garage and a high enough ceiling (8' or higher), then a hardtop hoist is never a bad idea. Using mechanical advantage, a hoist can allow you to go from completely secured to 'summer mode' in just a few minutes. All you need is an eight-foot-high ceiling and a Lange Originals Hoist-A-Top can take care of the heavy lifting for you—with very minimal effort on your part.
Garage Smart Universal Hardtop Lifter With Bluetooth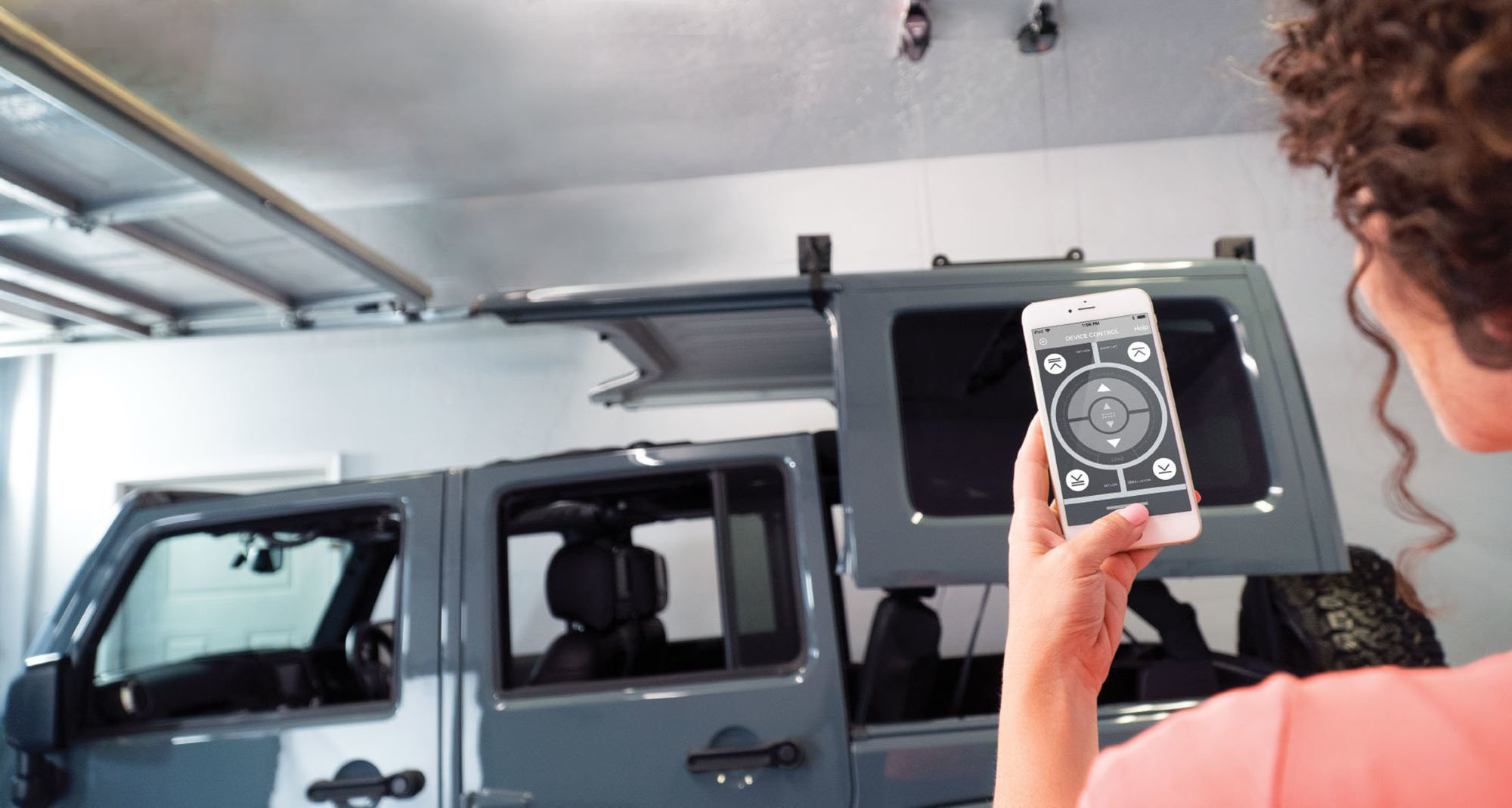 If you want things to be even more simple and stress-free when removing and storing your hardtop, the other end of the spectrum includes the Garage Smart Universal Hardtop Lifter with Bluetooth. This product not only performs the lifting for you, but it also uses a smartphone app for control so you get the ultimate in convenience.
GraBars Concealed Overhead Locking Storage Box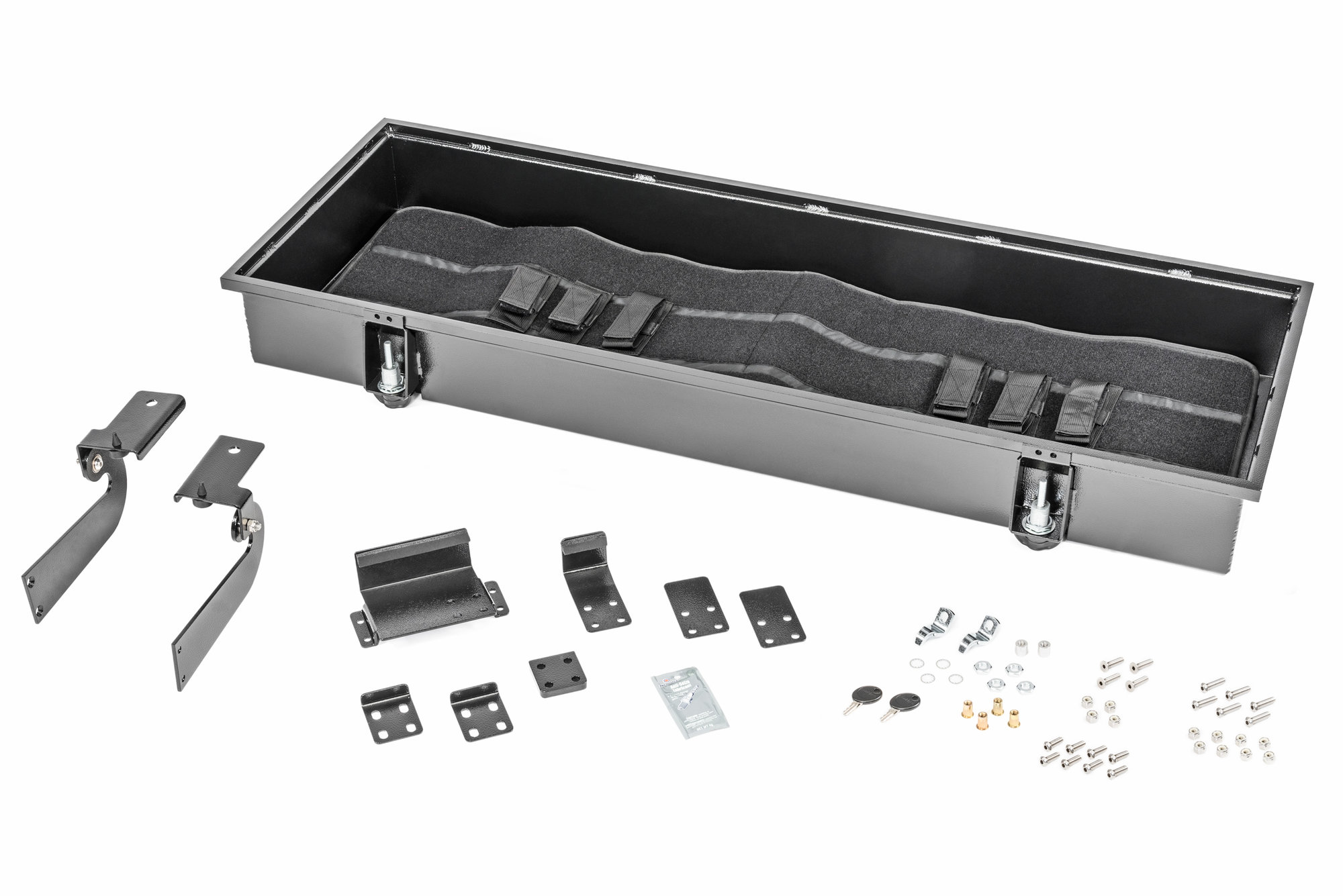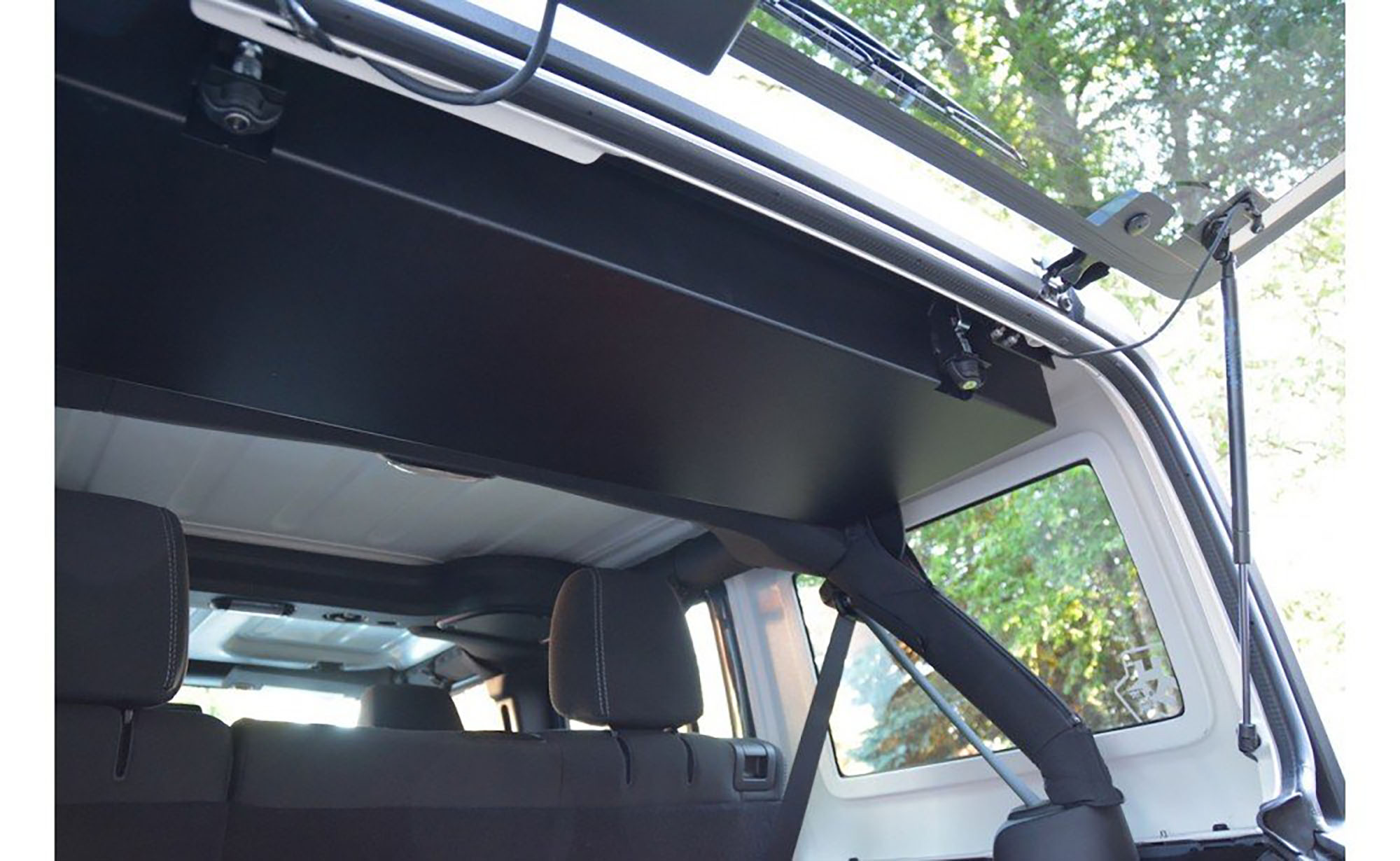 If you have a JK Unlimited, then a GraBars Concealed Rear Overhead Locking Storage Box is a great way to add some critical storage to your JKU interior. As someone who has used this for a few years, I can confidently say it is one of my favorite accessories, even if it is never noticed. The handles lock to keep your belongings safe, and it doesn't obscure your vision while backing up.
Kentrol Hardtop Removal Kit And Hinges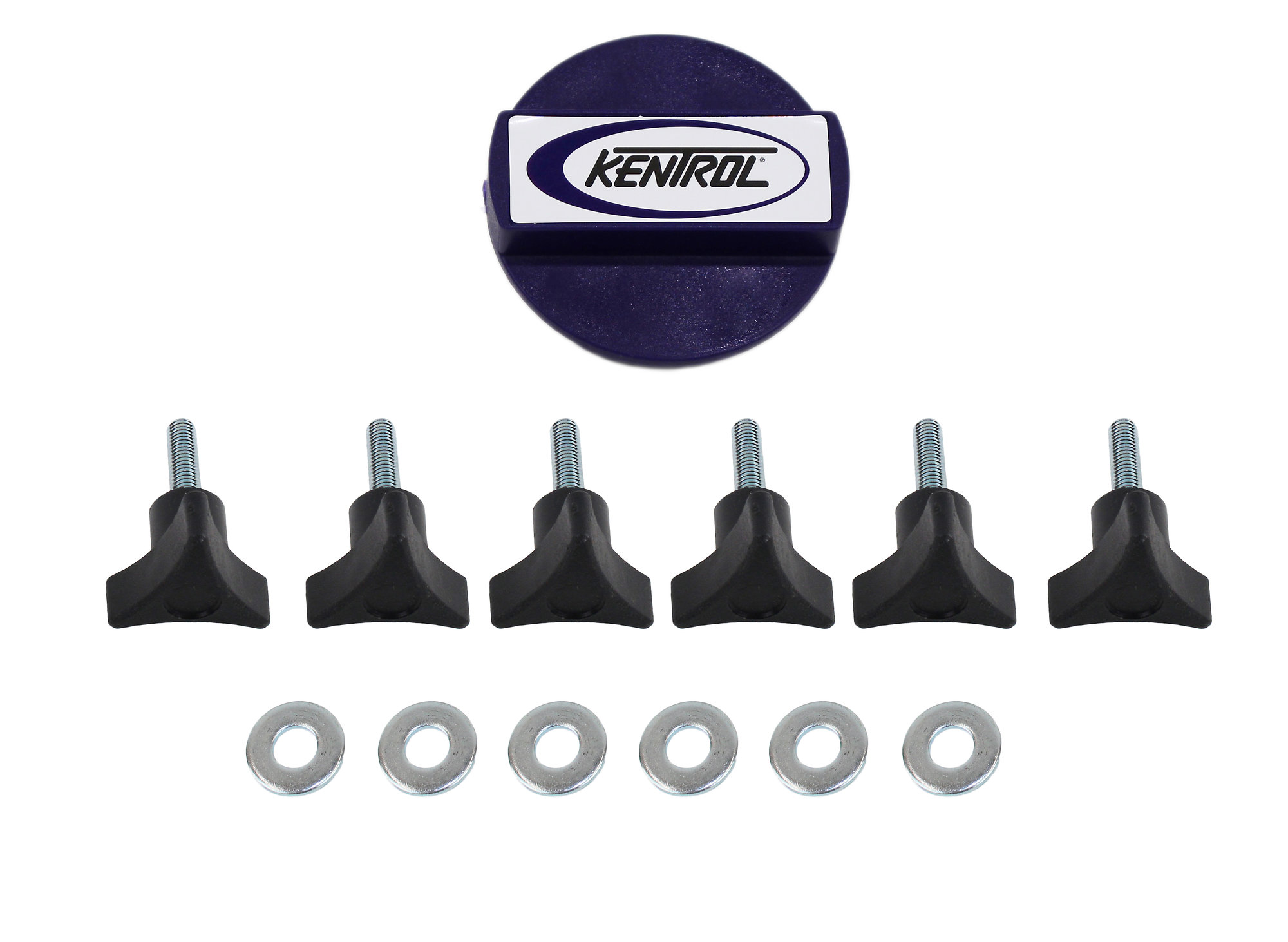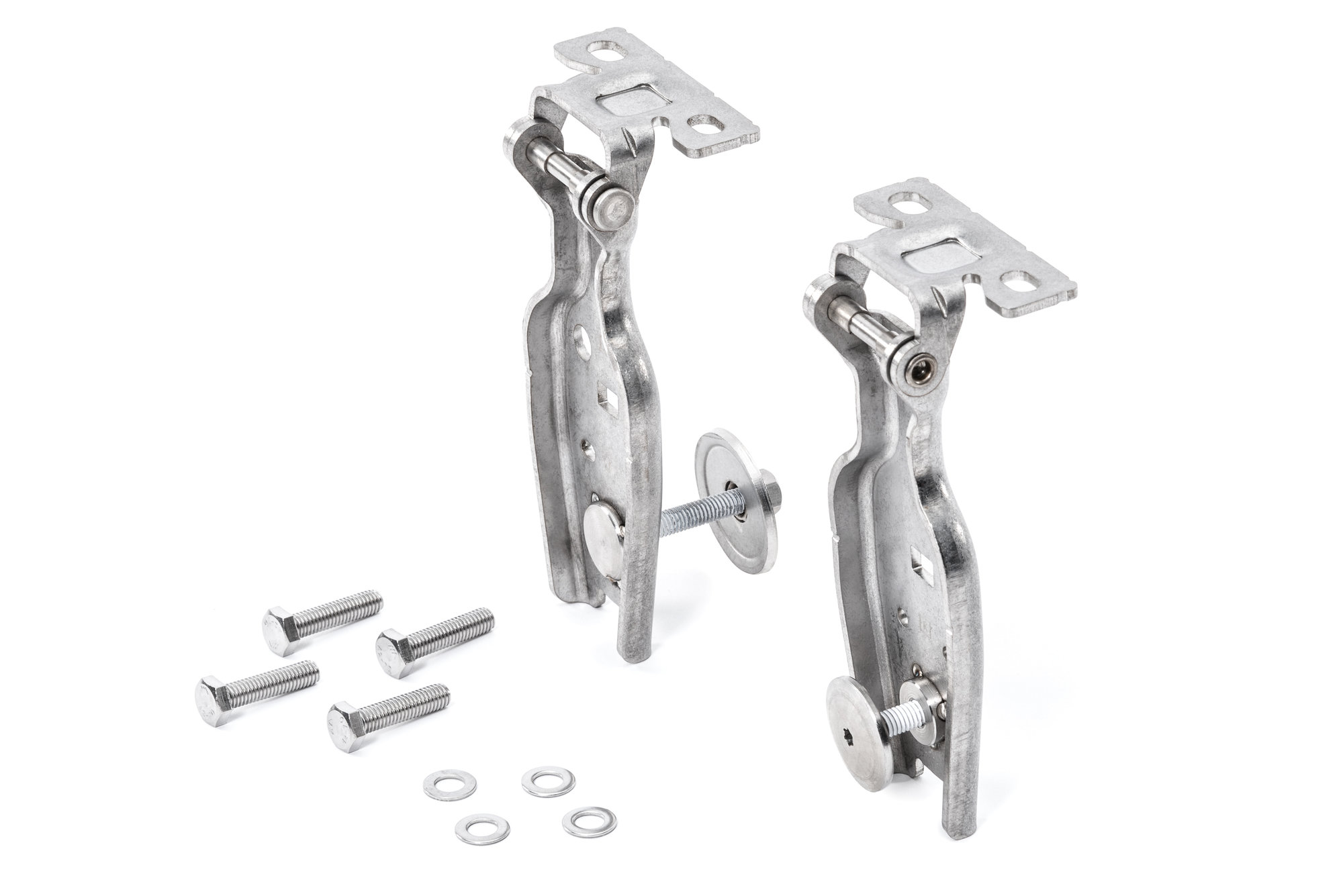 Another way to add convenience when pulling that hardtop off, is the Kentrol Ultimate Hardtop Removal Kit. This accessory includes a Freedom Panel Wrench and knobs to replace the torx screws holding your top to the body tub. On Wrangler Unlimited models, two factory screws do still remain above the B-pillar, but removing two torx bolts is better than taking out eight. Kentrol also makes a few other hardtop-specific items, some of which I installed on my previous Wrangler. These things like stainless liftgate hinges can replace the worn original ones, while a stainless rear wiper cover adds a unique touch to what is normally a really boring part.
MasterTop Freedom Panel Storage Bag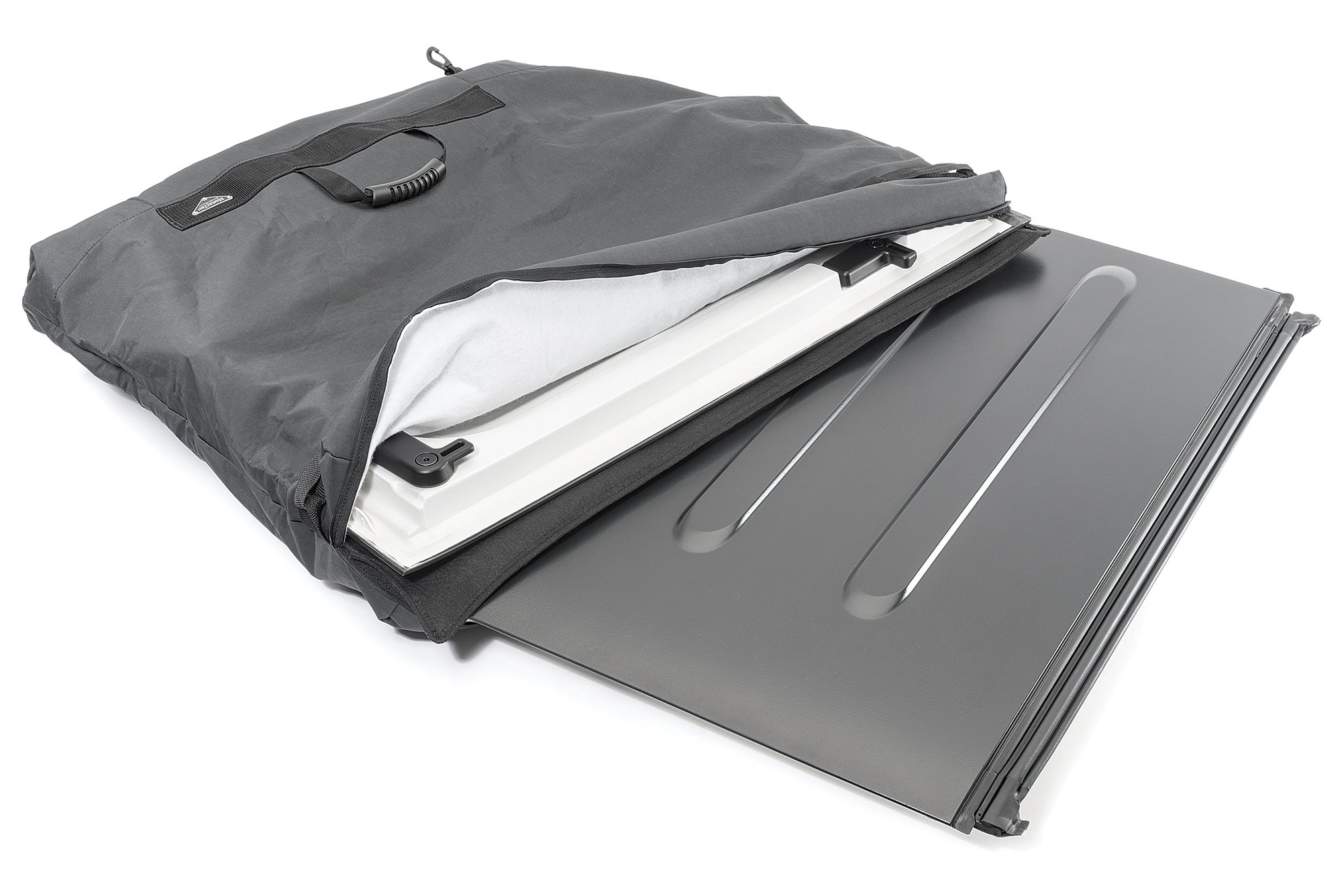 With a JK Wrangler Freedom Top, the front panels are very easy to remove, but much more difficult to store. The MasterTop Freedom Panel Storage Bag is a great way to keep those panels from getting all banged around against other objects in your trunk or in the garage. The bag's exterior is made of durable black vinyl and has a handle to help carry the panels, while the interior has multiple pockets for storage.
Bestop Sunrider For Hardtop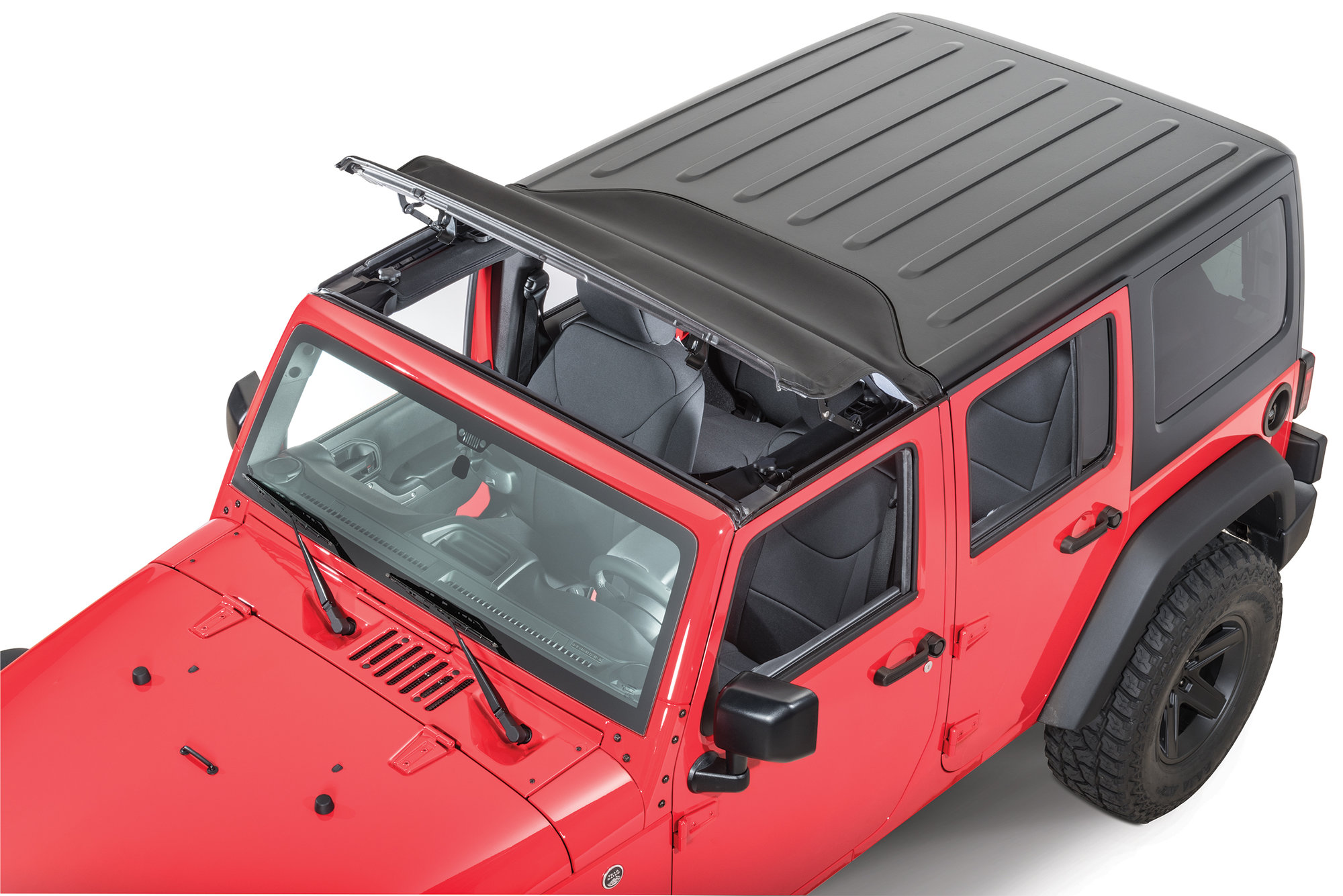 A Bestop Sunrider For Hardtop in Black Diamond nicely bridges the gap between soft top convenience and hard top protection, and allows you to quickly open up your cabin sunroof-style without having to worry about storing anything. The piece installs in just minutes and neatly takes the place of the Freedom Panels. Once attached, it is entirely waterproof when closed and can be easily opened in just seconds. You don't even have to get out of the Jeep, and can throw it back at a stop light if the mood strikes you.
Bedrug Hardtop Headliner Kit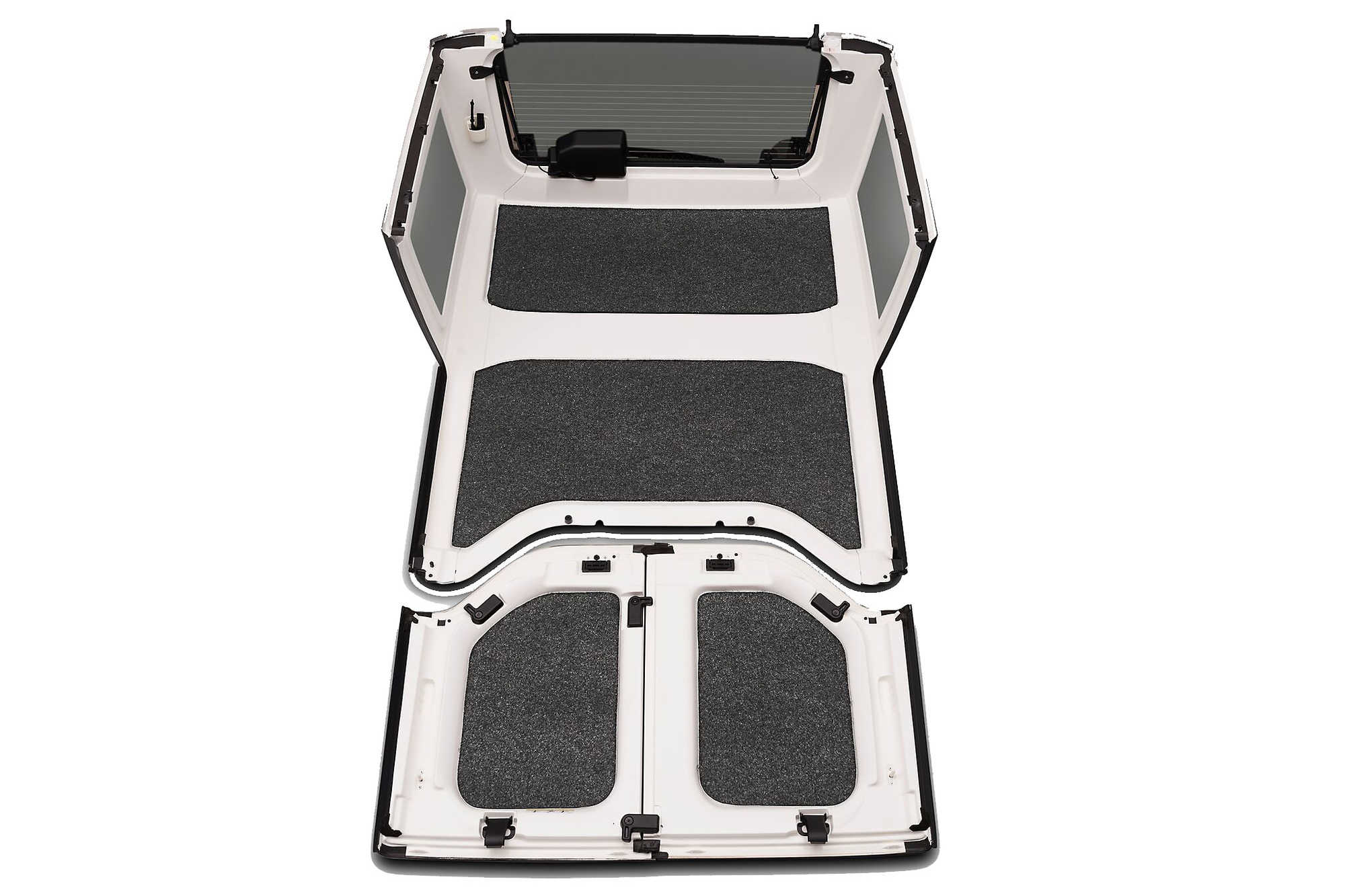 If you want a little better insulation and sound deadening while driving, a Bedrug Hardtop Headliner Kit is a fast way to accomplish those goals. Even though the fiberglass hardtop is better insulation than a soft top, there is always room for improvement. These adhesive backed panels are precision cut and install in a few minutes, keeping the interior temperature a little more manageable while helping provide a whisper-quiet ride.
Mopar Replacement Paint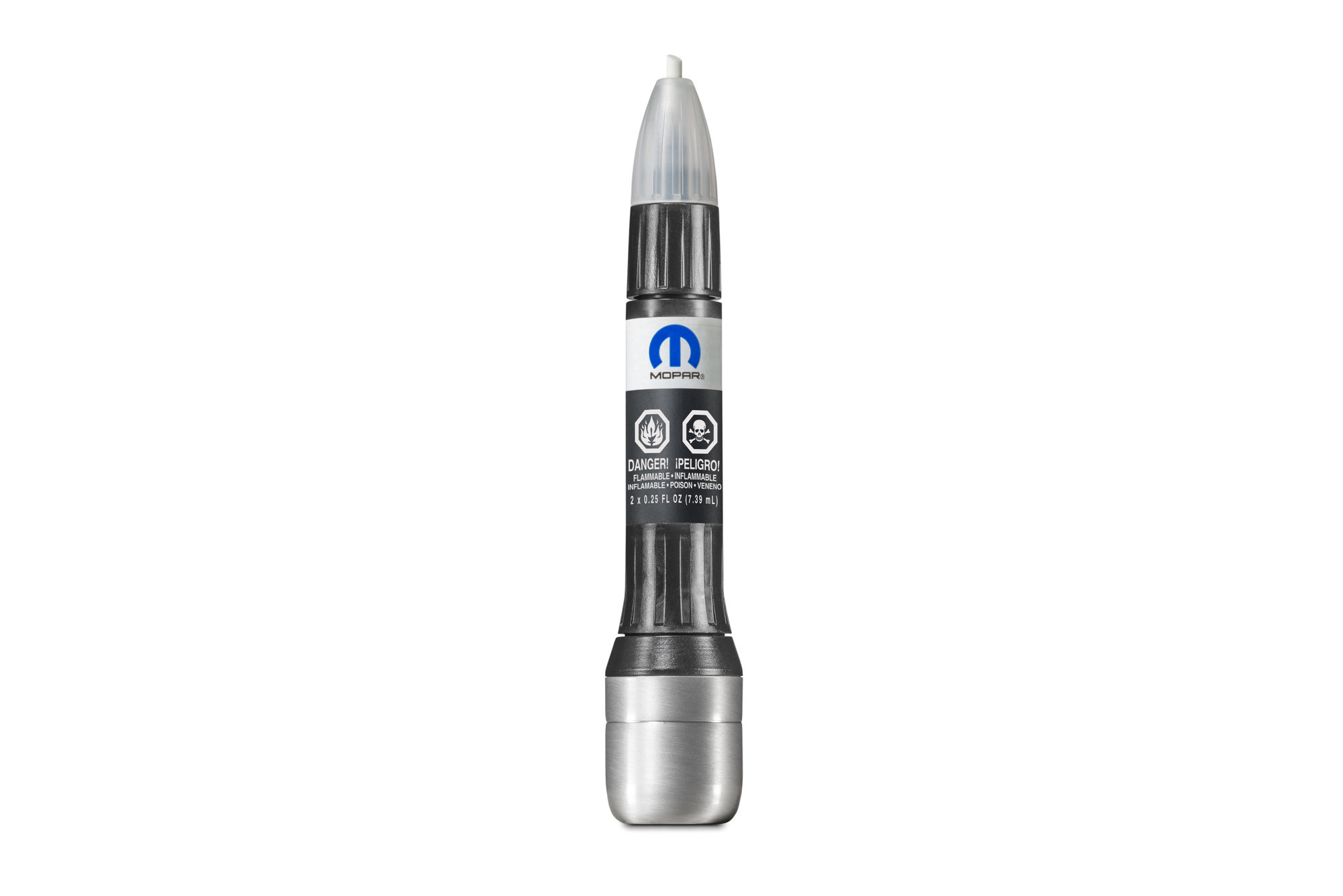 No matter how hard you try and keep the thing protected, your Jeep's hardtop will eventually pick up a few scratches or marks. Things like shopping carts, other car doors, trees on the trail—even weather—can all leave lasting scars. So if your top has picked up a few 'memory marks' along the way, then either a Mopar Hardtop Touch Up Paint Pen or Mopar Touch Up Paint Spray Can can provide the answer and keep that hard top looking fresh.
Dirtydog 4x4 Front Sun Screen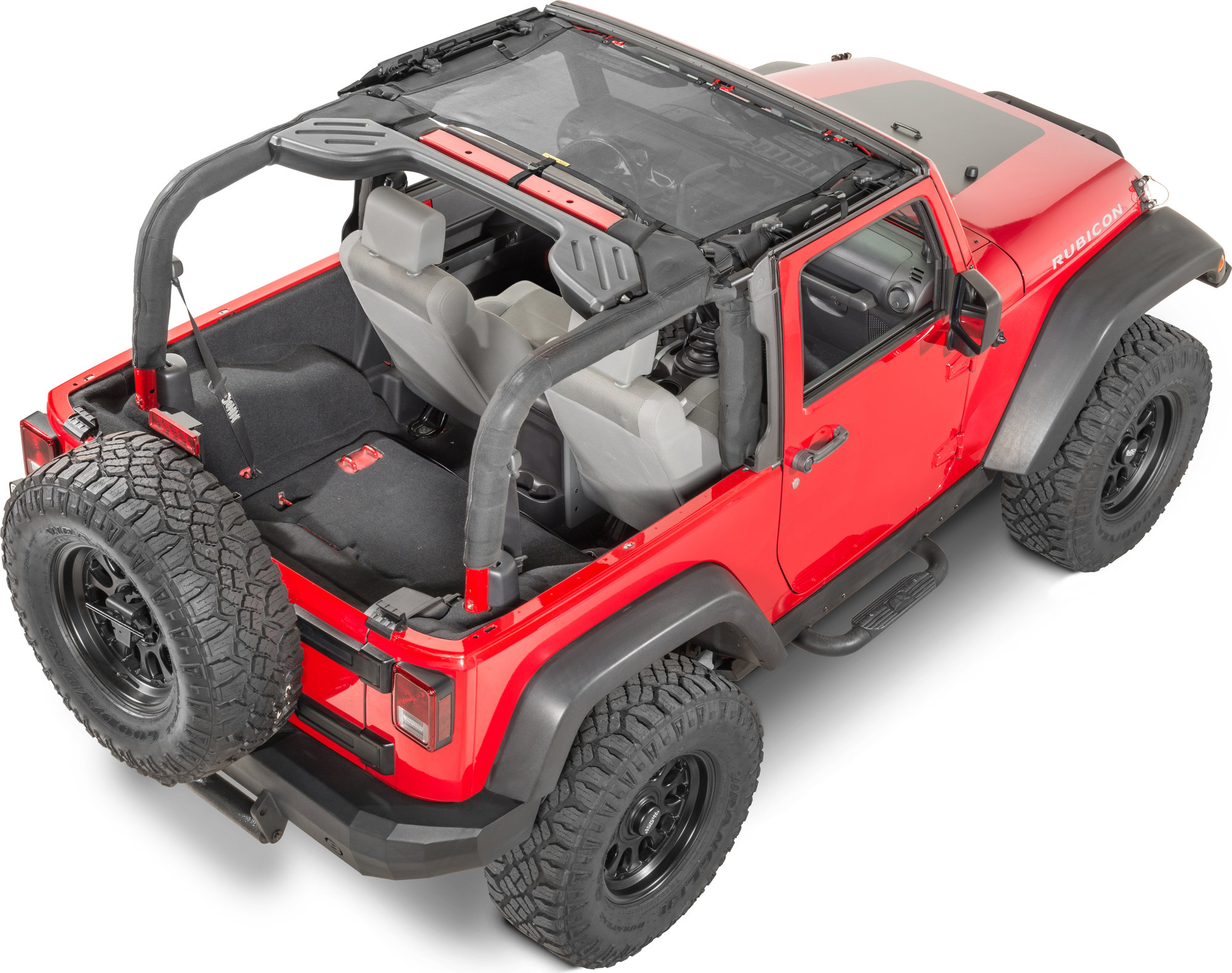 Dirtydog 4x4's Front Sun Screen is an excellent solution for those who want their Freedom Panels off, but do not want the sun beating down on them while driving. It is available in eight colors and definitely keeps the sun off you when cruising around or on the trail. It can even be left installed when you have the top on, so that feeling of open air with a little more sun protection is just a few minutes away. These are great in the hottest months, where just a little shade will make you feel a whole lot cooler.
Bestop Retractable Sunshade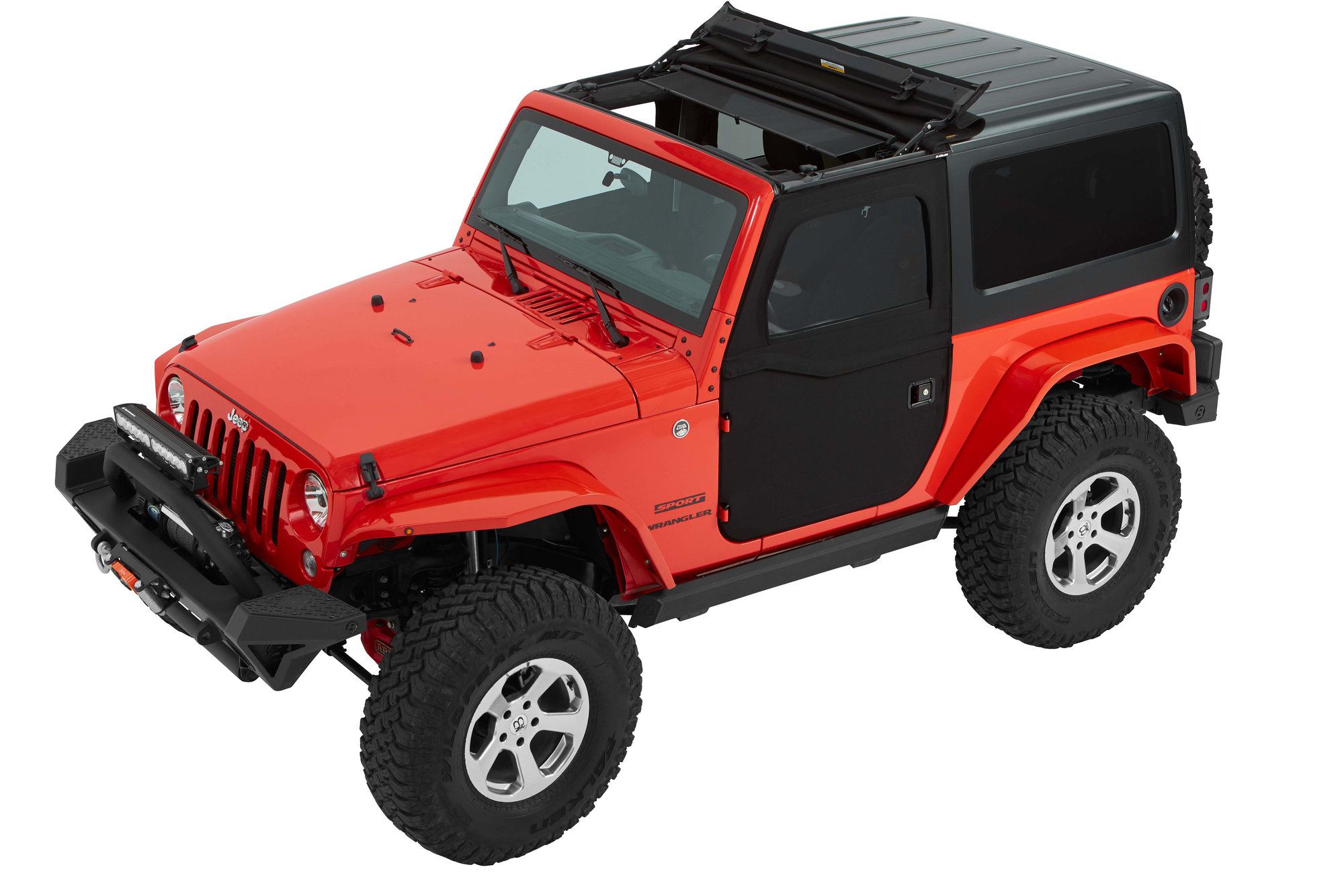 Bestop's Retractable Sunshade for JK Wranglers offers the same type of protection, but this product easily retracts back into the roll bar and quietly sits against the soundbar when not in use. The mesh is UV resistant and, once installed, never needs to be removed as it can sit under the Freedom Panels.
Rugged Ridge Elite Freedom Panel Knob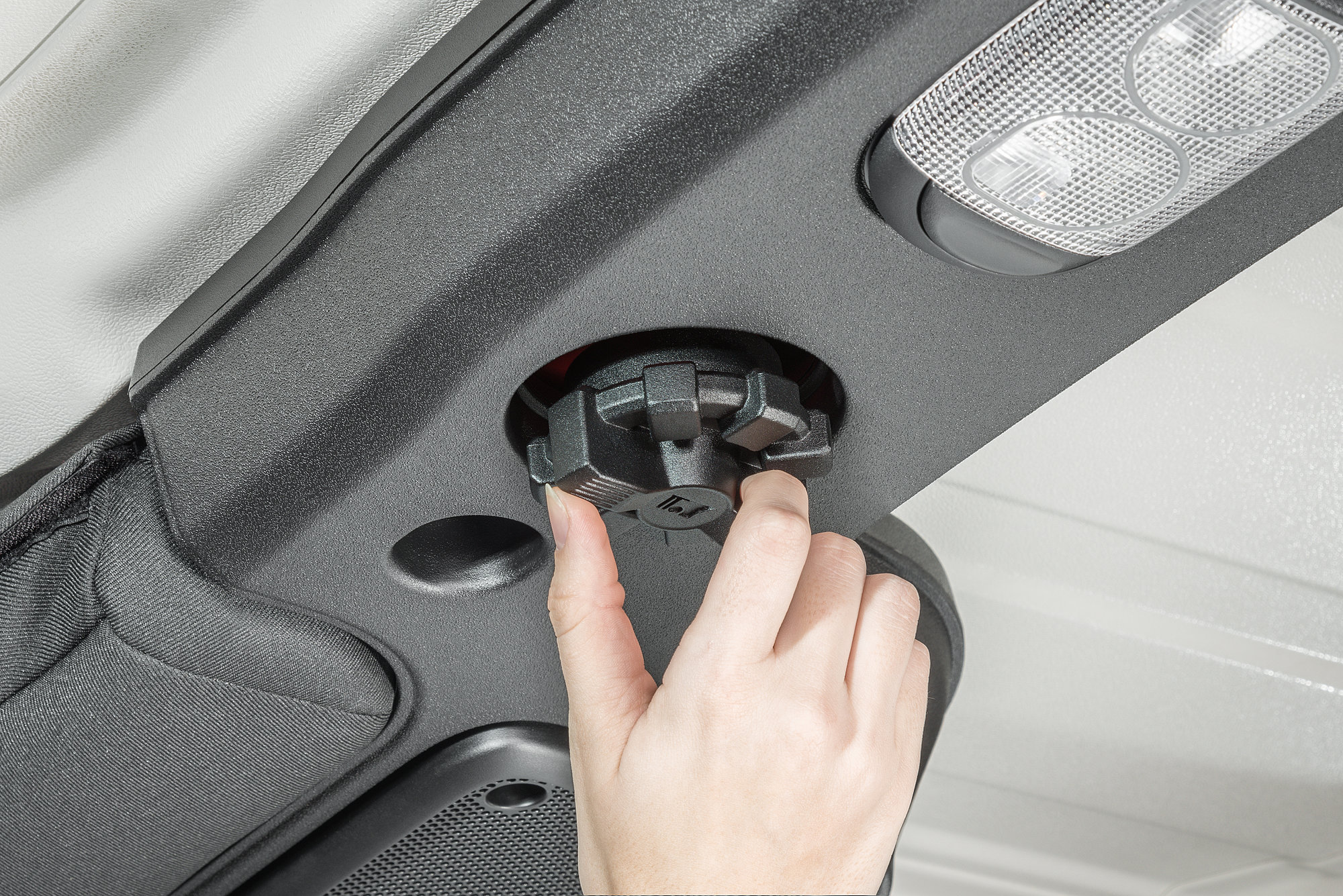 Rugged Ridge's Elite Freedom Panel Knob is a great replacement for those who have missing or broken Freedom Panel knobs. These ones are constructed with cast aluminum and are engineered to perfectly fit in place of the original knobs, while adding a tougher-looking appearance.
Rhino-Rack Gutter-Mount Vortex 2-Bar Roof Rack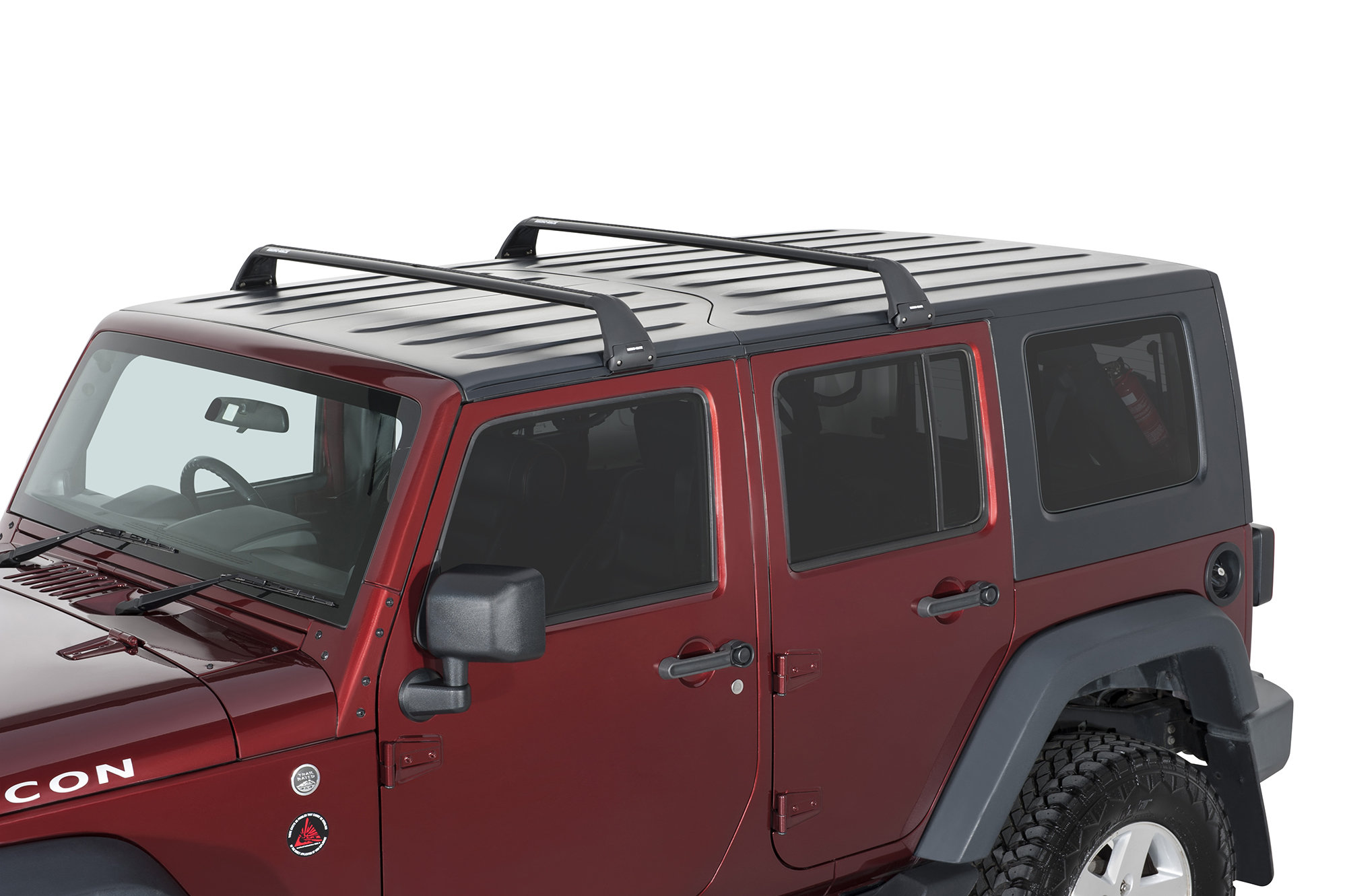 One of the biggest advantages of a hardtop-equipped Jeep is how easy it is to add rooftop storage. The rain gutters over the doors on a JK or JKU Wrangler allow you to add a Rhino-Rack Gutter-Mount Vortex 2-Bar Roof Rack in just a few minutes, which really helps when you need to do things like tie down a ladder for a home improvement project, or a couple of kayaks for a day on the lake.
Rhino-Rack Pioneer Elevation With Backbone System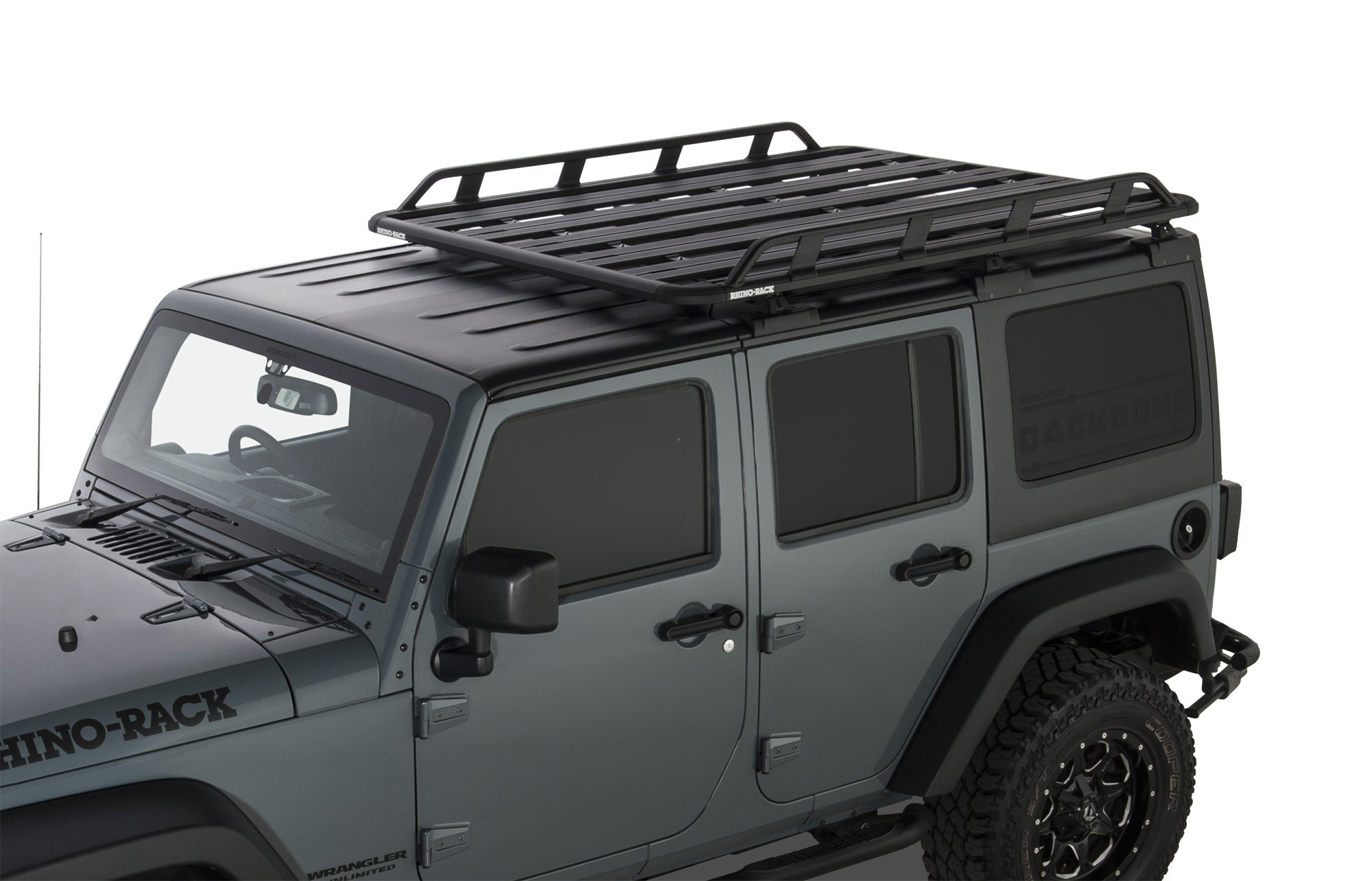 On the stronger end of the spectrum is the Rhino-Rack 72" x 56" Pioneer Elevation with Backbone System that actually has internal structure to increase load capacity. While drilling a few holes is necessary for installation, it is actually a lot simpler than you think, and it adds a solid platform capable of supporting up to 800 pounds. Plus, when you do not need the storage space, the platform can be removed in a matter of minutes to cut down on wind resistance for long trips.
Keep on rocking those hard tops!