Featuring Premium Parts from
Parts Installed
Interior
Suspension
Lighting
Soft Tops
Steering & Brakes
Tires
Wheels
Some of the things I expect of my vehicles are a little absurd. I need something with a fair amount of interior storage space, the ability to haul not only canoes and kayaks on the roof, to hunting and camping gear inside. Up until recently, all these duties fell to an adjustable height suspension, 6-speed, twin turbo Audi Allroad wagon.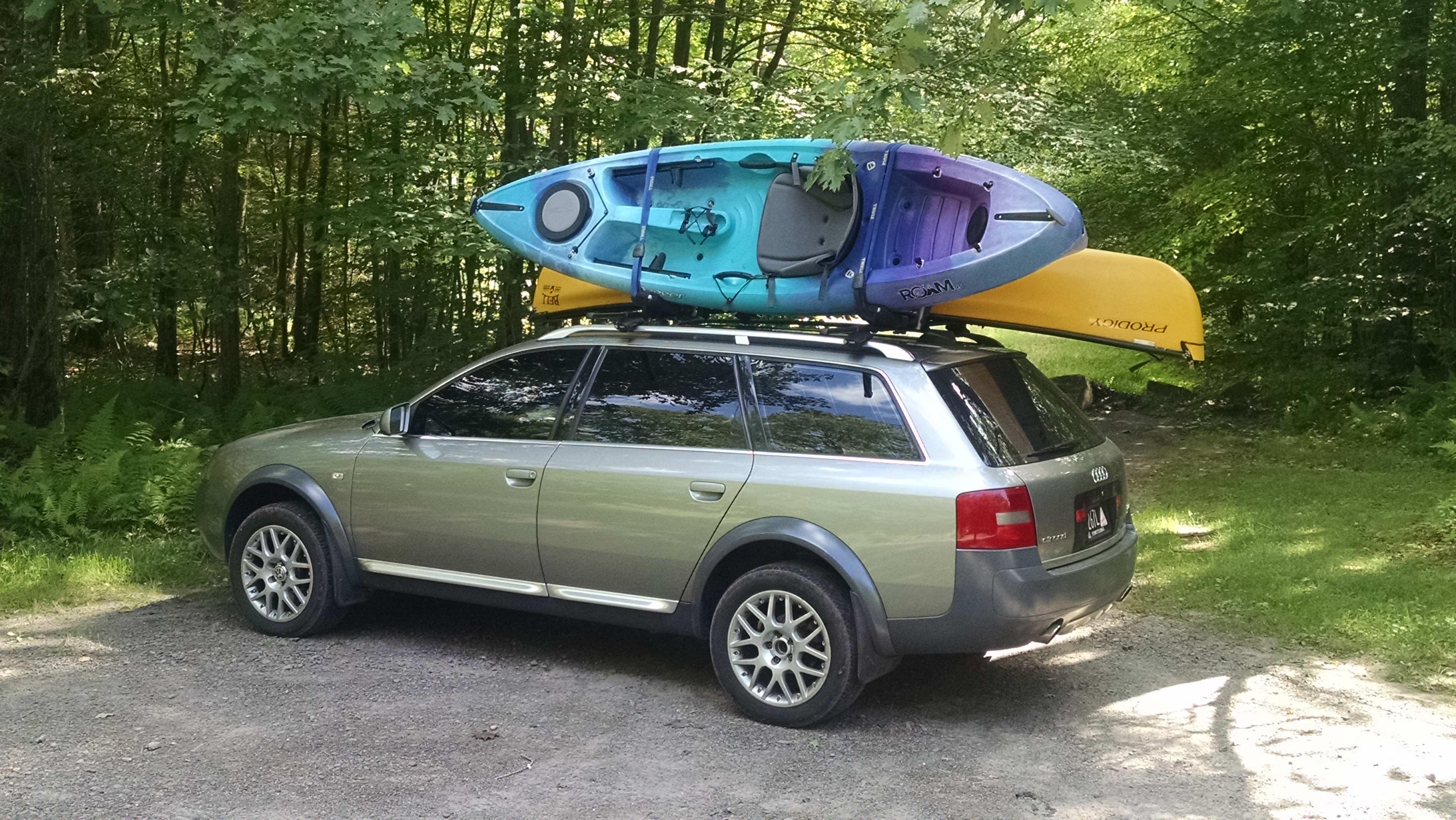 Wait a minute, that's not a Jeep. I know... I'm getting to that.
On paved roads, it's hard to beat the traction of Audi's Quattro full time all wheel drive system. In wet, icy or snowy conditions, it's nearly unstoppable. Unless the snow is deeper than half a foot, it can go nearly anywhere, and get there quickly.
Unfortunately, some of the roads leading to my outdoor adventures are heavily rutted and covered in rocks, but getting there and back without incident is essential. I've driven Audis through roughly cut forest detours to avoid washed out bridges, when turning around was impossible, and backing up for a mile was impractical. I've also flattened tires twice on mountain roads, punching sharp rocks through the sidewalls of both all season and winter sport tires. With the increase in demands of driving on rough terrain, I decided a "soft road capable" European sports wagon wasn't the best choice for the severe duty I was pressing it towards. Expensive mistakes were becoming increasingly likely, the further I pushed the envelope.
One trip to Rausch Creek Offroad Park with the Quadratec guys solidified my fate. I quickly realized that in the direction I was headed, I needed a lot more utility and could be willing to settle for a little less sport.
I have friends that have been telling me for years to get a Jeep. Several told me I would completely swear off owning anything German if I went rock crawling. Well, as much as it pains me to admit it, I should probably have listened sooner. After about two hours behind the wheel of Project XJ, I was already plotting to sell off my decade long autocross project car (that I hadn't driven in nearly two years) and my substantial spare parts stash. I wasn't quite ready to dump the Audi, because it's a spectacular highway and winter weather car.
With some funds freed up, I started shopping. I still needed something with decent interior storage space and a long roofline. I also required added durability, and outstanding trail capability. Since this was going to be a second vehicle, I could deal without a comfortable interior, and it didn't need to be fast. I drove a few LJs, but quickly noticed that the rarity of these models really increased the price beyond reasonable market value.
Since self-reliance was also a requirement, so I began pricing out aftermarket locking differential upgrades. I quickly realized that spending the money up front for a Rubicon was a wise investment. While this option package was quite expensive when purchased as a new vehicle, on the used market there wasn't too much of an increase over a Sport or Sahara model. For boat hauling, a hard top equipped model was a must.
After a few weeks, I found the JK Unlimited Rubicon that I was searching for, only about an hour from where I lived. After a quick spin around the block, I left a deposit and took it home a few days later.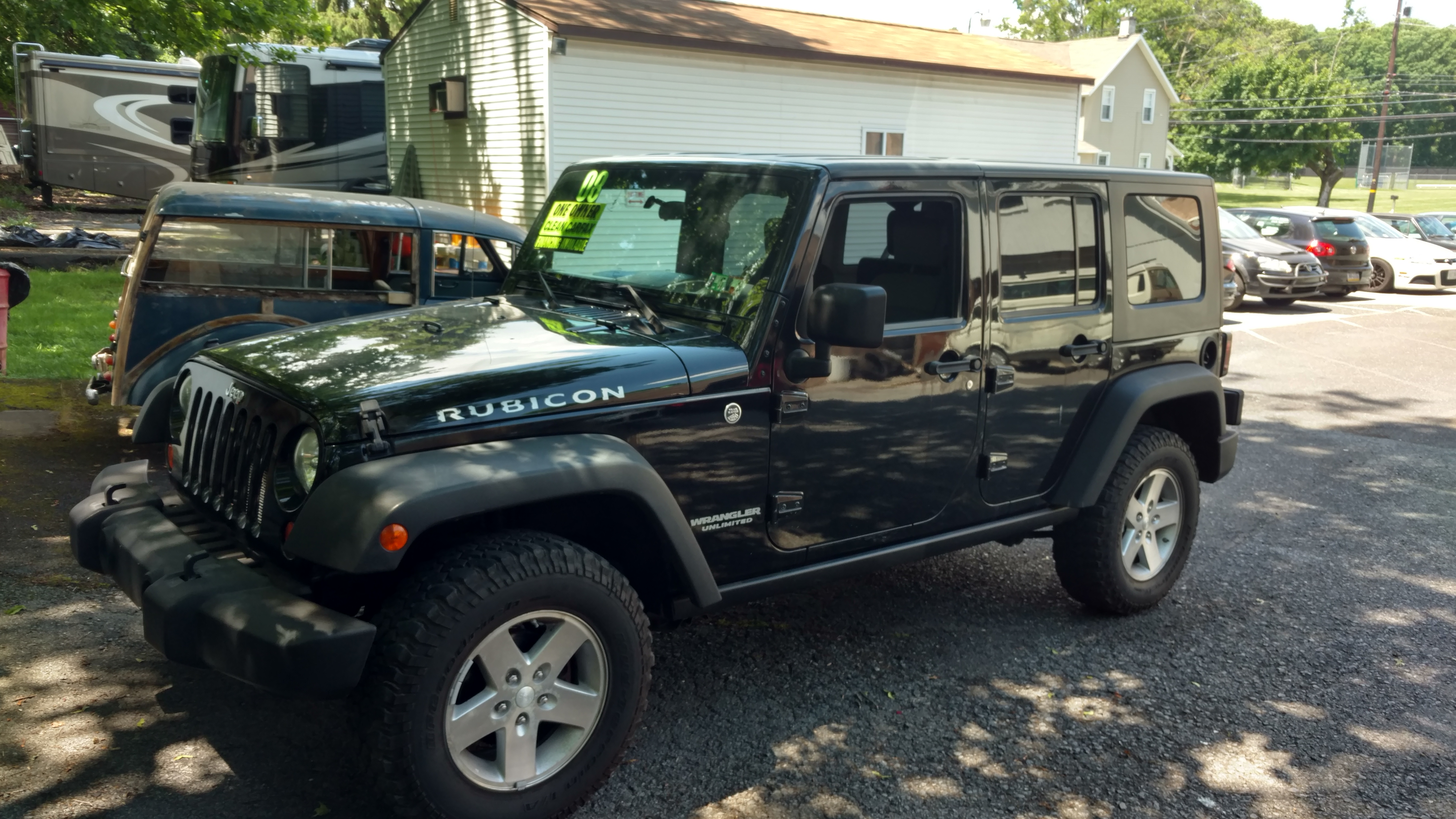 The Rubicon outside my mechanic's shop, just before getting checked over.
At this point, I probably had more of an idea of what I didn't want than what I did. I wasn't interested in setting it apart from the crowd, but I did want to make it more functional. The brakes were in rough shape and the tires were choppy, but both were in need of upgrade for my purposes anyway. I don't really like bright colors on vehicles, especially black ones. The first week I owned it, Trucklite LED headlights were installed to increase nighttime visibility, and plans were set in motion to increase ground clearance and fit larger tires.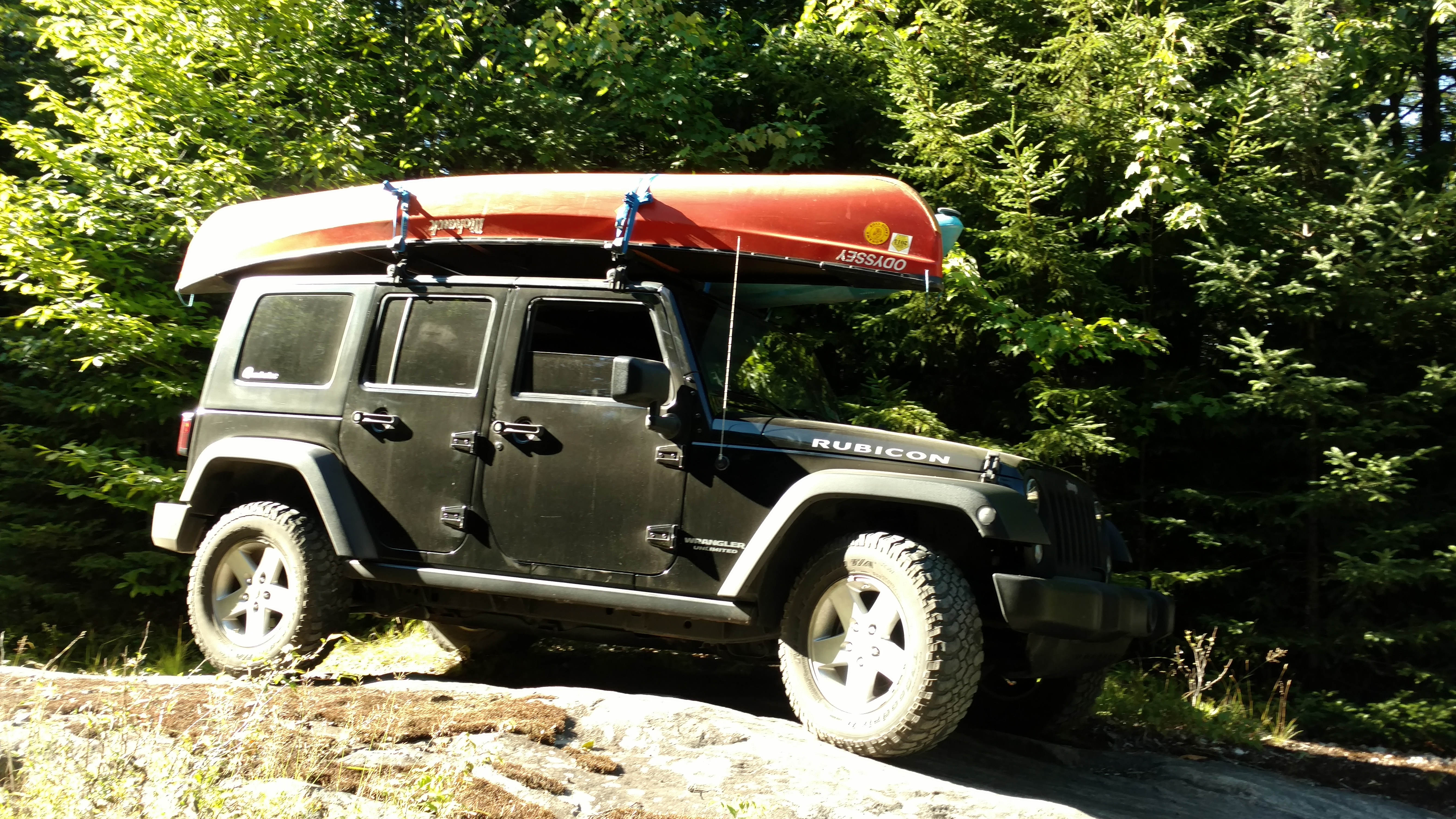 45 minutes off paved roads, a two day canoe touring/camping trip in the Catskills in NY.
After a few trips to the mountains of West Virginia, New York and the Poconos for whitewater adventures, the need for a few additional upgrades was established.

We fit 9 wet people inside for the shuttle and two rafts on the roof. Savage River, WV.
For the hot summer months, a Quadratop complete soft top was installed, and the doors were eventually removed (with a little effort) for the first time in its life.
A Flex-a-Lite Translife cooler was added to keep the automatic transmission temperatures more reasonable. How to Install a Flex-a-Lite Translife Transmission Cooler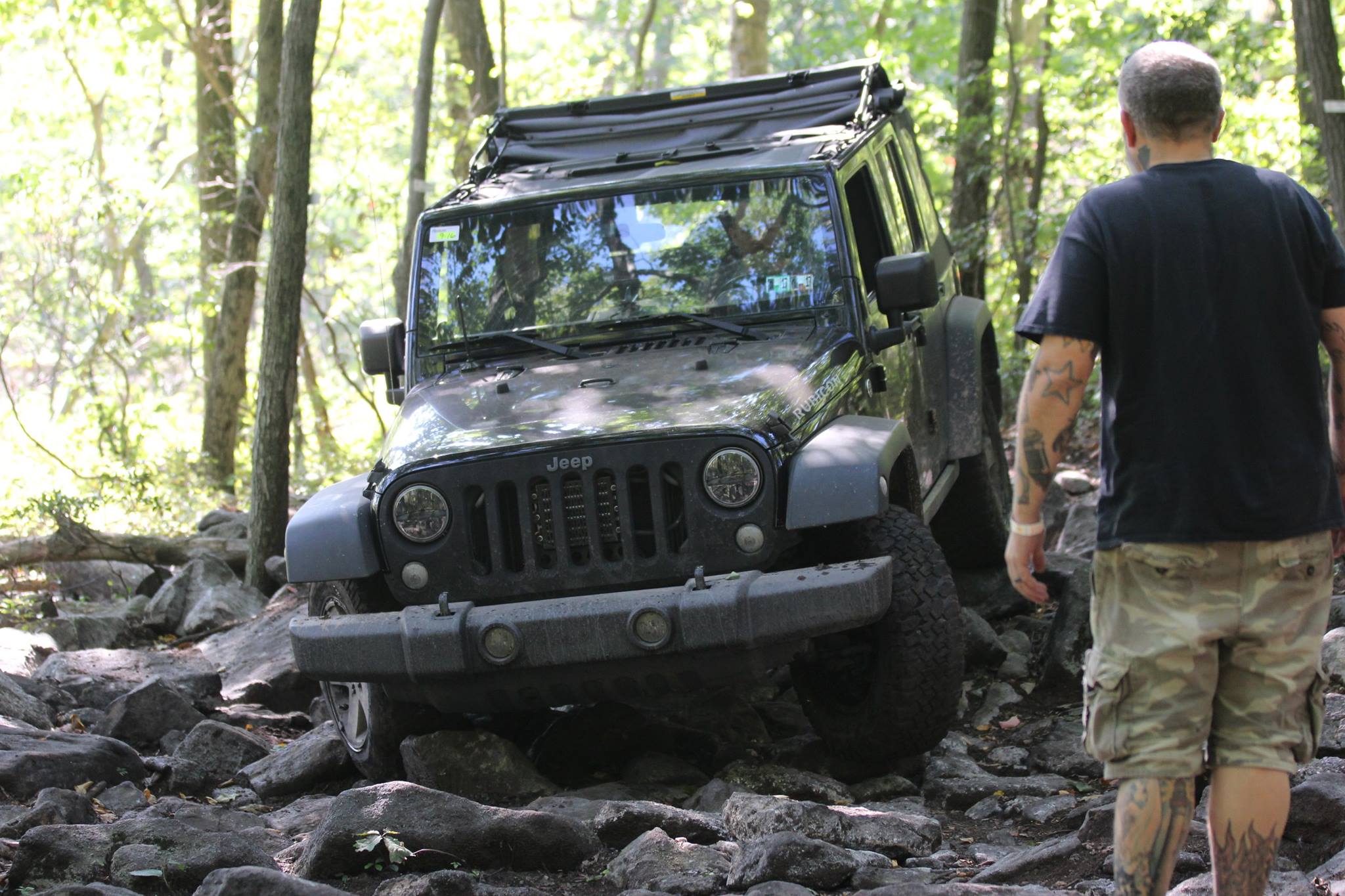 A warm day at Rausch Creek, crawling black trails at factory height.
Not long after, a Rock Krawler 2.5" mid arm suspension went on, and 35" Mickey Thompson Mud Terrain tires with Sidebiter II wheels. I didn't see the need to stick with All Terrain tires, and I'm glad I got these. They're surprisingly quiet considering how aggressive the tread is.
After the original battery gave up on life, an Optima battery with Quadratec Extreme Duty Terminals were installed. Quadratec Extreme Duty Battery Terminals and Optima Battery Upgrade
A Tactik tailgate hinge reinforcement and adjustable spare tire mount were added to support the extra weight of the heavier spare. Tactik Adjustable Spare Mount with Hinge Reinforcement Perfect When Adding Larger Spare Tire On Tailgate
The factory exhaust was falling apart, so a new Pypes high clearance system was added.
With the increase in rolling mass, an upgrade in stopping power was needed. SSBC Tri-power Calipers went on, with Disc Brakes Australia slotted rotors. Why Do I Need a Brake Upgrade On My Jeep Wrangler
Future plans include self recovery gear, offroad bumpers and upgraded rocker protection. Engine performance upgrades and additional drivetrain armor are also on the horizon. Additional lighting will be added as needed. The focus is on utilitarian upgrades, with very subtle appearance modifications.