by Eric Ammerman
Quadratec Staff Writer
Your Wrangler hardtop is one of the most expensive removable parts you have on your Jeep, and of course it's also a pretty fragile one. But, as long as you take your time, and are as careful as possible, it can be one of the most rewarding ways to enjoy the spring and summer in your Jeep.
Like anything else you do to your Jeep, there are several different paths you can travel, so you need to decide which one is right for you. Yes, I've seen the video where the guy climbs in his Jeep and lifts the hardtop off by himself and walks it backwards. Maybe I'm taking less risks as I get older, but the thought of dropping that expensive hardtop on the ground while performing some sort of crossfit-style stunt, seems like a bad idea.
For me, I've been removing hardtops for years with the help of just one other person and it's not hard to do, if you can talk someone into helping. However, if finding a helper is not an option, there are several products on the market to help you pull that top off by yourself.
Hardtop hoist systems:
Hardtop hoists are great if you have a garage or carport with enough ceiling height to lift the top off. They range from manual hoists that use ropes and pulleys, all the way up to hoists that use a small winch to do all the heavy lifting. You can also leave the your top on the hoist system to store it and keep it out of harm's way.
Now, there are always those claiming you can go the do-it-yourself route for a similar hoist system. And if you listen closely, you can hear those Internet commenters starting their posts by telling us all about how they built a hoist with $13 worth of cheap ratchet straps and some 2x4's they found behind the shed. So I ask you this: How much do you trust a strap to lift and support something that costs $2,000 to replace, when that strap was actually designed to hold DOWN cargo? If you do try that kind of solution, then keep this link handy: Mopar Hardtops. We'll be more than happy to sell you a new one.
Free standing hoist: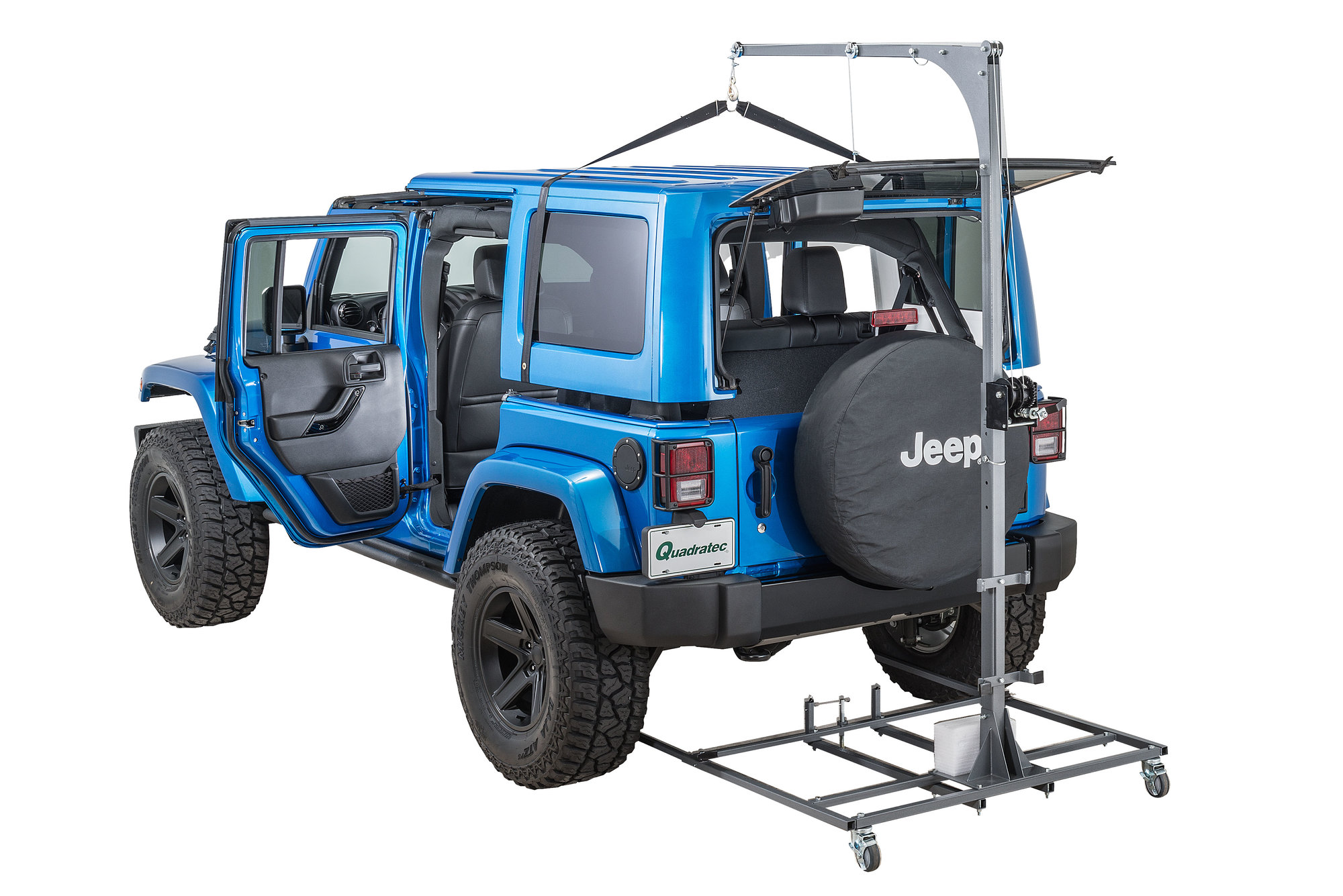 The Lange Originals Hoist-A-Cart takes care of your hardtop hoisting needs if you don't have the area to install a standard hoist system. This free-standing cart system still uses a hoist to help pull the hard top off your Jeep, but instead of using a wall or ceiling to support the top, the cart itself is the storage system.
One thing to keep in mind, though, if you choose a non-cart system, or if you decide not to leave the top on the hoist cable - you'll need a proper location to store the top and freedom panels, as well as some type of storage system. You can find our storage products right on our hardtop storage category page.
Now that you've figured out how you want to do the heavy lifting and storage, you are ready to get to work. Start with getting the top unbolted from the Jeep. As luck would have it, we have a video to show you how to do just that.