by Matt Konkle
Quadratec Channel Editor
To door or not to door: That is the question. Forget all that stuff about slings and arrows, or outrageous fortunes, and think more about warmer weather. About pulling the soft top back and out of the way. About removing your Jeep's hard top. Fresh air. Good times.
That's right, for many of you out there open cabin driving is one of the best things about owning a Jeep. It doesn't matter how you drive; on the street, dirt, mud, rocks or wherever, taking off that Jeep top and enjoying a beautiful day is every bit as refreshing as it is exhilarating.
What to do about those full or half doors, though? Do you leave them on all summer, or pull off at the first sign of warm weather and leave them off all season? Perhaps you just pull on and off for a few days at a time. Different people do different things.
And, well, with all respect to Mr. Shakespeare, it really doesn't have to be a 'to be or not to be' question. Not if you choose a set of Jeep Tubular Doors.
Here's why.
Tubular doors make a great summer alternative because they are designed to alleviate several problems that arise when the factory doors are removed—namely safety, legality and storage. They are also perfect for those who love taking their Jeep off-road because the tube door openings provide perfect sight lines when ascending or descending obstacles. Especially when there are no spotters around to help. Plus, they come in many different designs and can be painted, so it is easy to customize to fit whatever look you are trying to achieve.
So what are tubular doors? Simple. They are a set of metal tubes that are bent and welded into a frame, and include hinge pins that slide into your door's body hinges as well as latch mechanisms. That way, installing and using is fairly simple with no cutting, welding, or drilling. Some doors have more tubes than others, and some are angled in different directions for a unique look, but essentially they all give you a door that provides protection between the road and passengers, and a sense of 'openness' that goes along with top off driving.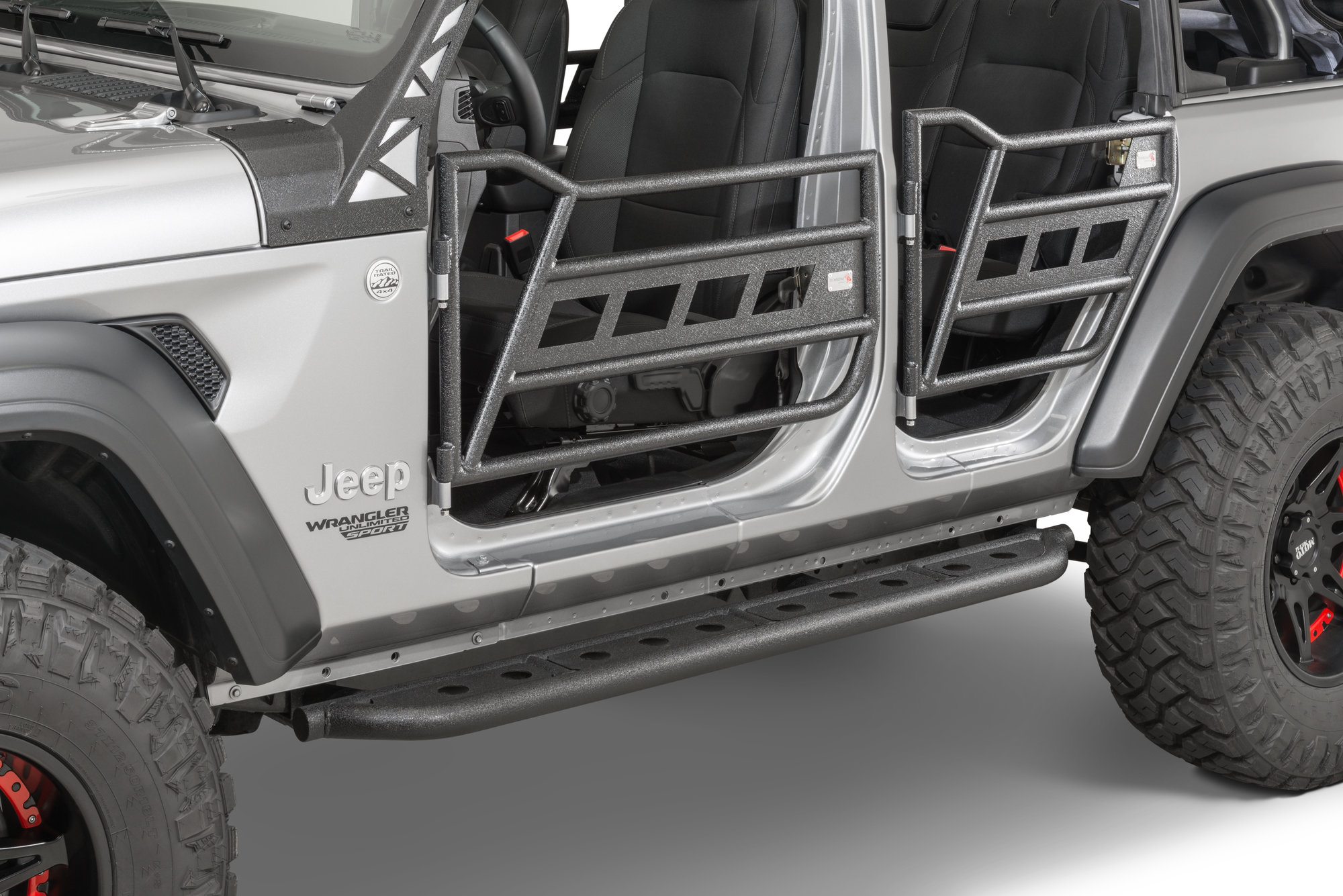 For example, in Fishbone Offroad's Tubular Door series (pictured above), they use black power coated upper and lower steel tubes with a middle section that offers solid protection, but still with some cut outs to give off an open appearance. That combination of open air, but still with a safety element, was important to the design process, said Jamey Paine, Fishbone Offroad Director of Sales and Marketing.
"Tubular doors are a great addition to any Jeep in the summertime, but they are especially helpful if you have a family with children or dogs because the tube doors keep occupants in, but allow a sense of wide open door less Jeep Freedom," Paine said. "Fishbone Offroad Tube Doors give you this type of coverage, this added level of passenger security, while still providing a wide open door feel that people love."
Besides safety and security, tubular doors can also help limit or eliminate potential legal issues when you pull off your factory doors. Like we said before, open door driving can be a fun way to compliment the entire open cab experience, but hitting the street without factory doors may be frowned upon in your area. So the smart thing to do is check your local laws before heading out sans doors. Tubular doors should alleviate that concern, although it is still a good idea to check those regulations to verify.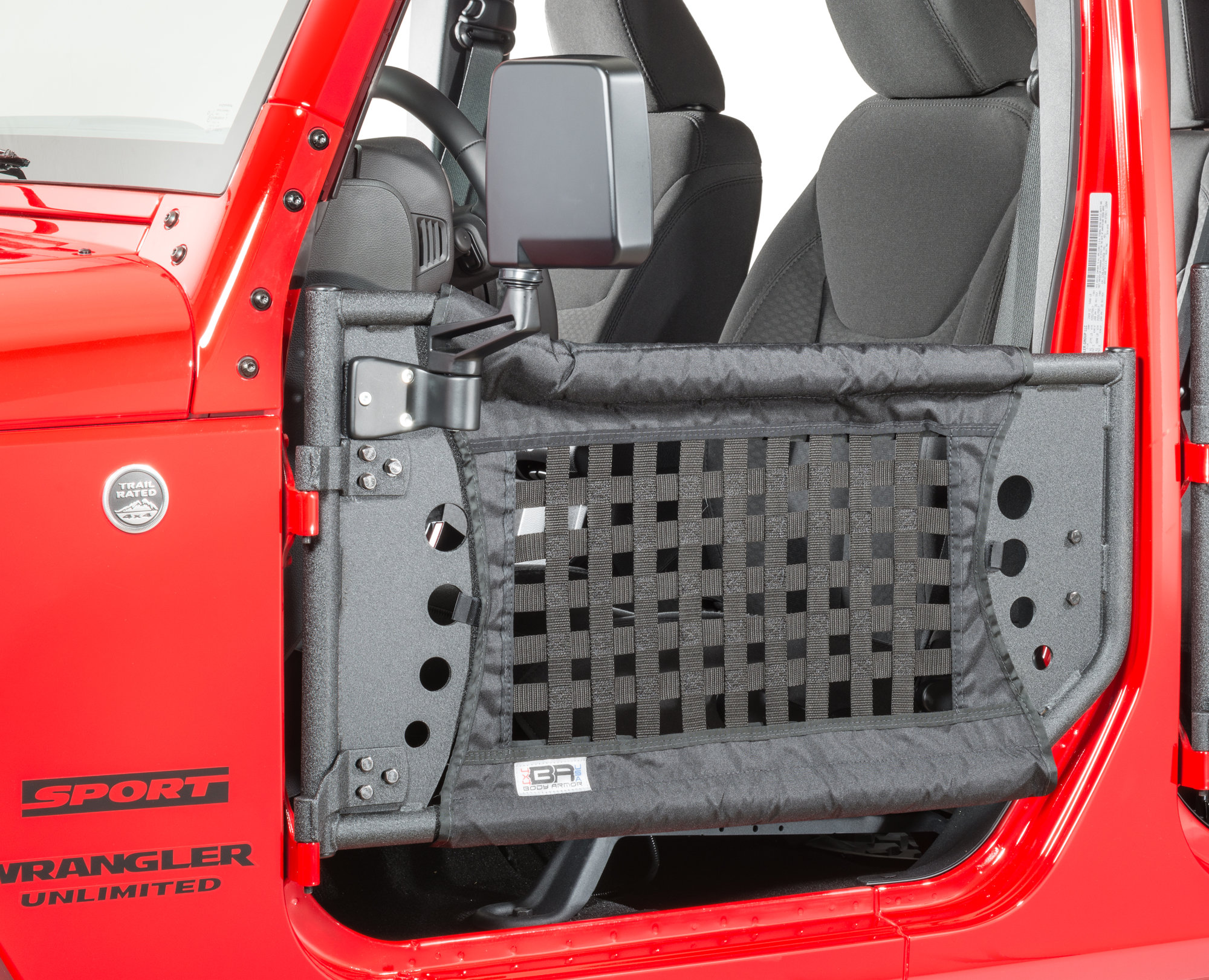 Mirrors are also a big problem when factory doors are removed, as most states require you retain at least one on the vehicle. Some require both, as well as the rear view. Door-less driving makes that tough because when the doors go, so do the mirrors. Sure, there are small replacement mirrors that plug into the door pin mounts, but tube doors often have provisions for attaching the large factory mirrors, or they offer their own styles which generally are more solid, and less shaky than those smaller replacements.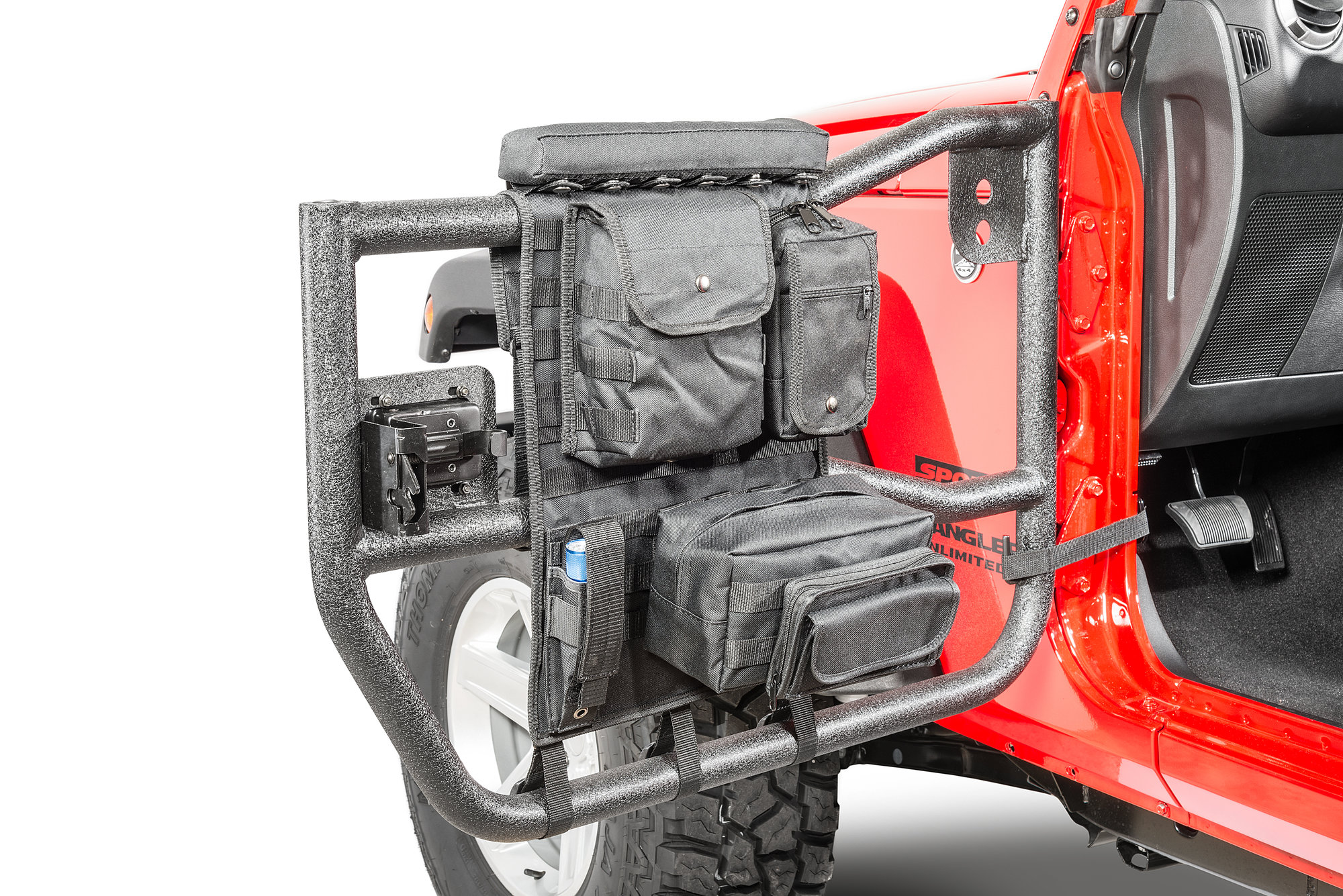 And then there is storage space.
We all know that space is already limited inside a Jeep. So losing any storage ability is tough. Factory full doors have storage netting to hold items, while half doors offer an elongated open section near the bottom of the door to place things. Sure, it is not a huge amount of space, but it can be valuable. That all goes away, obviously, when the doors are removed.
You won't find enough storage space to hide luggage or something like plywood, but some tube doors, like the Smittybilt series, offer canvas or mesh screens that have optional MOLLE pouches which adds convenient storage possibilities, while Rugged Ridge also has a tube door cargo cover and storage bags that work with most designs. These pouches are large enough to put things like first aid kits, trail supplies, beach or park necessities, or other smaller items.
Now, using those door pouches to store trail items is one thing, but installing trail doors to help improve your off-road performance is another solid benefit. Sure, removing the factory doors provides some great sightlines when traversing uneven ground. The problem arises when that terrain gets extremely bumpy and you need to focus more on your line, and not whether you might fall out of the vehicle.
Trail doors are perfect for the, um, trail because they nicely give you that openness you need when accessing a situation like correct approach or departure angles, while still giving you a protective barrier between inside and outside. Plus, with many brands offering tube door armrests, you can get comfort along with that open cab experience when you are out on the trail.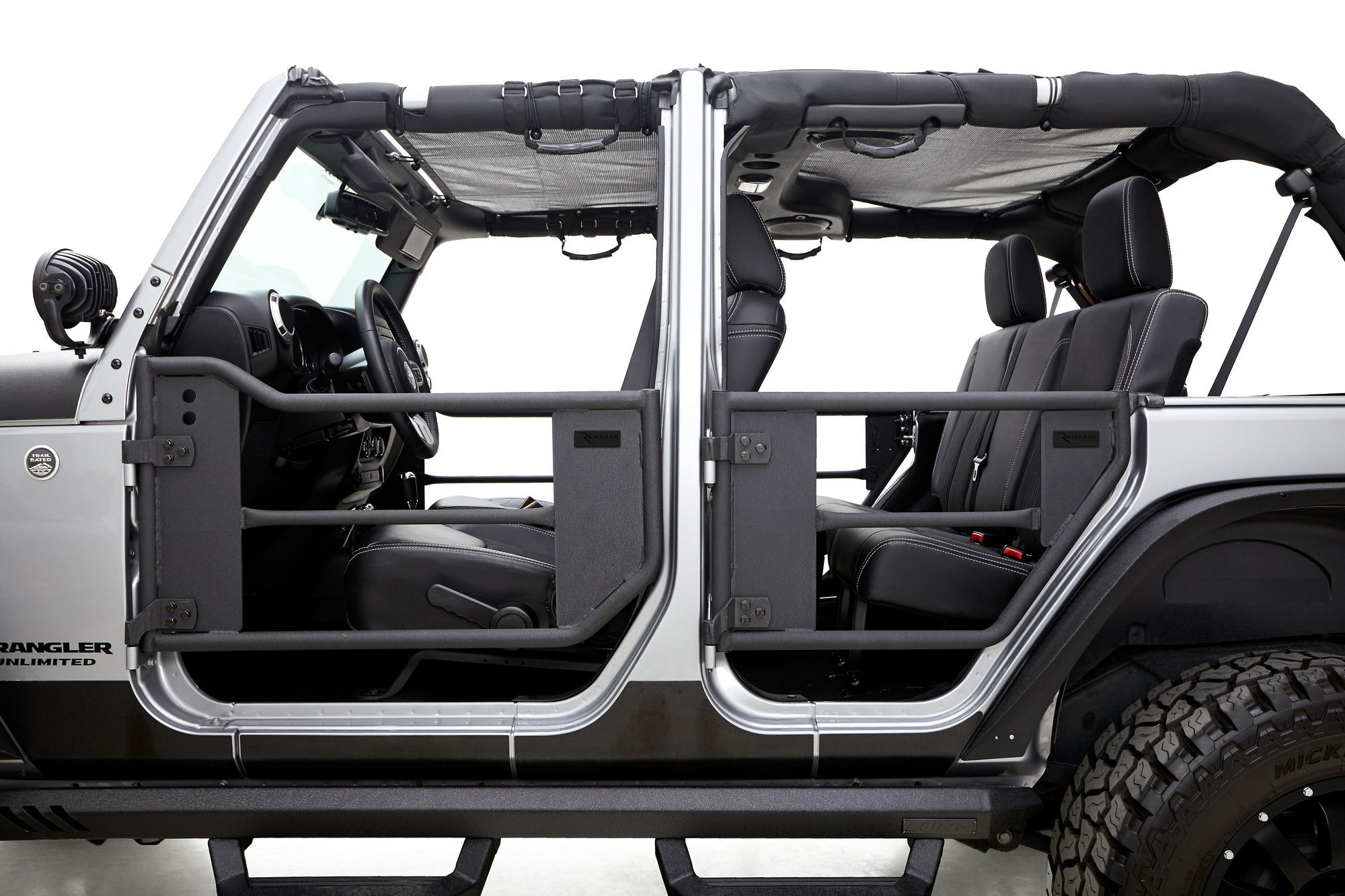 Another important benefit is customization. Unlike factory full or half doors, numerous different manufacturers engineer trail doors and many have unique aggressive designs. That way, you are able to choose what looks best to you. Perhaps it is a simple and elegant design such as the Smittybilt or Rugged Ridge doors. Or maybe it is those Fishbone Offroad ones that have a slightly more solid middle while still providing an open-air feel. Body Armor, Rancho, Bestop, Aries, Fab Fours and Warrior also have designed some great options.
Additionally, as these all come with a black finish, you can make the decision if this best fits your vision, or whether you want to paint the doors to match your Jeep's body color.
Finally, tubular doors are a great problem solver for those who wrestle with taking off and putting on their factory full or half doors every time there is a nice day. Sure, this may not be a practical solution for those who daily drive their vehicle, but can be for anyone looking to take their factory doors off—and leave them off—all season no matter the weather. Tubular doors, especially ones that come with a covering, can help block out some moisture while driving, and then can be covered over with a cab or full cover when parked.