by Rob Jarrell
Quadratec Video Host
A tire repair kit may not be the first thing that comes to mind when making a list of accessories to add to your Jeep. Not when other eye catchers like bumpers, LED lights, or winches are around to steal attention. But no matter how great the accessory, it can't help you get down the trail or road if something like a stray nail, screw, stick, or some other form of debris punctures your tire. That's why a tire repair kit definitely deserves a spot inside your vehicle.
A tire repair kit can get you back up and running in just a few minutes and it can literally pay for itself the first time you use it. If you happen to find yourself miles away from the nearest road with a tire puncture, it may prove to be invaluable and could be the difference between getting home that night or being stuck out on the trail.
In addition to simply preventing the need to call AAA for assistance or a tow, if you're prepared with a tire repair kit, you can rest easy knowing that you have a back-up plan even after having to use your spare tire. That can be especially reassuring if you're on a longer, multi-day trip.
Tire repair kits can range from just a few dollars for cheap ones found at local auto parts stores or gas stations, to $50 or even more for high end, off-road tire repair kits. There are three main components that make up the core of every tire repair kit, and it's the quality of those tools and the inclusion of some additional pieces, all designed to make repairing your tire easier, that will set the higher dollar kits apart from the lesser.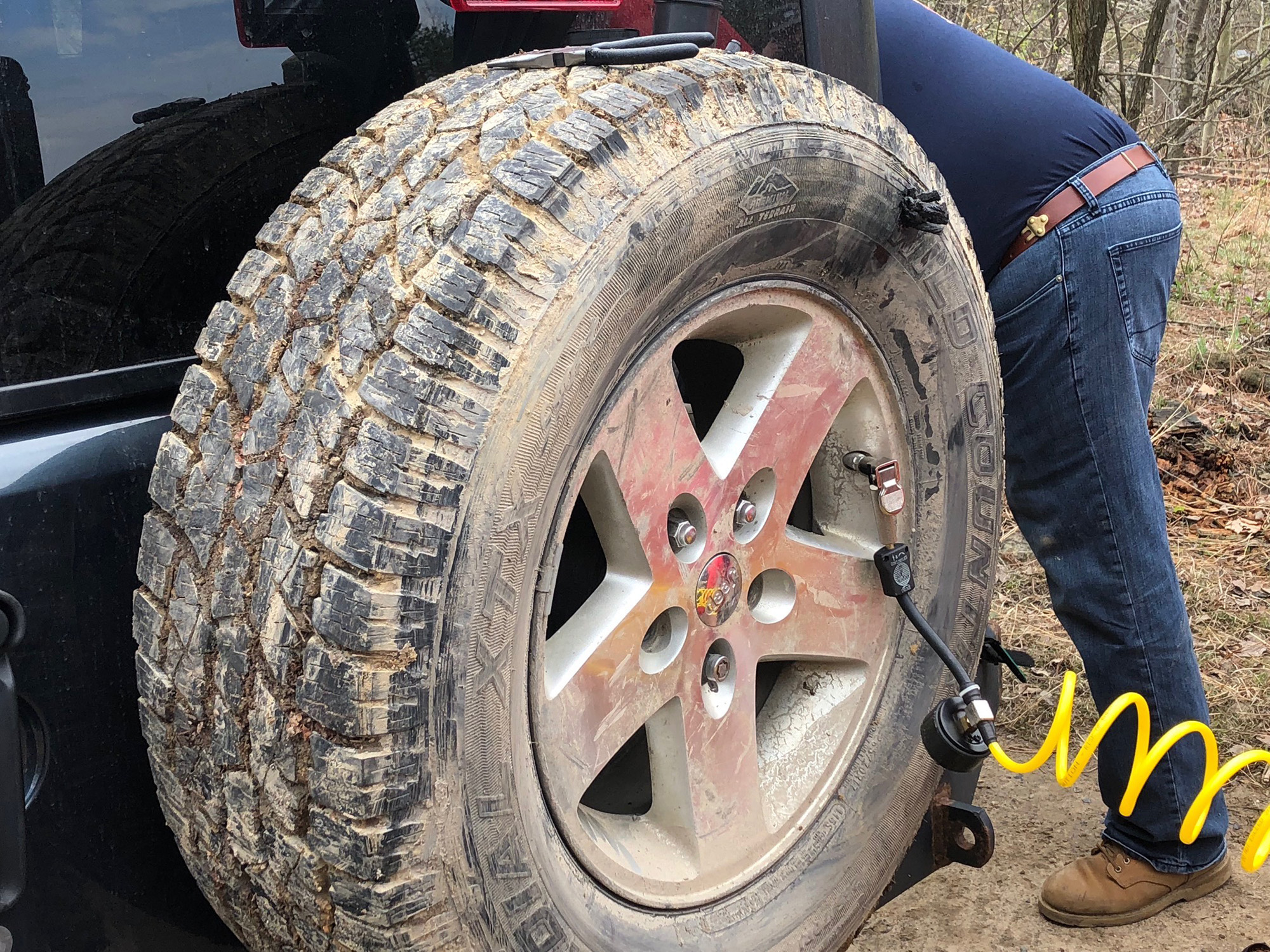 At the core of every kit, you'll find a reamer tool, a plug insertion tool and some self vulcanizing repair cords. The reamer tool is used to clean and de-burr the puncture, which prepares the tire for the plug. The insertion needle then physically pushes the repair plug into the puncture and sets it in place in the tire. Finally, the self vulcanizing repair cords are the key that makes the job of plugging that tire easy and possible, all without even having to remove the tire from the wheel. In fact, most repairs can be made without having to remove the wheel from your Jeep all together.
Since you're going to be dealing with larger off road tires on a Jeep that feature deeper and thicker tread patterns, you'll want to purchase a kit that includes high quality tools. Ones made from hardened steel with durable all metal handles will not only last longer than cheaper versions with plastic handles, but they'll make the repair easier to complete and safer. Heavy duty, quality tools will also lessen the chance of a tool breaking during the repair process, which could cause an injury — something nobody wants to deal with, especially if you're in a remote off-road location. It's for that reason you should be weary of using inexpensive $5 kits found at a gas stations. They just aren't up to the task of completing repairs in larger off-road tires.
While those three components are the essentials to making a tire repair, some additional tools will definitely make the job quicker and easier. A well-rounded kit should also include a pair of needle nose pliers or side cutting pliers to aid in removing whatever object punctured your tire, if it still remains embedded in the tire. Also having some lubricant in the kit that you can apply to the reamer will make the job of de-burring the puncture site much easier. A razor blade or knife can be valuable once the plug has been installed, as you'll need to trim the excess cord away that's left protruding from the repair site. Additionally a quality tire pressure gauge will be helpful when re-filling the tire to the proper pressure, or at the very least to check the tire pressure after the repair, as the puncture and the repair process will cause some loss of air pressure. Last, but not least, the nicer kits usually also include some additional tire repair items such as valve stems, valve cores, core tools and even spare valve stem caps. While you may have some of these tools already in your Jeep, you shouldn't discount the value of having them all stored together in an organized carrying case. Knowing where you've packed your repair tools, and having them easily accessible and together, will make any repair go much smoother so you can get back on the road or headed down the trail.
Shop our complete selection of Tire Seal Kits