Learn how to modify, repair, and enjoy your Jeep from Quadratec, the Jeep Experts
Coronavirus Updates and Coverage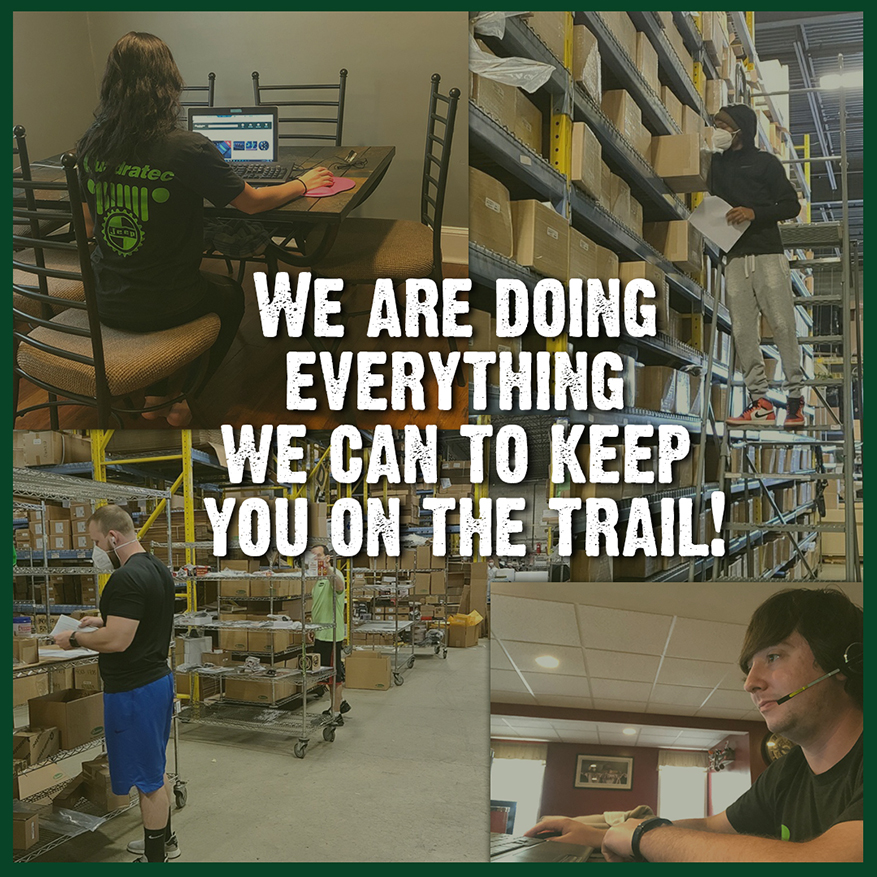 For 30 years, Quadratec has been your go-to partner and friend for everything Jeep. Over these years, we've gone on a journey from square headlights, to four door Wranglers and now to a new Jeep Gladiator truck. And you have been with us every step of the way.
The past few months have been challenging for everyone as Covid-19 has impacted nearly every aspect of our society. For Quadratec, this means ongoing social distancing and protective measures for our entire fulfillment staff while the majority of our contact center is working remotely—taking orders, answering questions and resolving issues each business day.
This time has also seen the most explosive call volume, email and social message surge in our history, which has unfortunately led to longer than normal hold times as well as delays in email and message responses. Additionally, all our major freight carriers are experiencing heavy demand as well, leading to some shipping delays. As fellow Jeep enthusiasts, we understand how frustrating this can be and humbly ask for your patience as we work to resolve these concerns. We apologize for any service delays and assure you that we're doing our very best to assist as many customers as possible.
"For our entire history, we've helped Jeep enthusiasts enjoy your vehicles through superior products and world-class service," said Quadratec CEO Ted Wentz III. "This pandemic will not deter us from that mission. Over the past several weeks, incoming calls and orders have far exceeded even our best estimates. This has led to unacceptable wait times for some of you. We are doing everything we can to address these crucial issues and keep you out on the trail.
"We are hiring more staff, adding shifts and working overtime to make sure your needs are met and packages get out the door as swiftly as possible."
For those who have placed an order on quadratec.com, we invite you to utilize the 'My Account' feature to quickly resolve many issues like order status, tracking, cancellation, or processing a return. You can find the 'My Account' link on the top right-hand side of this page.
We appreciate your business, patience and understanding during these difficult times, and sincerely thank you for choosing Quadratec for all your Jeep-related needs.
As we continue to navigate these days together, we'll share additional event and product news here, as well as How To guides, installs, video and photos. For more information and other industry news, check out our Official Quadratec Channel.