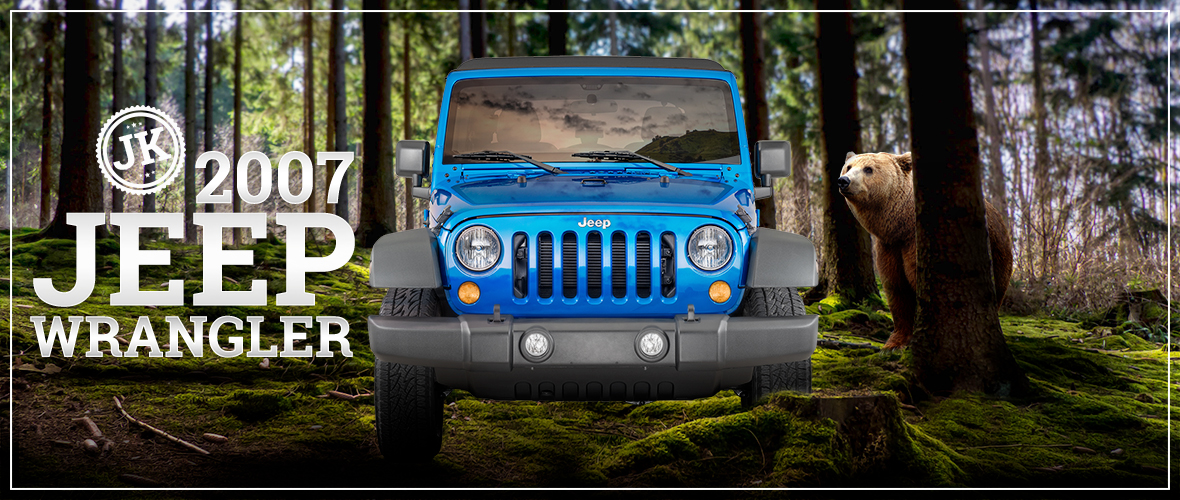 Reinventing the Wrangler
The Jeep Wrangler received its first major overhaul since 1998, and kicked off 2007 with all new features like shorter grille slats, clearly separated fenders, and fog lights incorporated into the front bumper. The brand also added a curved windshield and better roof integration to the new vehicle, which it said helped reduce interior noise by 20 percent. Calling itself the Wrangler JK, this redesign was also the debut of a 4-door model called the Unlimited, which was over 20-inches longer than the 2-door, and would go on to become extremely popular.
However, despite all the new designs, the Wrangler JK kept its previous TJ generation's boxy, modular construction as well as solid front and rear axles which purists appreciated. Also, elements like the vertically slatted grille, removable doors, exposed C-pillars and a tail-mounted spare tire are among the classic elements that live on.
---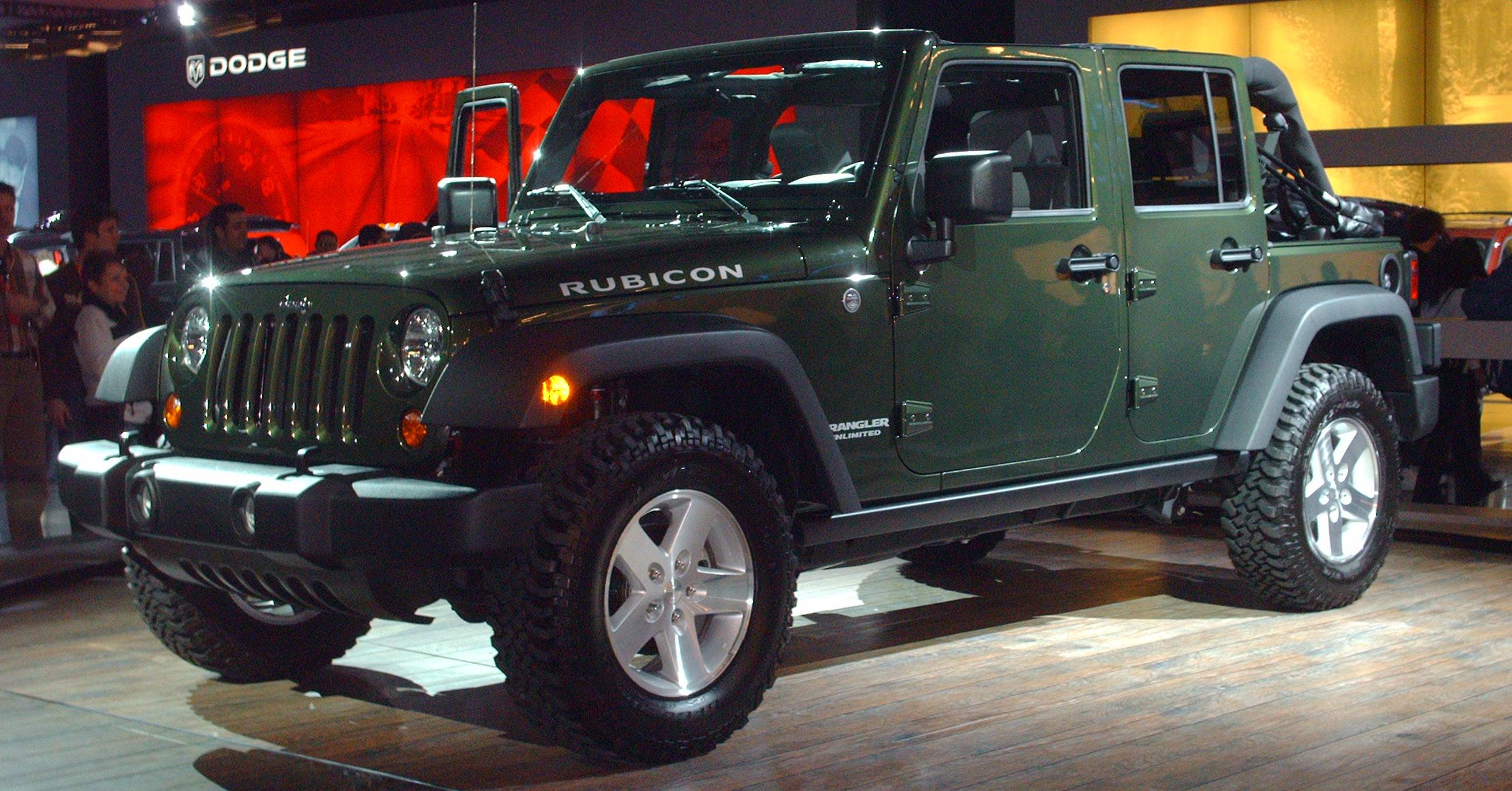 Enter the Sahara and Rubicon
Changes for 2007 include three newly defined trim levels called X (MSRP $18,610), Sahara ($23,300) and Rubicon ($26,695) — all of which have ascending amounts of off road equipment. The base Wrangler X uses a standard NV241 Command-Trac four-wheel-drive system incorporating a two-speed transfer case for part-time use, Dana 30 front and Dana 44 rear axles (some very early editions had Dana 35 rear axles), and 16" wheels. Sahara editions offer many of the X features, but also add monotube shock absorbers in place of the X's twin-tube setup for a stronger suspension, while Wrangler Rubicons get a NV241 Rock-Trac four-wheel-drive transfer case with a 4:1 low-range gear ratio plus heavy-duty Dana 44 axles - each with a locking differential. Other rugged features include three underbody skid plates, an available tow package with Dana 44 axles for lower trim levels and an available electronically disconnecting front stabilizer bar for increased ground clearance. 
 Changes to the 2007 Wrangler's interior are apparent as well. The new thin-spoke steering wheel has a circular hub, and a redesigned vertical center control panel features a high-mounted radio with circular air vents underneath. Newly available options include power windows and door locks — a Wrangler first — as well as an in-dash navigation system.

 A new 3.8-liter V-6 engine is the only available drivetrain for the 2007 JK Wrangler. It produces 205 horsepower and 240 ft-lbs of torque, and is mated to either a six-speed manual transmission (standard) or optional four-speed automatic transmission. With a new engine comes slightly improved fuel economy at 16/22 mpg city/hwy, depending on model.
---
JK Safety Features
The 2007 JK Wrangler also displays a host of safety features including standard four-wheel-disc brakes with ABS, and an electronic stability system with new rollover mitigation technology, which can pulse individual brakes in an attempt to prevent impending rollovers.
As well equipped as your 2007 Wrangler is from the factory, there is always room for improvement! You can check out all the available 2007 Jeep Wrangler accessories here.
---
2007 Jeep Wrangler JK Specifications
Powertrain
| ENGINE | CYLINDERS | HORSEPOWER | TORQUE | FUEL TANK CAPACITY | EPA MILEAGE ESTIMATE |
| --- | --- | --- | --- | --- | --- |
| 3.8L EGH | 6 | 202 hp @ 5,200 RPM | 237 lb/ft @ 4,000 RPM | 18.6 Gal. (2dr), 21.6 Gal. (4dr) | 17 City / 19 Hwy |
Drivetrain & Axles
| MODEL | DRIVETRAIN | TRANSFER CASE | FRONT AXLE | REAR AXLE |
| --- | --- | --- | --- | --- |
| X | 4x4 | NV231 Command-Trac | DANA 30 (181 mm) | DANA 35c (194 mm) |
| Sahara | 4x4 | NV231 Command-Trac | DANA 30 (181 mm) | DANA 44 (216 mm) |
| Rubicon | 4x4 | NV231 Rock-Trac | DANA 44 (216 mm) | DANA 44 (216 mm) |
Weight Capacity
| MODEL | MAXIMUM TOWING | MAXIMUM PAYLOAD | CURB WEIGHT |
| --- | --- | --- | --- |
| X | 2000 lbs (2 Door), 3500 lbs (4 Door) | 1000 lbs (2 Door), 1150 lbs (4 Door) | 3760 lbs (2 Door), 4075 lbs (4 Door) |
| Sahara | 2000 lbs (2 Door), 3500 lbs (4 Door) | 1000 lbs (2 Door), 1150 lbs (4 Door) | 3951 lbs (2 Door), 4054 lbs (4 Door) |
| Rubicon | 2000 lbs (2 Door), 3500 lbs (4 Door) | 1000 lbs (2 Door), 1150 lbs (4 Door) | 4104 lbs (2 Door), 4315 lbs (4 Door) |
Transmission
| MODEL | TRANSMISSION | SPLINE |
| --- | --- | --- |
| 42RLE | 4-speed Automatic | 23 OUT |
| NSG370 | 6-speed Manual | 10 IN / 23 OUT |
Exterior Dimensions
| MODEL | LENGTH | BODY WIDTH | BODY HEIGHT | WHEELBASE | GROUND CLEARANCE |
| --- | --- | --- | --- | --- | --- |
| X | 162.9" (2 door), 173.4" (4 door) | 73.7" (2 door), 73.9" (4 door) | 70.9" | 95.4" (2 door), 116" (4 door) | 8.8" (2 door), 8.7" (4 door) |
| Sahara | 162.9" (2 door), 173.4" (4 door) | 73.7" (2 door), 73.9" (4 door) | 72.2" (2 door), 70.9" (4 door) | 95.4" (2 door), 116" (4 door) | 10.1" (2 door), 10.2" (4 door) |
| Rubicon | 163.8" (2 door), 173.4" (4 door) | 73.7" (2 door), 73.9" (4 door) | 72.4" (2 door), 73.9" (4 door) | 95.4" (2 door), 116" (4 door) | 10.2" (2 door), 10.1" (4 door) |
Exterior Paint Color Codes
| MODEL | COLOR CODE |
| --- | --- |
| Steel Blue | PBM |
| Light Graystone | PDA |
| Red Rock Crystal | PEM |
| Jeep Green | PGJ |
| Rescue Green | PJR |
| Flame Red | PR4 |
| Bright Silver | PS2 |
| Stone White | PW1 |
| Black | PX8 |